Something about the ailing PC industry, competition among makers of smartphones and the endless quest for the next big thing has nearly every major consumer electronics manufacturer working on a smart watch or at least contemplating it. The latest is Dell, whose global VP of personal computing just told The Guardian that the company is thinking about a smart watch despite "challenges in cost, and how to make it a really good experience."
Analysts are declaring 2013 the year of the smart watch, and seem sure that an entirely new product category is about to be born. Watches are already a $60 billion a year business worldwide, so perhaps the Rolexes and Seikos of the world could see new competition from a motley crew of manufacturers usually associated with PCs, smartphones and televisions. (For what it's worth, luxury watch makers say they're not scared.)
There certainly are enough of these devices on the way—dozens and dozens, if rumors are to be believed. Here is Quartz's roundup of everyone's smart watch plans.
Acer
Status: confirmed June 2013
Launch: 2014
"We are looking at wearable, I think every consumer company should be looking at wearable. Wearable isn't new … it just hasn't exploded in the way that it should. But the opportunity's for billions of dollars' worth of industry," ST Liew, president of the smartphone business group at Acer told Pocket Lint. Acer's smart watch might use inductive (i.e. wireless) charging to make it easy to charge the phone every day, he added.
Apple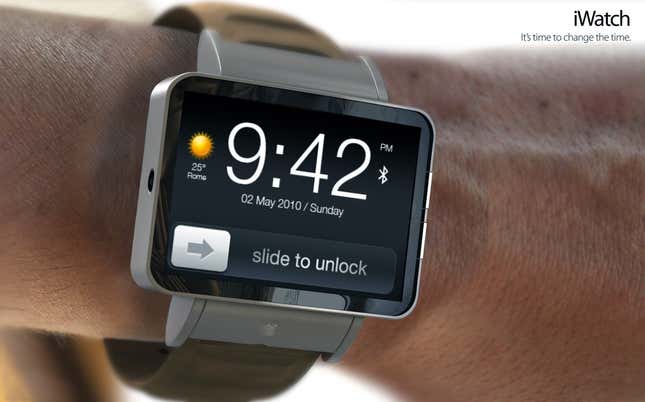 Status: rumored since 2009
Launch: 2014 (rumored)
Apple has a team of 100 designers and engineers working on the iWatch, reports Bloomberg, and has filed at least 79 patents covering watch-related wearable technology. Apple is also attempting to trademark the term "iWatch" in Taiwan, Russia, Mexico and Japan.
All the usual features are rumored to be on offer in the iWatch, including calling, caller ID, maps, and health monitoring features like a pedometer and heart rate recording. The iWatch is rumored to have a 1.5-inch display, which is fast becoming a de-facto standard for smart watches. Like Samsung, Apple needs it smart watch to be a hit in order to guarantee future growth.
BlackBerry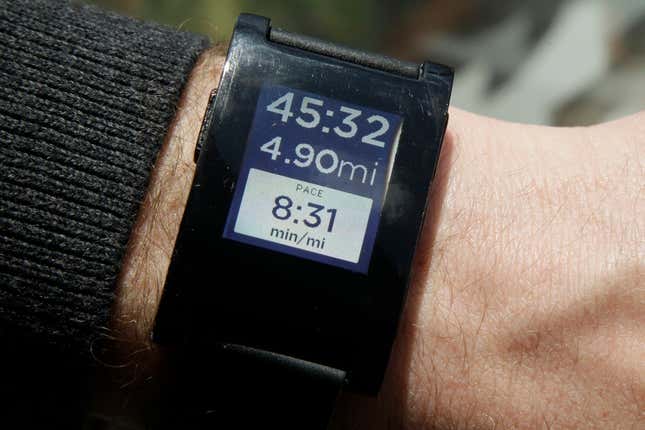 Status: Released February 2010 (subsequently discontinued)
BlackBerry made the unfortunate decision to outsource production of the world's first BlackBerry-compatible smart watch to an outside company, Allerta. It was called InPulse, and after launch, it was hardly ever heard from again. Then Allerta used what it learned building InPulse to achieve the most successful Kickstarter launch ever, for the Pebble smart watch, which goes on sale at US big box electronics retailer Best Buy on July 7 and is often credited with kicking off the current frenzy for wearable computers.
Foxconn / Hon Hai
Status: confirmed June 2013
Launch: unknown
The company best known for manufacturing the iPhone and discontent among its workers recently demonstrated an iPhone-compatible smart watch that can read a person's respiration and heartbeat, display alerts like text messages, Facebook notifications and the identity of callers,  and may some day include fingerprint recognition.
Google
Status: leaked March 2013
Launch: unknown
Google's Android unit, which is getting crazy ambitious lately, is reportedly working on a smart watch, say multiple sources. The fact that this watch is coming from the unit responsible for creating smart phones, and not Google's experimental X labs, which is currently working on Google Glass, indicates that Google sees smart watches as a near-term commercial reality. Motorola, which is now owned by Google, previously released a sports-oriented smart watch. Google has filed intriguing watch-related patents, including one that would embed a touch pad in the wristband of a watch, so that a user would not have to touch the watch face in order to interact with the device.
LG
Status: leaked March 2013
Launch: unknown
Nothing is known about LG's rumored smart watch, but the company is expert at creating a range of smart phones to suit every taste—as many as 30 new models by the end of 2014, said a company spokesperson—and has the manufacturing chops to make one on par with Samsung. LG already manufactures the displays used in smartphones (even those sold by Apple and Google) and, presumably the ones that will be used in smart watches.
Microsoft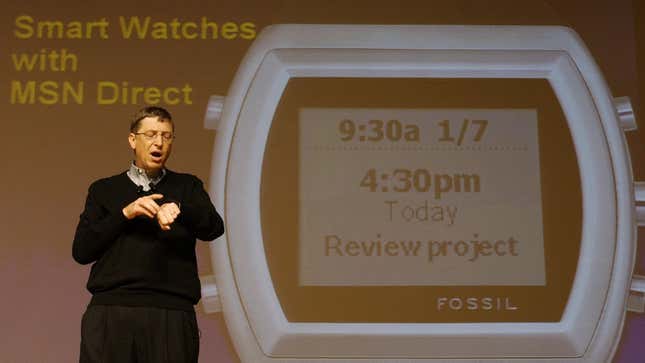 Status: leaked April 2013
Launch: unknown
Microsoft is rumored to have requested parts from suppliers in Asia, including a 1.5 inch LCD display, in order to build a prototype smart watch. The device is apparently still in the research phase, and one unnamed source told the Wall Street Journal he had met with members of Microsoft's R&D team about the project. It's not clear that Microsoft has any intention of releasing a smart watch to the public, but 10 years ago it sold a "Smart Watch" that received updates like sports scores and instant messages via FM radio.
Qualcomm
Status: leaked June 2013
Launch: September 2013 (rumored)
Qualcomm is the dominant maker of chips for cell phones, but in general the closest the company ever gets to the consumer is through the creation of ready-to-assemble phone kits that other companies brand and re-sell. But given the company's larger ambitions—which include supplanting Intel as the dominant maker of chips for PCs—perhaps it's not surprising that Qualcomm wants to start selling to consumers directly.
If the rumors are true, Qualcomm's smart watch could be one of the more unique offerings of 2013, owing to its full-color Mirasol display. Mirasol is like the e-ink displays of a Kindle e-reader in that it's reflective, which means it draws much less power than a traditional back-lit LED display, like those in smartphones. Aside from its display, a recent trademark filing suggests Qualcomm's "TOQ" smart watch will perform the usual smart watch functions, including "transmitting and reviewing text, data, image, and audio files; [and functioning as a] hands-free devices for mobile phones."
Samsung
Status: confirmed March 2013
Launch: unknown
Samsung is clearly in a race with Apple and its rumored iWatch. After today's disappointing earnings, it's more apparent than ever that the company's growth could plateau as the market for its high-end Android smartphones saturates and becomes more competitive. Samsung has been preparing its smart watch "for so long," said Lee Young, Samsung's vice president of mobile. "We are working very hard to get ready for it. We are preparing products for the future, and the watch is definitely one of them," he added.
Given the company's enormous resources and demonstrated ability to lead in extremely competitive markets, Samsung's watch could be the one to beat. If reports that it will perform many of the functions of a smartphone are true, it could even disrupt Samsung's own phones. Samsung's recent trademark filing for the term "Gear" suggests that, consistent with its smartphone strategy, the company could be preparing an entire smart watch ecosystem including "watches that communicate data to personal digital assistants," as well as "parts and fittings for watches; wristwatches; electronic clocks and watches; bracelets; watchbands; control clocks." 

Sony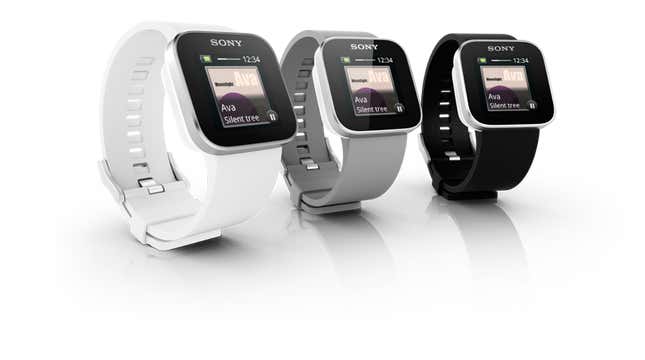 Status: released March 2012, relaunched June 2013
Sony has been ahead of the smart watch trend for awhile, but even its revised SmartWatch 2 leaves a lot to be desired, including compatibility with the iPhone. (It doesn't have it.) Given how enormous this category is becoming, the primary lesson from Sony is that releasing a smartphone-connected display that attaches to your wrist simply isn't enough. Manufacturers have to figure out the "killer app" for smart watches, and so far they're falling short.
Toshiba
Status: prototype, unveiled January 2013
Launch: unknown
Toshiba's concept smart watch feels more serious than its competitors, and features a brushed-aluminum case and leather wristband. It could also includes a sensor that detects the pattern of a wearer's pulse, and locks the watch if anyone else tries to use it. It's not clear whether or not it will ever be released.
Who isn't building a smart watch?
The only major consumer electronics companies who don't have an announced, leaked, or rumored smart watch project are HP, HTC, Lenovo and Nokia. Given the absolutely insane level of competition in this category, that's probably wise. Although don't be surprised if one of these companies announces some kind of wearable computing device sooner rather than later. Nokia, in particular, with its expertise in the kind of compact, low-end electronics common to both smart watches and inexpensive mobile handsets, could be a contender.
Plus, a bevy of off-brand (but competitive) smart watches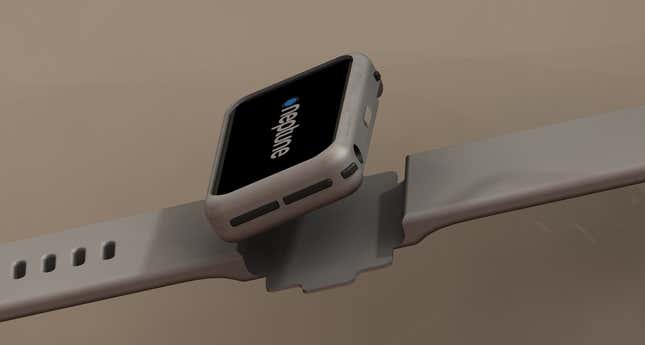 A survey of smart watches announced by smaller companies, many founded solely to create smart watches, reveals astonishing variety in form and display technology, if not function. Nearly all of the devices from Geak, Shanda, Agent and Kreyos can pair with a smart phone, and some offer various levels of stand-alone functionality. Notably, both the Androidly and Neptune smart watch are in fact wrist-size smart phones. Plus, there's a whole other category of sports, health-tracking and GPS smart watches.
Normally, a company like Apple would come along and simply eat the entire category of smart watches by creating a superior general-purpose device, as it did with the iPhone. But size, battery life and weight constraints could mean that the category of smart watches will remain diverse for many years to come, with various companies seeking to address—or invent—particular needs.
One thing that's clear is that the features that go into a successful smart watch are far from standardized. Until this category has a hit, it's not clear what users want out of a smart watch. What is clear, given the success of a number of crowd-funded smart watch projectcs, is that users seem eager to buy a computer that sits on their wrist, whatever it might do.