Kuwaiti officials worrying about how to bring down the gulf state's unemployment rate, estimated at more than 3%, may have another resource to tap besides crude oil: Instagram. The photo-sharing service is becoming popular among local entrepreneurs selling everything from makeup to Manga comics. The American University of Kuwait held an event in April featuring entrepreneurs who could teach others how they grew their businesses and "made it" on Instagram.
Crude oil contributes far more to Kuwait's GDP—almost 50%—than small businesses. But Instagram provides enterprising Kuwaitis what is essentially a free web store, similar to the business-to-consumer platform Taobao in China, which is modeled after e-Bay. There's no payment method on Instagram, but users post numbers to contact them on messaging services like WhatsApp or Kik, or an e-mail address for interested buyers to get in touch.
Here's a look at one one of these self-made Kuwaiti retailers, an Instagram user by the handle of sheeps_sell who appears to be selling sheep: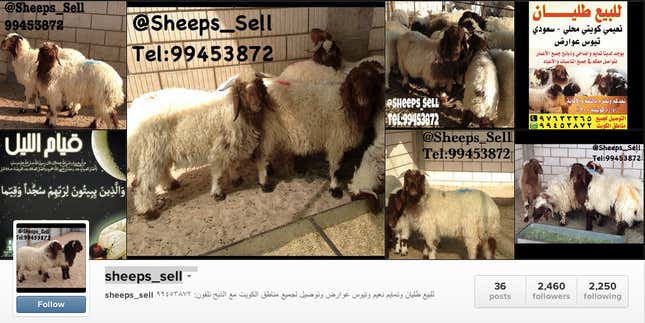 Judging by sheeps_sell's 2,460 followers, (others like the manga seller have only around 850), interest in sheep is strong. That may be because prices for sheep—sacrificed during religious events and special ceremonies—broke a new record last year. Ahead of the Eid-ul-Adha holiday, prices for the animal reached a peak of 150 Kuwaiti dinar ($525) per head due to higher feed costs.
Kuwait is a net importer of sheep, which make up most of its meat imports. The country is Australia's third largest meat export market, after Saudi Arabia and the United Arab Emirates. But Kuwait may not be able to rely on Australian sheep exports in future if animal rights activists win their fight to ban the export of the animals for slaughter.
Sheeps_sell's ad reflects public anxieties in Kuwait about businesses that employ low-wage workers from Asia and elsewhere in the Middle East. It says, "We have them all, sacrificial and carcasses of all ages. We will bring them to you for all events and birthdays. We promise you, honesty is very important to us. 100% Kuwaiti management. We deliver to all the neighborhoods of Kuwait."
Concerned that large numbers of foreign workers are draining the country services and diluting local culture, the government has recently been deporting thousands of workers back to Asia, citing illegal documentation or minor offenses like traffic violations.
Here are a few more photos of sheep you can order on Instagram in Kuwait.