If you've been a fan of Apple's rose gold iPhones in recent years—bad news. It seems that Apple is replacing its pinkish coloring on the next version of its phones with something closer to rose… copper?
The replacement color was spotted by Apple Blog site 9to5Mac, who came across posts on Weibo from an executive at Foxconn, claiming to show off the iPhone 8, featuring a Samsung OLED display and a very strangely colored model, alongside more traditional black and white options. The original posts have since been deleted, but vigilant social media users managed to screenshot them before they were lost to time.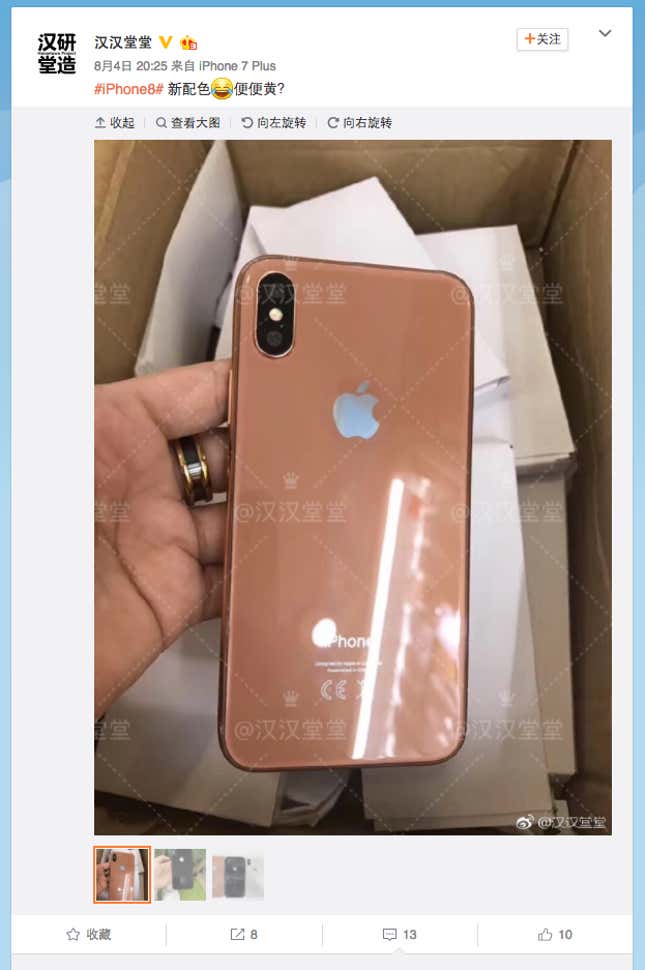 Apple has been known to produce a few different iPhone colors over the years, including gold, grey, various shades of black, and occasionally, red. But the new model appears to be a shift away from the rose gold it introduced along with the iPhone 6S in 2015 that's since inspired the color to be everywhere, even other technology products like vaporizers. It's unclear from the leaked photos whether this copper color would be replacing or supplementing rose gold, or any other color Apple's iPhones have recently come in.
Apple hasn't released any information about its highly anticipated next iPhone, but the company usually unveils its new phones in mid-September. The company wasn't immediately available to comment on how coppery its next iPhone will be.