Rain and mass flooding continue today (Aug. 29) in Houston, as Tropical Storm Harvey inundates the fourth-largest US city and the death toll rises. Water-covered highways and streets flooded show what Houston is battling, and the enduring images of the storm are the dedicated first-responders and brave volunteers who are bringing thousands to safety.
One of the earliest iconic images of the storm shows Harris County sheriff's deputy Rick Johnson carrying two small children to safety. In a photo taken by one of his colleagues and shared through the sheriff's office Twitter account, he calmly walks them from their house in suburban Cypress, Texas. One child somehow is laughing during the precarious moment. That was no accident.
I grabbed the kids, and in order to keep the kids focused on happy thoughts given the seriousness of what was going on around us, I told them a couple of light jokes. We joked about swimming, and the water being cold.
Another instantly iconic image is of Daryl Hudeck, a Houston Police SWAT officer, carrying Catherine Pham and her 13-month-old son, Aiden, to safety from their home in Houston.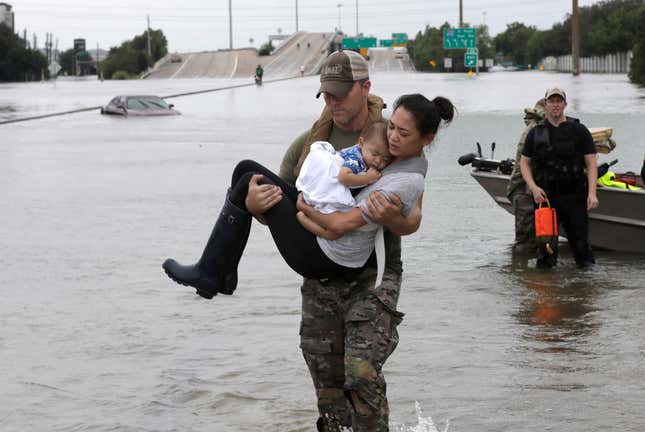 Hudeck had rescued Catherine and Aiden from the second floor of their flooded house, after being flagged down by Catherine's husband, Troy, reports the Dallas Morning News:
"We were waiting for daylight to try to get out, but by that point the water kept rising and rising and it was unsafe to even try to get out [by truck]," Troy said by phone on Monday. It wasn't going to be possible for them to leave without help.
Then, they heard helicopters and voices. Troy decided to see whether the sounds were rescue crews.
Troy took his kayak about 400 yards down the street, where he  found members of the Houston SWAT team and a volunteer civilian and son helping people get out of the Meyerland neighborhood. The crew of six used their motorized boat to help ferry the family from their home.
Many other rescues by both authorities and neighbors have been captured. Here are some of the other harrowing moments captured by photographers during Harvey: