Here's a tip for you the next time you're about to post a photo to Instagram of your perfect-looking avocado toast, neatly positioned beside your folded sunglasses and a cappuccino with the heart drawn in the foam: Don't.
An expertly curated feed of flawless imagery just doesn't produce the same results it used to, according to a group of Instagram's in-house experts. So enough with perfectly lit selfies—and stop treating breakfast like a fashion shoot.
"Breakfast is an allegory for all images on Instagram," said Eva Chen, part of Instagram's team in charge of fashion partnerships. At an Aug. 29 seminar held ahead of New York Fashion Week, Chen and her colleague Virginia Nam broke down the best practices for brands and bloggers using Instagram to connect with an audience. While their advice was tailored to a fashion crowd, it could easily apply to any person or business trying to get noticed in the vast sea of content posted by Instagram's 700 million monthly users.
The highly curated feed has lost its effectiveness, Chen explained, simply because it has become the standard, stripping it of distinctiveness. When Instagram first started, it was a very casual place to share photos. The first-ever Instagram post, from the company's CEO and founder, Kevin Systrom, showed the flip-flopped foot of Systrom's girlfriend beside a dog they had encountered near a taco stand in Mexico. (Indeed, Systrom seems perfectly satisfied with his Insta-mediocrity—and that might actually be a management strength.)
But then came the rise of what Chen calls "professional content producers," and their hyper-photogenic, contrived imagery. "That became the norm, and Instagram became kind of saturated with those images," she said. The result, to paraphrase Nam, is that perfect doesn't work anymore.
You can, of course, still share your pretty pictures. But Chen and Nam suggest also showing people images that feel genuine and not staged. Another option that works well is to provide context around something, like an event, that lets followers feel they're getting a view others aren't. At a fashion show, for instance, maybe turn your camera away from the runway and take a shot of the shoes of the people in your row, Chen offered.
The conventional wisdom used to be that Instagram was where you posted your nice images for posterity, while Snapchat was where you could be more raw. But as evidence that Instagram's audience doesn't just want highly produced images, Chen and Nam pointed to the success of Instagram stories, the one-year-old feature—and direct Snapchat competitor—that lets users upload snippets of video and photos in a connected narrative that will eventually vanish from your profile.
Instagram Stories, Chen and Nam said, offers users an opportunity not to worry about perfection. The camera—i.e. your phone—will inevitably shake as you shoot video, and you won't be able to stage every still picture.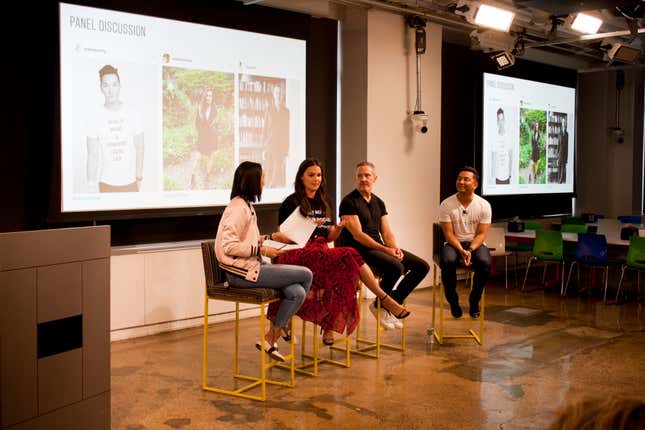 Chen and Nam didn't offer data to support their argument that perfection is losing its cachet. And of course, Instagram has an interest in promoting a feature that traffics in the same appeal as a competitor. But it's clear that Instagram Stories has been a hit with users, and models and fashion labels, such as Dior, have seen followers engage with their Stories and Instagram Live, which offers a live feed followers can watch.
In any case, it can't hurt to spend less time arranging your breakfast pictures and more thinking about what's unique in your point of view. Perfection is overrated.