Bangladesh, one of the world's poorest nations, has seen a massive influx of Rohingya people fleeing brutal violence in Myanmar in the last two weeks: some 370,000 people, according to UN estimates.
The situation of the Rohingya, a Muslim minority targeted in a military crackdown that has included setting fire to villages, has brought international criticism upon Nobel peace-prize winner Aung San Suu Kyi. She runs the country in a power-sharing agreement with the country's military leaders, but she has not spoken out against the violence.
The flood of refugees into Bangladesh is a huge challenge for a country with a GDP of just $220 billion and an average annual income of $1,300—one that already hosts tens of thousands of Rohingya fleeing earlier waves of persecution. Even so, could Bangladesh be doing more for the Rohingya?
This isn't the first time Bangladesh has seen a massive wave of refugee arrivals from its neighbor, where the country's roughly one million Muslim Rohingya are a minority who don't enjoy citizenship. Myanmar says the Bengali-speaking minority are illegal immigrants, while the Rohingya say they have a long history in the area. The biggest influxes to Bangladesh came in 1978, and then in the early 1990s, when a quarter of a million (pdf, p. 1) fled Myanmar. They have come more frequently in recent years—but the flow of the last few weeks has been unceasing.
"I would definitely say that this time the number is really big, bigger than any other time," Joseph Tripura, a country spokesman for UNHCR, the UN refugee agency, told Quartz on Sept. 11.  "When I went to see the camps and to see the situation, there are more people than at any other time, and both sides of the road were occupied by refugees everywhere."
Bangladesh has had a checkered history with Rohingya refugees. After mass arrivals in the early 1990s, Bangladesh set up more than 20 camps to house people, but then it stopped registering refugees. That has made it difficult for humanitarian agencies to help them—or even for Bangladesh to know how many such informal refugees it has.
When more violence in Myanmar in 2012 led to fresh arrivals in Bangladesh, the country ordered humanitarian groups to stop aiding those who weren't registered, reasoning that helping the refugees would encourage more people to come.
The most recent exodus started after an Aug. 25 attack on police posts in Myanmar, which killed 12 security forces and more than 50 militants, according to the government. Security forces immediately started burning down villages and carrying out a campaign of killings, according to people who made it into Bangladesh. The advocacy group Human Rights Watch used satellite imagery to document fires at a large number of sites.
And this time too, the restrictions in Bangladesh have made it hard for aid agencies to work effectively with people outside the camps—and the two officially sanctioned camps are facing dangerous overcrowding.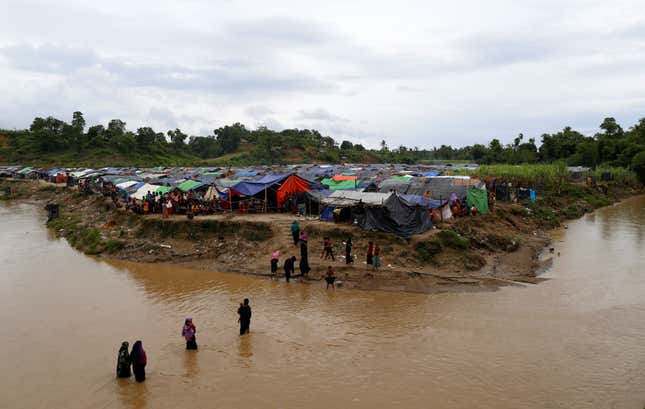 Providing shelter, clean water, and sanitation are the most pressing problems, said Tripura, of the UN refugee agency.
"Most of them are living in basic structures, with a roof made of tarpaulin and bamboo frames," he said, speaking from the region of Cox's Bazaar, near the area where people are crossing the Naf river to enter Bangladesh. "Some of them are still stranded in open places."
The refugees tell stories of the conditions in which they fled, Tripura said. "Some of them… described their houses being burnt, their relatives being shot," he said. "Many fled into jungles and mountains and were hiding for days."
Before the surge in refugees in recent weeks, there were 30,000 refugees in Bangladesh's official camps, Nayapara and Kutupalong, where they are aided by the UN refugee agency, which spends between $7 million and $8 million a year (pdf) in the country. These official camp dwellers, many of whom were either born in Bangladesh, or arrived as young children, get basic schooling and health services but aren't allowed to work or move out of the camps, living in a jobless limbo their entire lives. That has led some to become involved in illegal activities, UN reports say. As for relocating to other countries, fewer than 1,000 have been resettled abroad, and those efforts are no longer happening.
The Bangladesh government puts the figure already in the country informally before the latest arrivals at somewhere between 200,000 and 500,000, including another 43,000 who arrived in October 2016 after another militant attack and campaign of military retaliation in Myanmar.
For comparison, in the 12 months through Sept. 30, the United States took 85,000 refugees, although that was through a formal process following screening, and commits the US to allowing them to settle and providing assistance in the process. The situation in Bangladesh is more akin to what Europe experienced in 2015, when boatloads of refugees, many of them escaping war in Syria, suddenly began arriving via the Mediterranean. That year, the arrivals totaled roughly a million, and the responses of European countries differed starkly.
Part of the reason that Bangladesh hasn't wanted to register more refugees, or make conditions better in the camp areas, is that it appears to be hoping that people will be allowed to return home, as they did after the violence in the 1990s. That was the wish expressed by Prime Minister Sheikh Hasina when she visited Cox's Bazaar on Tuesday and expressed her sympathy for the refugees, saying that as long as they remained in Bangladesh "we will be with them."
The publisher of the Dhaka Tribune, writing over the weekend, called for his fellow Bangladeshis to be more sympathetic to the Rohingya, rather than fearing them as sources of crime—noting that major powers in the region, India and China, were cozying up the Myanmar government instead.
"Bangladesh, one of the biggest emigrant nations—both legal and illegal—cannot indulge in the kind of prejudice that they themselves face in many places," wrote K. Anis Ahmed, "I confess that during a similar episode of violence against Rohingyas back in 2012, I too had argued for keeping a tight border, fearing that an open border would only encourage more persecution… At a time when the whole world has abandoned the Rohingyas, I personally no longer see housing them as a burden. Rather, I see it as a privilege."
In a video plea, an editor at the paper framed the moral challenge for Bangladeshis in terms of their own history, and in particular the Pakistani military brutality in 1971 that sparked the war for independence it what was then known as East Pakistan. Bangladeshis faced widespread killings and rapes at the hands of Pakistani forces, a history that the country is still grappling with today. "We should understand better than anyone what the Rohingya people are going through," he said.
An editorial in another newspaper, the Daily Star, commended the government for what it has done so far, but said it needed to do more: "There is a crying need to accelerate the humanitarian aid efforts in a systematic, organized way… All the Rohingya refugees must be settled in specific camps so that necessary facilities like water and sanitation can be arranged for them."
In recent days, there are some signs Bangladesh is tempering the harshness of its policies on the Rohingya, though it's not clear exactly what the changes mean for the people seeking help just yet. It has started fingerprinting and registering people, according to Facebook posts by the country's junior foreign minister, and there are also plans to set up a new camp.
Bangladeshi officials have alluded to a plan under consideration to resettle the Rohingya on an isolated small island that until about a decade ago was submerged in water, and which is at present uninhabited—an idea met with skepticism outside the country. The Bangladesh foreign ministry and ministry of disaster management didn't immediately respond to queries.