Bill and Melinda Gates are warning that the world is on a course to fall well short of high-profile 2030 targets around global health and poverty that United Nations members adopted in 2015.
Even under optimistic scenarios, incidences of poverty, maternal mortality, child mortality, child underdevelopment, HIV infection, and tuberculosis will exceed the Sustainable Development Goals (SDG) targets in 2030, according to a report released on Wednesday, September 13th by the Bill & Melinda Gates Foundation.
"This report will be a bit of a wake-up call to some leaders of certain countries," said Melinda Gates in an interview. "There is a lot of work to be done, and we've got to roll up our sleeves and as a world get busy on that work."
The Gates' sobering prognosis comes as the UN convenes for its annual General Assembly in New York, and as global health programs face a threat of dramatic funding cuts proposed by the administration of US president Donald Trump.
A 10% annual drop in donor funding for HIV treatment—roughly similar to the level of the cut proposed by the White House—could result in the deaths of an additional 5.6 million people by 2030, according to analysis by the Institute for Health Metrics and Evaluation at the University of Washington that's included in the Gates report. While there's been great progress over the last decade in reducing the number of HIV deaths, a surge in the number of people aged 15 to 24—a high-risk age band—especially in Africa, increases the likelihood of its spread and the need for additional funding to curtail it.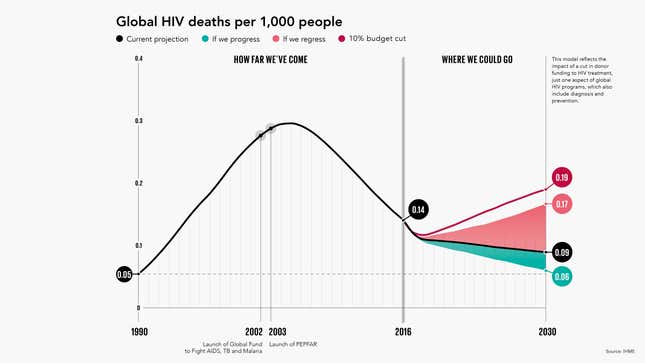 Melinda Gates said she was "deeply concerned" by Trump's proposed elimination of US funding for global family-planning programs. She and her husband have responded to Trump's proposed reduction to global health funding by trying to get US legislators to oppose the cuts. "Bill and I are making lots of outreach to Congress because Congress is the one that actually sets and makes the budget," said Gates. "And the great thing about it in the US is there is very good bipartisan support around these global health topics, and has been for a long time."
The 17 SDGs—focused on areas ranging from poverty reduction to climate change and gender equality—have been viewed as ambitious catalysts for change by supporters, and unrealistic and sprawling (paywall) by critics (paywall).
"The SDG agenda around health is super ambitious and challenging in aggregate, and then when we look at central Africa and west Africa there are big chunks of the world's population in the future, where the pace of progress has not been great," said Chris Murray, director of the Institute for Health Metrics and Evaluation, which did data analysis for the report and gets funding from the Gates Foundation. "If the past trends continue, we're not going to achieve the SDGs and most countries won't even achieve any of them, or a very, very small set of them."
The Gates plan to publish their report—which also highlights public health and antipoverty success stories—annually to track the progress against the SDGs. They're hosting a related event on Sept. 19 and 20, with speakers including former US president Barack Obama and Jordan's queen Rania Al Abdullah.
"Candidly, we are unlikely to reach every target—some are more realistic and some are more aspirational—but that doesn't absolve us of the responsibility to get as close as we can," the Gates write in their report.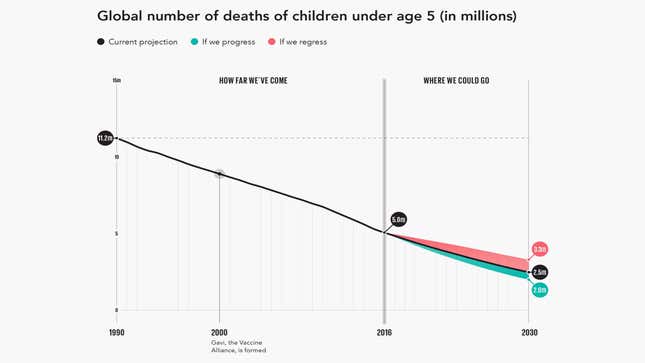 Melinda Gates said she and Bill view infant mortality rates as a bellwether for broader progress on antipoverty and health initiatives. Childhood mortality is an area where vaccination and other efforts have produced significant progress over the past 25 years.
Children in countries such as Angola, Nigeria, Democratic Republic of Congo, and Pakistan remain the most vulnerable. And the Gates say that 1.5 million of the children projected to die next year will do so from diseases that can be stopped by vaccines—ultimately making them preventable.