When Google launched a new inbox design last month, some speculated that it was about to make email-based advertising a lot harder. And it's looking like those worries weren't unfounded. The inbox, which automatically separates emails into four categories to keep the "primary" stream of mail clear from ads and social media alerts, seems to be steadily lowering open rates, or the count of how many advertising email recipients actually open them.
The email marketing company MailChimp posted data on their blog yesterday that shows a small (but, they say, significant) drop in open rates. Looking at the 1.5 billion emails sent within the six weeks surrounding the introduction of Gmail's new inbox (May 29th) showed a marked drop for post-launch inbox rates. Interestingly, there was actually an increase for the first week—but MailChimp attributes this to the attention that each individual tab got from users after the initial switch, based on novelty alone.
Taking the 3 weeks after this post-launch hike, there was a consistent drop of at least .5%. Not massive by any means, considering that Gmail open rates tend to drop to as low as 10.5% during the winter holidays, but notable for the duration of the lowered rate. Most drops last a day, or maybe a week during the holiday season—before the new inbox was released, rates held at 13% for almost four months solid. And MIT Technology Review's Tom Simonite pointed out that many Gmail users have yet to switch, meaning the open rates could fall even more.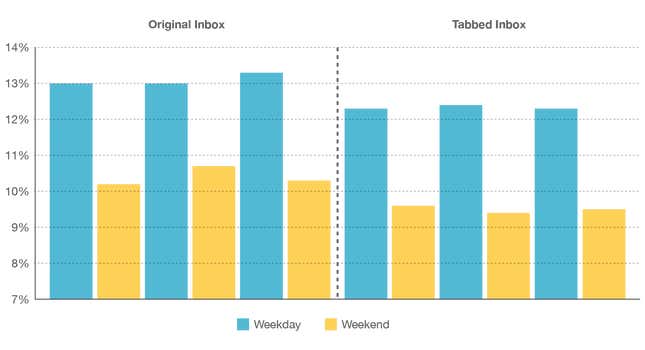 Some have noted that Google is using the redesign to stick unsolicited ads in users' inboxes, but the tactic probably isn't doing them much good: Advertisements, either from Google or from a mailing list you've signed up for, go to the "Promotions" tab, which doesn't add to your visible email count from the main inbox. This probably delays the time between when an ad email is sent and when it's seen—bad news, according to 2012 data from GetResponse showing that 23.63% of emails are opened during the first hour after their delivery, with average open rates dropping nearly to zero after 24 hours.
A 2011 study (paywall) by The Open University Business School in Bedfordshire, UK found that, unsurprisingly, compelling subject lines are a must for advertising emails. More specifically, another 2011 study, this one published in the Journal of Advertising (paywall), found that emails with "non-advertising" subject lines were the most successful. For example, an email with the subject "I have some information for you" outperformed one that promoted a special credit card rate.
So if these friendly subject lines really make people click (Obama's campaign managers and MoveOn.Org's marketing team definitely think they do), it follows that we're more likely to open an advertising email if it fools us, however subconsciously, into forgetting it's an ad. No small feat for marketing departments, and it's only going to get harder now that such emails are segregated from mail deemed more personal and legitimate. The full adoption of Google's new inbox probably won't be the undoing of email marketing. But it could make it less effective. We'll know more in the coming months.