These days, Apple's marketing campaigns play up the company's appeal to cool, creative people. Things were different in the early days of the now dominant computer and device maker.
The $800 billion market cap behemoth we know today owes much of its initial success to the humble spreadsheet. More specifically, a key selling point of the Apple II, the company's first machine aimed at a mass audience, was VisiCalc, the first electronic spreadsheet program.
Today (Oct. 17) is International Spreadsheet Day, marking the day back in 1979 that VisiCalc first shipped for the Apple II. Creator Dan Bricklin devised the program originally to help him crunch numbers for an assignment at Harvard Business School. The powerful, flexible tool made it as easy to sort simple lists as to run complex calculations across hundreds of cells. Financial analysts immediately saw the appeal of the program when it went on sale.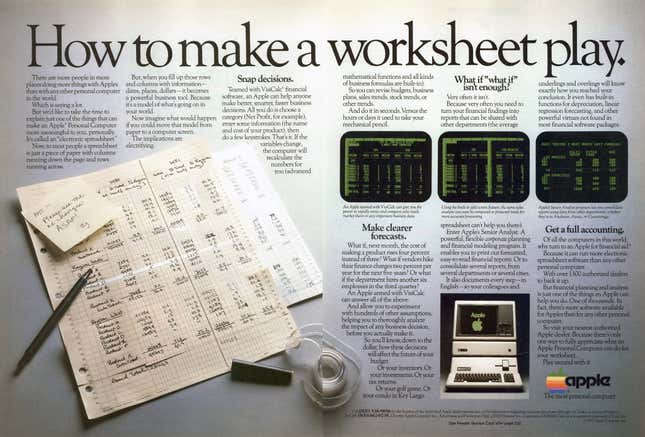 And for two years, you could only run it on the Apple II.
"We've heard of several cases in which Apple II computers have been purchased for the express purpose of running VisiCalc," went an article in InfoWorld in 1980. It was, in a sense, the computing era's first killer app. Apple's machine became a sensation because of it.
The history of the spreadsheet, then, is in some ways the history of Apple, as Bricklin explained in an interview with Quartz in 2015:
The Apple II also had good games, so there was another reason to buy it. But the first taste for many people was VisiCalc, and it helped them sell the machine, which provided the money that went into the development of the Macintosh. It was a catalyst.

Apple has been through a lot to get to where it is today. It's nice to have kept it alive—we helped it at a time when it needed helping.
Steve Jobs tells a similar story. VisiCalc was "what propelled the Apple II to the success it achieved," the visionary co-founder of Apple said in 1996. And that's how the spreadsheet, quite possibly the least cool application installed on most machines, helped make Apple what it is today.