Lots of stores have price-matching policies. Target promises to match prices on identical items found for less at Target.com, certain online competitors, or in local print ads for up to 14 days after a purchase. Best Buy matches prices against a handful of online retailers and local competitors. Walmart will price match one item per customer per day, if a customer finds a lower price from one of 30 online retailers.
There's also a common exception to those policies: Stores tend not to match prices on items sold through an online marketplace, or by third-party sellers.
That might sound like a technical distinction, but it's critical to a new discounting technique Amazon is deploying ahead of Black Friday and the holiday season. "Discount provided by Amazon" lets the company subsidize goods sold by third-party merchants on its online marketplace, making prices even more attractive to customers.
"Amazon may fund a discount to customers beyond your item price on select products," states a short message on Amazon's "Seller Central" forum. "In these instances, you will receive payment for the order and pay referral fees based on the full item price you set." (Sellers on Amazon pay "referral fees" to the company on items they sell.)
Amazon didn't respond to questions about when the program started, or whether merchants are notified when their products are selected for Amazon-provided discounts. The Wall Street Journal, which reported on the program over the weekend, said sellers claimed they weren't alerted to the change.
Here's an example of how that appears to a customer: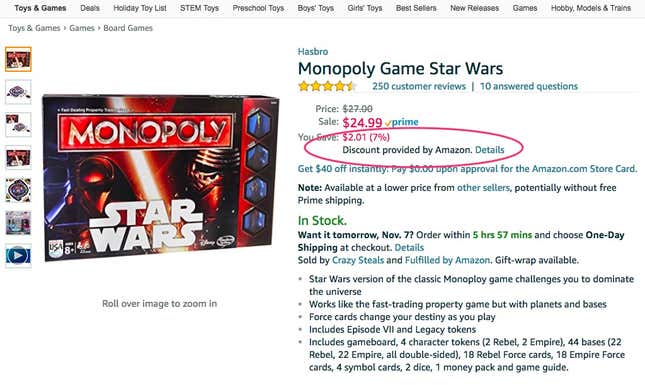 According to the Journal, Amazon has lowered prices from third-party sellers by as much as 9%. For example, the Journal said a Boots No7 Instant Illusion Wrinkle Filler sold by kn9ght had been marked down 6% to $19.99, while a Risk Legacy board game sold by VirVentures was down 6% to $43.92, slightly less than the price offered by Walmart.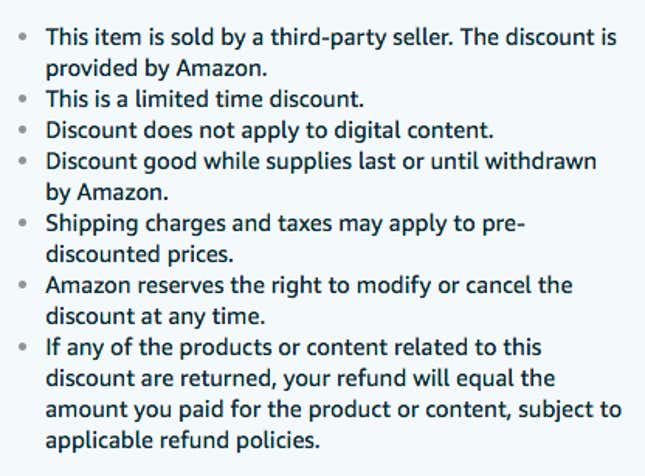 Per the program details Amazon lists on its online item pages, the discount is limited-time only, and Amazon "reserves the right to modify or cancel the discount at any time."
The discounts will help Amazon lure customers away from ultra-low-cost rivals such as Walmart and any of America's many dollar store chains (considered among the businesses most resilient to Amazon).
Sellers have the option to opt-out, but why would they? At least in the short term, Amazon's discounts mean happier customers, and likely more of them, without any damage to the bottom line. In the long term, the program could be another thing that helps Amazon identify popular third-party seller products and start carrying them itself.
It's unclear how stores like Walmart plan to respond—for example, whether they will adjust their existing price match policies to make an exception for third-party sellers where the discount is provided by Amazon. We reached out to a couple and will update this post if they reply.