Last year in Davos, Chinese president Xi Jinping positioned himself as globalization's most vocal champion. This year, his right-hand man Liu He will shed light on how China intends to shape the world economy.
Liu, the highest-ranking Chinese official to attend this year's World Economic Forum in the Swiss Alps, is slated to give a speech (link in Chinese) about China's economic policy on the event's second day (Jan. 24). The fact he was chosen to represent China at the annual gathering of global elites is a further sign of his continued ascent to the top ranks of Beijing's decision-making circle, after years of working mostly behind the scenes.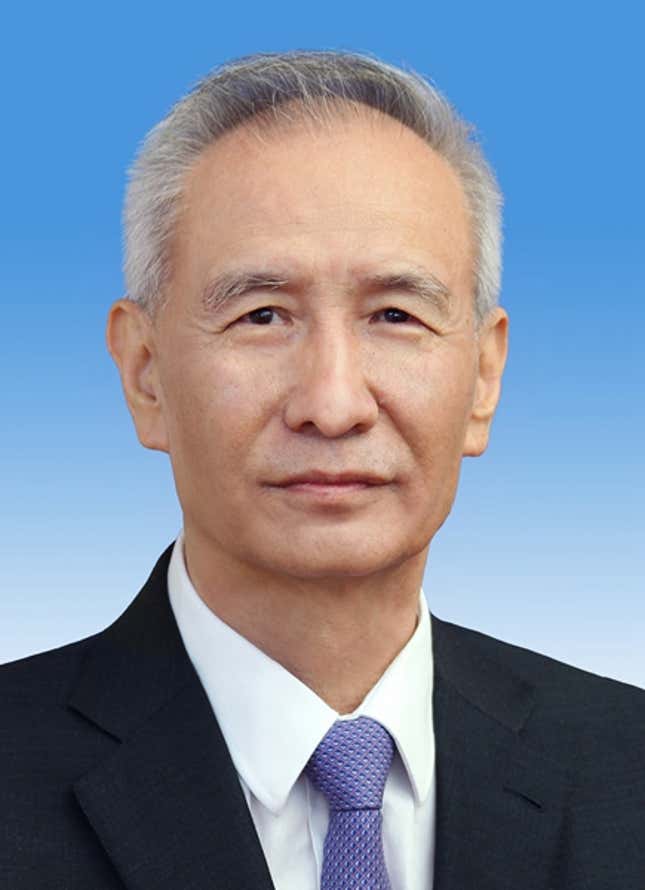 The 66-year-old is head of the Communist Party's top economic-affairs steering group, and a vice-chairman of the country's main economic-planning body. He was elevated to the party's 25-member Politburo during a leadership reshuffle event in October. Speculation is now rife that he could become the next vice-premier in charge of China's economy.
A Harvard-educated economist, Liu has been widely described as the mastermind of China's economic policy. Some analysts see him as a combination of Larry Summers and Ben Bernanke for his role in guiding both China's financial markets and its fiscal and reform policies. He is considered the chief architect of Xi's supply-side structural reform, which aims to cut industrial overcapacity and let the market have a bigger say in the economy. Back in 2013, Xi reportedly introduced Liu (paywall) as "very important to me" to a senior US official visiting Beijing.
In January 2017, Xi became the first Chinese president to attend Davos, where he rebuked many of Donald Trump's policies—including curbing free trade—without naming the president-elect. Since then, the narrative that China is poised to fill the leadership void Trump has left on the world stage has grown stronger. But economic pitfalls, including a credit-driven growth model and the continued dominance of inefficient state-owned companies at the expense of private firms, have limited China's future prosperity, as well as the world's.
In 2016, the People's Daily (the party's top newspaper) published a rare critical commentary citing an "authoritative person" as saying that boosting growth by credit injection could lead to a financial crisis. The unnamed figure is widely believed to have been Liu, given his close relationship to Xi as a top economic adviser.
China's economy expanded 6.9% last year, up from a 26-year low in 2016, according to the latest official figures. The relatively strong growth is considered an opportunity for policymakers to accelerate debt reduction. China's total outstanding debt was worth an alarming 274% of its GDP in the first half of last year, more than double the ratio from 2008, according to one estimate (pdf).
Liu keeps a low profile and rarely makes public comments. His Chinese colleagues have said (paywall) that he often dodges sensitive questions by posing questions of his own during meetings. A tall, scholarly looking figure with grey hair, Liu is also an exception among Chinese officials, who usually dye their hair black.
Back at 1993's World Economic Forum, Liu, then a junior official at China's top economic planning body, attended a roundtable debate about the future of the world's economy. As he recalled in a 2008 article, he "got most of the questions" despite his low rank. This time around, he knows, he'll receive far more attention.