As Vladimir Putin returns to office for a fourth term, criticism is bubbling back up over former German chancellor Gerhard Schroeder's close relationship with the Russian president.
A spokesman for current chancellor Angela Merkel yesterday (March 19) had to reject the suggestion that the EU sanction Schroeder for supporting Putin while the German was chancellor, and then taking well-paid jobs by the Russian state after leaving office. Earlier in the day, Ukraine's foreign minister Pavlo Klimkin had backed a call for sanctions made in a Wall Street Journal op-ed (paywall) during the weekend.
"It is important that there are sanctions against those who promote Putin's projects abroad," Klimkin told the German newspaper Bild. "Schroeder is the most important lobbyist for Putin worldwide. So it should be examined how the EU can act here."
The two men's relationship is so notorious that it has spawned a word used by political analysts and human rights activists in three languages: "Schroederization" in English, "Schröderisierung" in German, and "Schroederizatsia" ("Шрёдеризация") in Russian. In English and Russian, "it means 'the corruption of a political elite in another country,'" said Boris Reitschuster, a German former Moscow correspondent and author of Putin's Hidden War, at PutinCon, a gathering of the world's biggest Kremlin critics on March 16.
In German, the word seems to have extra nuances. While some use it to refer to corruption, one politician from Merkel's Christian Democrats recently employed it to describe a closeness to the Kremlin. He appealed (link in German) to Schroeder's old Social Democratic Party to not develop uncomfortably close ties to Moscow or help Kremlin propaganda, which he characterized a potential "Schroederization."
The phrase has been attributed to Edward Lucas, a hawkish former Moscow correspondent for The Economist, but Lucas says former Estonian president Toomas Hendrik Ilves coined the word.
Schroeder and Putin go way back, first becoming close as two alpha-male European leaders in the early 2000s. Just before the German was ejected from office after losing his 2005 re-election campaign to Merkel, he gave Putin a parting gift: approval of the Kremlin's controversial Nord Stream pipeline. The project directed Russian gas into Europe via Germany, upping Moscow's leverage over the continent. (Russia had previously relied on a route through Ukraine, which was a source of various disputes between the two countries, often leading to Moscow temporarily shutting off the pipeline.) Straight after his election defeat, Schroeder took a well-remunerated job as chairman of the project. After its completion, he became chair of its second iteration, Nord Stream 2, and last year was named chairman of Russia's state-owned oil giant Rosneft.
Bad bromance?
The two men share more than just a passion for Russian oil and gas expansion, though. They've long enjoyed having a good hug.
Like that time in April 2001.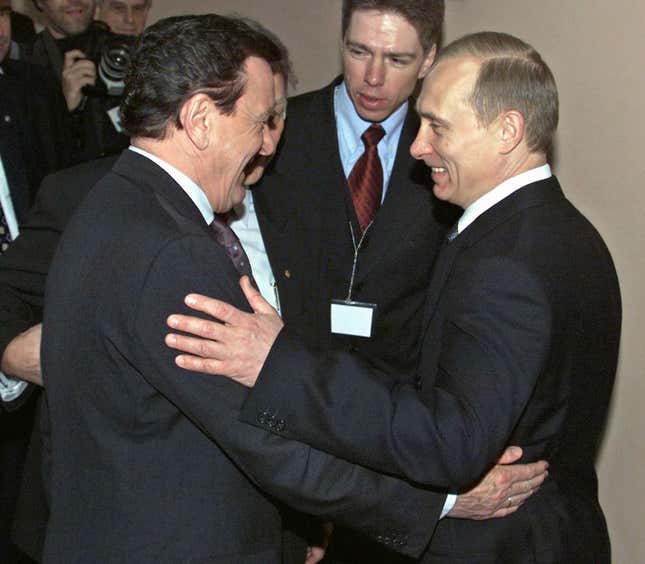 And September 2001.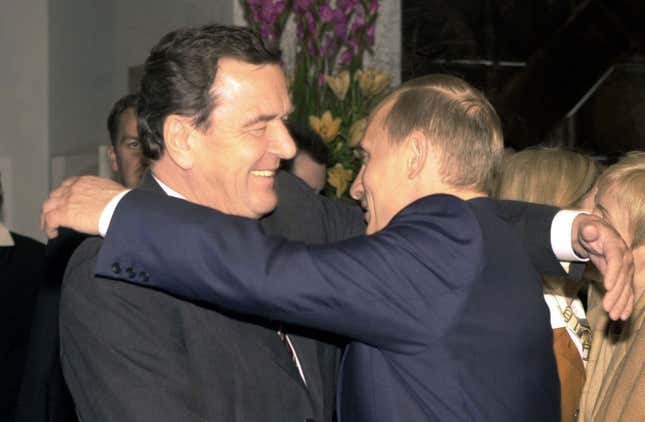 And November 2001.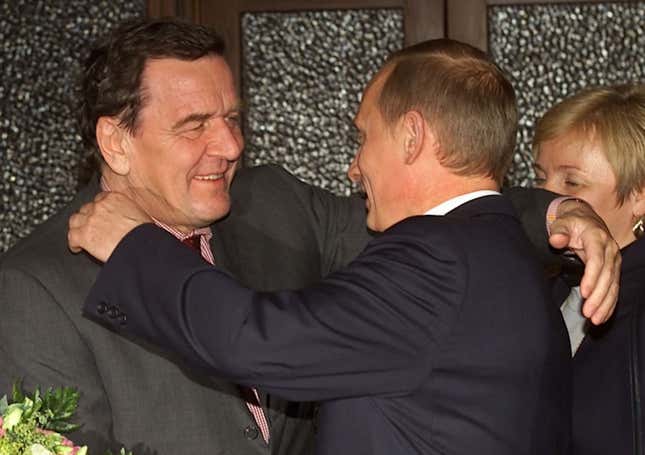 And December 2001.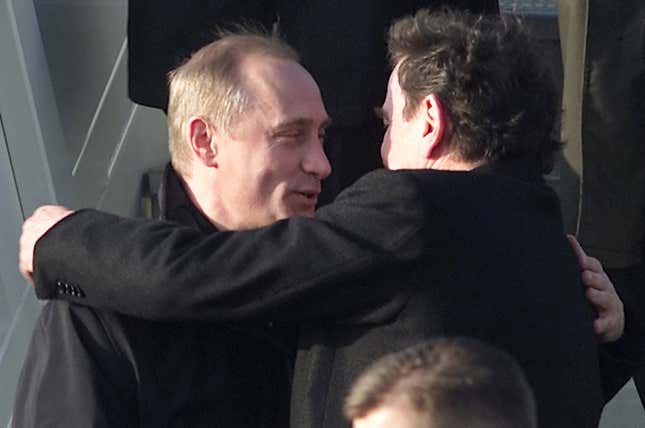 The AP and Reuters have no documented hugs in 2002. But the news organizations caught Schroeder and Putin finding each other again in October 2003.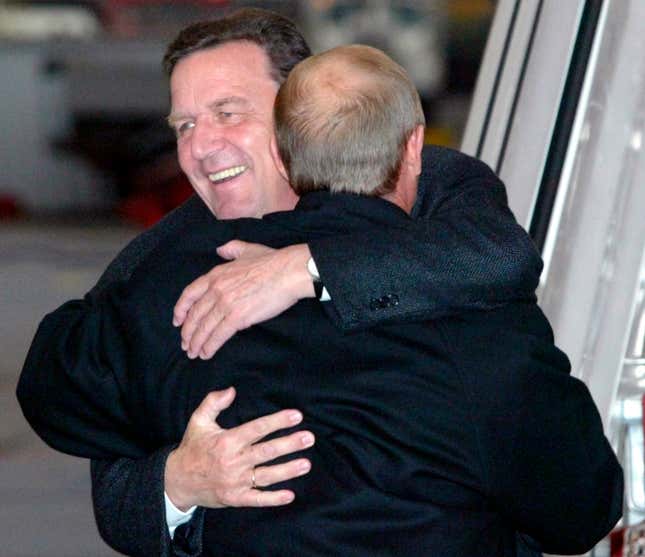 And their wives awkwardly watching the two connect again in April 2004.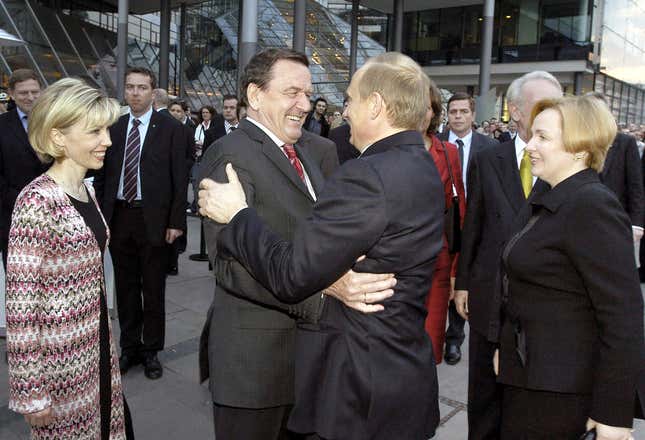 The two men found a furtive corner in July 2005.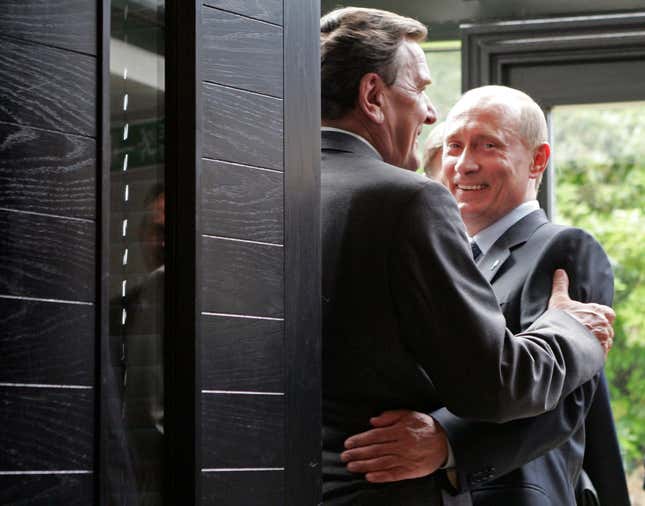 By October 2005, they'd got that walking side-hug down.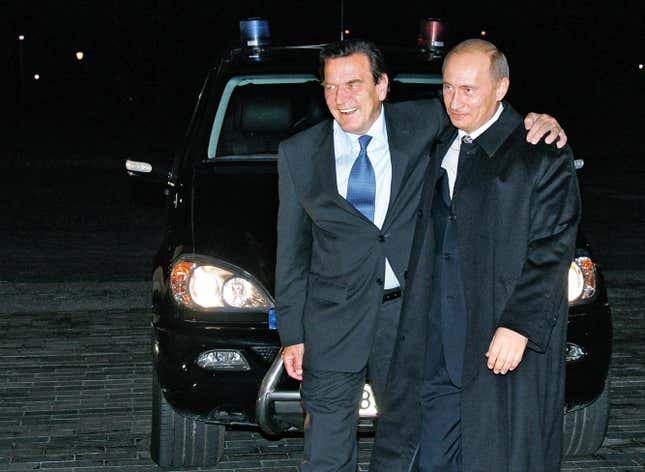 After Schroeder left office in November 2005, the press wasn't around as much to document any potential embraces. But in 2014, just after Putin's annexation of Crimea, the European Press Association snapped him giving Schroeder a cuddle in St Petersburg on the German's 70th birthday. The German media wasn't impressed.