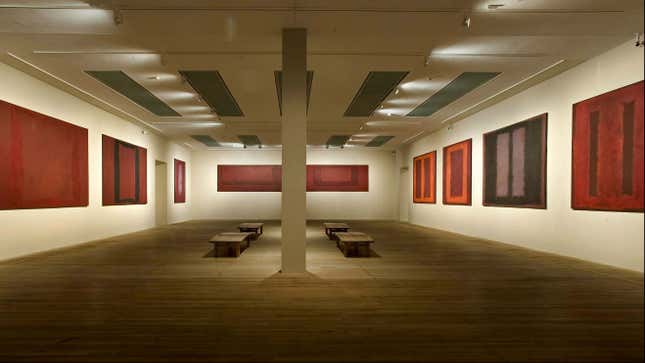 A man walked into London's Tate Modern gallery on Sunday afternoon, calmly pulled out black paint and defaced a painting by Russian-born American artist Mark Rothko.  The markings in black appear to read: "Vladimir Umanets, A Potential Piece of Yellowish."
Tim Wright, a witness to the incident tweeted:
This guy calmly walked up, took out a marker pen and tagged it. Surreal. We gave a description to the gallery. Very bizarre, he sat there for a while then just went for it and made a quick exit.
The gallery, among the world's most visited, was evacuated and briefly closed after the incident. Scotland Yard is reportedly looking for a white man in his late 20s. A spokeswoman from the gallery said the markings were in black paint.
The painting is one of the Seagram murals, commissioned for Manhattan's Four Season's restaurant in 1958. It was never installed. Orange, Red, Yellow, painted in 1961, sold in May for $86.9 million, a record for post-war, contemporary art.