There's no shortage of GPS trackers for parents who want to keep tabs on their children's driving. After all, car accidents are the leading cause of death for American teens. For some parents, that's enough.
For others, nothing but a full-on ankle monitor—the kind used to track people released on bail or parole—will do.
"We offer a variety of options for parents whether they are simply looking out for their teens overall safety or concerned for the teen that may be sneaking out of the house at night or at risk of running away," a sales video for Florida's Tampa Bay Monitoring informs prospective customers. "Since a court order is not required, parents are increasingly turning to GPS monitoring to deter their children's risky behavior."
Frank Kopczynski, the owner of Tampa Bay Monitoring (in fact located in Clearwater, Florida), also runs Action Plus Bail Bonds. He said the biggest challenge in strapping an ankle monitor to teenage non-offenders is whether they can remove it themselves.
"We provide a bracelet that is near-impossible to cut off," Kopczynski told Quartz. "It also allows us to have two-way communication and gives us the option of sounding a piercing alarm."
Along with the 95-decibel siren, if a teen is out past curfew, their parents can call Tampa Bay Monitoring's office, and Kopczynski or one of his employees will activate the ankle monitor's speaker and tell the child it's time to get home or the police will be called. Hearing "this god-like voice out of nowhere" is generally effective, said Kopczynski; since the system is two-way, staff can also monitor the teen covertly.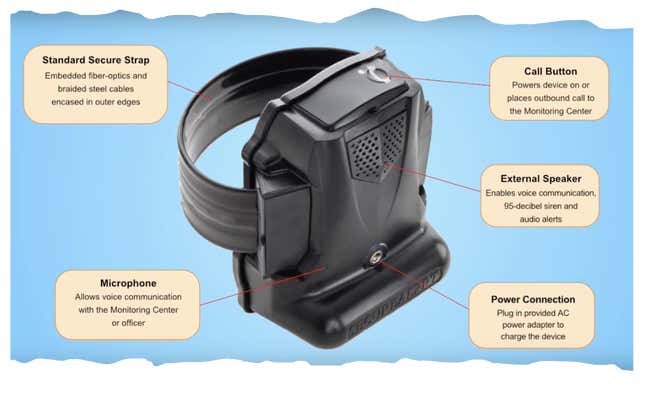 "We don't monitor it all the time, obviously, but that's one way of getting your kid away from yahoos," Kopczynski explained. "Let's face it, late at night, they're not discussing prom dates."
The most common issue for his customers, said Kopczynski, is kids running away from home, or leaving the house at night to buy drugs. (A competing teen GPS monitoring service says of their systems, "This device is also great if your juvenile goes on spring break!") Sometimes, Kopczynski said, he gets a "paranoid parent, and all they want to do is control this kid from the time he wakes up through every minute of the day, and I can kind of recognize that we're now getting into an area that I don't want to be in."
The service costs $10 a day, or about $300 per month. Customers are asked to pre-pay the first week. Tampa Bay Monitoring also offers an "optional, hardened steel encased security cuff for high-risk teens."
Kopczynski points out that it's a good deal for the money, especially because his ankle monitors allows parents to define inclusion and exclusion zones, during certain hours, just like the systems used in cars.
"Let's say, from 8:30 in the morning to 2:30 in the afternoon, your sorry butt better be at the local high school," he said. "The minute you cross that perimeter, we know."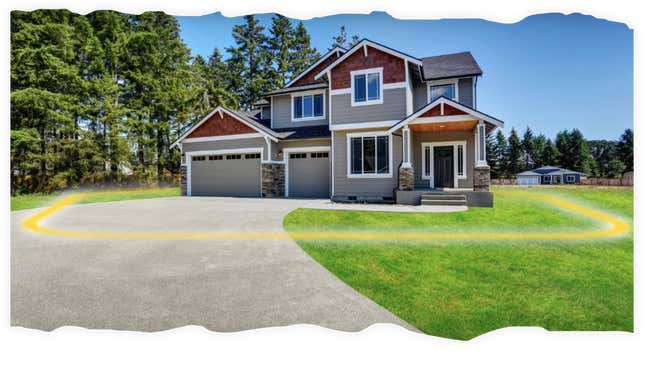 It can be embarrassing for a teen to wear an ankle monitor when they're not serving a sentence or out on bail, admits Kopczynski, adding that "you may have to wear slacks or looser jeans," which tends to get uncomfortable on the beach. However, he said, an embarrassed child is better than someone's daughter "running off with a guy who's going to eventually take her to a motel and beat her ass."
The electronic monitoring industry has more than doubled in size in recent years, and has expanded well beyond its initial market of people on bail or parole. For example, immigrants detained by US authorities and put on an electronic monitoring program are required to pay extremely high fees—$880 for activation plus $420 a month— while they await their hearings.
People with electronic ankle monitors are "effectively sentenced to an open-air digital prison, one that may not extend beyond your house, your block or your neighborhood," writer and civil rights lawyer Michelle Alexander wrote in a recent New York Times op-ed.
As James Kilgore and Emmett Sanders, both of whom have been on electronic monitors, wrote recently in Wired, "For many, electronic monitoring equals incarceration by another name. It is a shackle, rather than a bracelet."
Kopczynski, meanwhile, told Quartz he is looking toward the college market as a possible expansion opportunity for alcohol monitoring devices, which track the wearer's blood alcohol level through their sweat.