Ant Financial's Alipay has become an all-encompassing app that people in China use for almost everything—from paying bills and buying tickets to choosing insurance and checking out English test scores at university.
It started out in 2004 as an escrow service tied to Alibaba's e-commerce services. After years of blistering growth, Alipay now has around 700 million users and has become a pillar of China's increasingly cashless society. Paper notes and metal coins are a rare sight for many Chinese—these days, street beggars are using QR codes to collect handouts.
The now ubiquitous blue-themed Alipay logo is 支, one of the characters of Alipay's Chinese name, zhī fù bǎo (支付宝), which means payment treasure. It offers 40 major services, divided into six categories, providing more than 100 services in total—which in the Western internet world would be like having more than 100 separate apps crammed into one super-app. Users can find the various services by typing in a search box, and can select up to 11 most-used functions for the app's front page.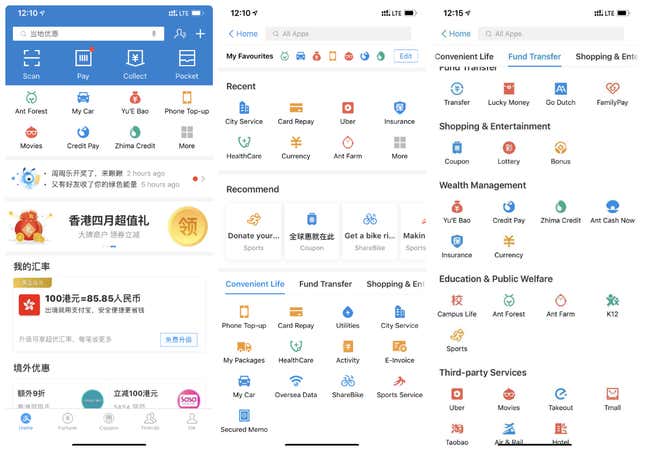 Alipay is available for users with a mainland bank account. In total, Alipay has nine so-called "local e-wallet partners" including Alipay HK, which was rolled out in 2017 by the joint venture formed by Ant Financial and Hong Kong conglomerate CK Hutchison Holdings. If you don't live in one of these places, don't fret: this guide will explain what all the fuss is about. (And be sure to scroll all the way down—what you can't do with Alipay is almost as interesting as what you can do.)
All the things you can do on Alipay
Convenient life
This category of 13 services allows the user to top-up phone minutes or data, repay credit cards, pay utility bills, check social-security benefits, make doctor appointments, pay traffic fines, receive and hand out packages, purchase overseas internet data, use bike-sharing, purchase sportswear, win bonus rewards for getting up early, and save all kinds of passwords. 
Fund transfer
Alipay users can send virtual red envelopes, a centuries-old tradition of giving money during Chinese Lunar New Year (originally digitized by Alipay rival Tencent). Users can also split bills and pay for family purchases. Linked accounts can pay for each others' phone and utility bills automatically.
Shopping and entertainment
This category lets users get overseas shopping coupons and discounts, or purchase lottery tickets.
Wealth management
Users can invest in about 20 money market funds, including the world's biggest, Yu'e Bao, through Alipay. For borrowing, there's a credit card equivalent called Credit Pay. Loans are also available through Ant Cash Now.
Alipay customers can get discounts and other benefits using Zhima Credit (or, Sesame Credit)—a system that generates a score that takes various factors into account, such as purchase behaviors, education, and timely payments on credit cards. It's separate from China's official social credit system, which the government is looking to launch next year. Under the government's credit system, a person can, for example, be banned from taking high-speed rail or flights if they owe money to the government.
Users can also buy insurance, such as a kind of mutual-aid that resembles health insurance. A product popular among Chinese migrant workers, which translates into English as "lend a helping hand," has gathered some 50 million users since rolling out in October. It doesn't require upfront payments, but users can contribute to others' medical expenses.
In the currency category, customers can check out real-time currency exchange rates and collect shopping coupons.
Education and public welfare
In the campus life section, students can top-up cards used to pay for meals in the campus canteen, check out scores for national English test results, and look for internships and jobs. After getting verified as a university student on Alipay, users can get discounts (link in Chinese) at restaurants like hotpot chain Haidilao.
Using Ant Forest and Ant Farm, customers can cultivate virtual trees and chickens as a way to reduce their carbon footprint and contribute to charities.
Users can also pay school tuition fees, and write diaries that record children's lives as they grow up, to Grade 12.
Another feature lets users convert their daily steps into money, which can be donated to children in rural areas.
Third-party services
There are also services from other providers that let customers hail rides, purchase movie tickets, order takeout, shop online through Alibaba's Tmall and Taobao, purchase flight and train tickets, and book hotels. All these are accessed without having to leave the app, which is enabled by mini-programs that are small enough to run in the main app instead of in separately downloaded ones. This, of course, makes the app stickier for users.
MYbank
MYbank is an online lender that Ant Financial and Alibaba launched in 2015. Small businesses can get loans, purchase money market funds, and get cash rewards if they encourage a number of customers to pay offline via Alipay. The cash rewards can be used to pay suppliers for goods. MYbank also provides online business courses. 
Things you cannot do on Alipay
Like its biggest competitor, WeChat Pay, owned by gaming and social-media giant Tencent, there's a catch to using all of these services. For example, users can't use aliases containing words deemed politically sensitive—that includes "Falun Gong" and Chinese president "Xi Jinping," according to the latest attempts by Quartz. In the case of WeChat (the instant messaging app that contains WeChat Pay), police have arrested people for writing comments that are critical of the Chinese government.
Foreigners are also mostly out of luck: You need to have a bank account on the Chinese mainland to use Alipay, and even then you can only use it on the mainland, not overseas, including the more than 50 regions and countries where Alipay is accepted. By comparison, a Chinese national can use Alipay globally, wherever the service is accepted.