Tencent and Alibaba—China's tech superpowers, with a combined market value of almost $1 trillion—have clashed repeatedly since they were created in the earliest days of the country's internet economy. Some 20 years later, one of the most important pieces of turf is still up for grabs: Control of the Chinese digital wallet.
As the smoke clears, Alibaba, founded by Jack Ma, has emerged as the dominant power in e-commerce, while Pony Ma's (no relation) Tencent has won gaming and social media. They still compete in a wide range of other digital sectors, and the skirmishes have at times been costly. Butting heads for control of the ride-hailing sector cost them hundreds of millions of dollars, as Alibaba poured money into Kuaidi Dache, and Tencent did the same with Didi Dache. They eventually called a truce: a merger (link in Chinese) that created Didi Chuxing.
The lessons from that stalemate could be useful in their pursuit of digital wallets. Alipay, operated by Alibaba affiliate Ant Financial, had a long head start (it launched in 2004) in what has become the world's biggest market for online payments, but Tencent's WeChat Pay has quickly narrowed the gap.
They're competing for a market that is vast and still growing. Consumers in China spent about $25 trillion (link in Chinese) via mobile devices last year. As big as these numbers already seem, there's still scope to grow. Some estimates put China's internet penetration at only around 58%.
"Both of these platforms are exploding still," says Matthew Brennan, who tracks Tencent at China Channel, a Shenzhen-based marketing agency. While there are signs that market share is stabilizing, the pipeline is "still growing extremely fast."
Alipay started out as the payment platform for Alibaba's Taobao, an e-commerce site similar to eBay, and much of its payment volume still stems from online shopping platforms. For Tencent, peer-to-peer transactions are at the core of the payment service for WeChat, the country's most popular social platform. Both companies' apps are widely accepted at offline merchants through QR codes.
A key turning point came in 2013, when Tencent brought its WeChat Pay mobile wallet online, bundled with its popular chat service. Then, as Alipay scrambled to make the leap from desktop to mobile payments, Tencent launched its "red packets" innovation during Chinese New Year in 2014. Alibaba's Ma likened the attack on Alipay to Pearl Harbor (link in Chinese): Tencent took a centuries-old tradition for holiday giving, gave it a digital wrapper, and the result went viral. The red packet frenzy inspired Chinese consumers to create millions of WeChat Pay accounts, turbocharging the new payment network.
"WeChat Pay has caught up a lot," says Vey-Sern Ling, a senior analyst at Bloomberg Intelligence. "There's not much differentiation between them now, apart from the fact that one is embedded within a chat app, and the other one is really more of a payment tool for online shopping."
Life, death, or Tencent
Ma "Pony" Huateng (Ma means horse in Chinese), 47, started out making software for pagers and is now among the richest billionaires in China. The internet mogul was born in Shantou, Guangdong Province, and studied computer science at Shenzhen University during a turbulent, unstable period in the early 1990s, when China's remarkable economic growth began to take root.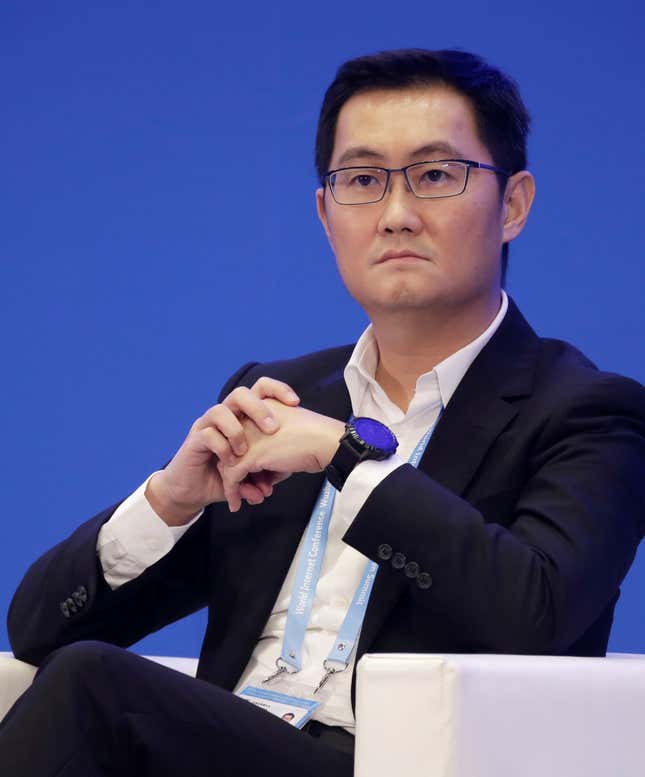 After Ma and some university friends founded Tencent in 1998, back before its "red packet" coup, it had a reputation as a copycat. Its first mobile messaging product, later called QQ, which means "cute," was pretty much a twin of an Israeli desktop instant-messenger. (Ma met his wife through the company's chat offerings.) Like other Chinese companies, Tencent got a running start at the burgeoning Chinese market thanks to government restrictions that thwarted foreign tech giants.
Ma has defended his record, saying he doesn't "blindly go for innovations." After all, Google wasn't the first startup in Silicon Valley to build a search business, and Facebook didn't create the first social media network. "The smartest way is to learn from the best examples, then surpass it," Ma said in a 2006 interview with Chinese magazine China Entrepreneur.
That strategy has put the company's market value in the same league as Facebook's, as Tencent has become an empire that venture capitalist Marc Andreessen called "one of the most successful technology companies of all time." Along the way, it has expanded into mobile messaging (WeChat), gaming ("League of Legends"), and a host of other industries, from bike sharing to streaming video. Its messaging system exceeded 1 billion monthly active users last year, up 11% from 2017, and its online gaming platform leads the world in both revenue and users.
Gaming is Tencent's most powerful engine, accounting for roughly 40% of revenue, but that motor has started to sputter. The government stopped approving licenses for new games for much of 2018, amid concern the games were too popular among young people. Ma responded to the crackdown by adding ID checks and controls to reduce overuse and addiction. While government approvals of games have resumed, including for Tencent, regulatory restrictions will be stricter than before, says Bloomberg's Ling. The gaming market is also maturing; if meteoric growth is going to be sustained, it will have to come from some other business line.
"They will have to start looking somewhere else," Ling says.
Among the areas where Tencent is looking for growth are cloud computing (another sector where Alibaba has a head start), advertising (potentially drifting closer to Facebook's model), and, of course, payments and fintech.
In the meantime, if some other Chinese tech company is successful enough, there's a good chance that Tencent will either copy it or buy it. Tencent president Martin Lau, a Goldman Sachs alum who helped run the Tencent IPO when he was an investment banker there, has overseen investments that now total more than 700 companies, and more than 100 of them are unicorns valued at $1 billion or more.
Payment duopoly
Getting a share of the digital Chinese wallet is just the beginning—the leading edge of a broader, lucrative suite of financial services, like banking (Tencent's WeBank versus Ant Financial's MyBank) and wealth management (Tencent's LingQianTong versus Ant's Yu'e Bao), and insurance.
"If we can achieve more success in cross-selling the financial products, then it may generate more revenue and more margin," Tencent's president said of the company's payments business in a March earnings call. "It's a long-term vision."
When it comes to digital payments, both companies have bragging rights. Alipay has always been the leader in volume. The company handled some $3.8 trillion of transactions in the fourth quarter, according to China Internet Watch, compared with $2.7 trillion for Tencent's WeChat Pay.
Tencent executives are quick to point out, however, that WeChat is now the largest mobile platform in the country by active users, and WeChat Pay handles a higher number of transactions. "We've been able to climb to where we are in roughly four years, which took Alipay more than 10 years," Davis Lin, Tencent's strategy chief, told Fortune in June. "Now it's a real competition."
But competition between the deep-pocketed giants could quickly become costly. Similar to the days of the ride-hailing wars, Tencent and Ant Financial are using subsidies to get market share, crimping profit in recent quarters.
So far, the subsidies have been somewhat restrained, centered around things like Chinese New Year, Bloomberg's Ling says. Though both companies are spending to protect their turf, they've avoided the mutual destruction that could come from an all-out war. Although Ant's market share has slipped, for now it seems unlikely that either company will be able to create a payment monopoly.
"It's not a winner-take-all market," says Andy Mok, non-resident Fellow at Center for China and Globalization, a think tank in China. "Most people in China will have both, maybe they will switch between them, maybe use one more than the other. The ultimate market structure will probably be more a duopoly."