It started with an angelic beauty salon, white from floor to ceiling, then passed through a big display of pastel and neon-colored sweets that nobody was allowed to eat. At the end, some were able to hold a live puppy.
This strange, rabbit-hole-esque journey took place at a business conference. It was a collection of "activations" set up by brands at the Mom 2.0 Summit, a large gathering for mom bloggers and influencers in Austin this April. The beauty salon was arranged by the skincare giant Dove, the sweets served as Instagrammable decor in Best Buy's hub, and the puppy was part of a photo opportunity, sponsored by the shoe brand Hush Puppies.
All of these companies were at the conference trying to court influencers who might promote their wares. The colorful "activations" were the first step—introducing them to the brand, and getting it into their Instagram feeds.
Influencer marketing extends far beyond the domain of hip, young, Insta-friendly brands. Everyone does it, from Amazon sellers that just offer one product to the world's largest companies; from glitzy makeup lines to anti-lice shampoo makers (hashtag #LiceFreeeMom).
Tola Oyewole, senior manager for influencer marketing at Best Buy, said during an informational session at Mom 2.0 that the company, which has signed up close to 3,000 people to its influencer network, goes to six influencer conferences a year. 
"People are becoming increasingly immune to ads and ad creative and ad claims," said Ryan Skinner, analyst at market research firm Forrester. Advertising that comes from "people like me," he said, has "much, much greater cut-through."
For a Forrester report on influencer marketing, Skinner and his colleagues spoke to the leadership of food brand Dorot, which sells its products to retailers, and not directly to consumers. During an influencer campaign its retailers experienced a 15-20% uptick in sales. Consultancy Rakuten Marketing looked at influencer impact on a broader level. In a survey of 3,600 consumers across several countries, 41% of respondents found at least one new brand or product from an influencer every week.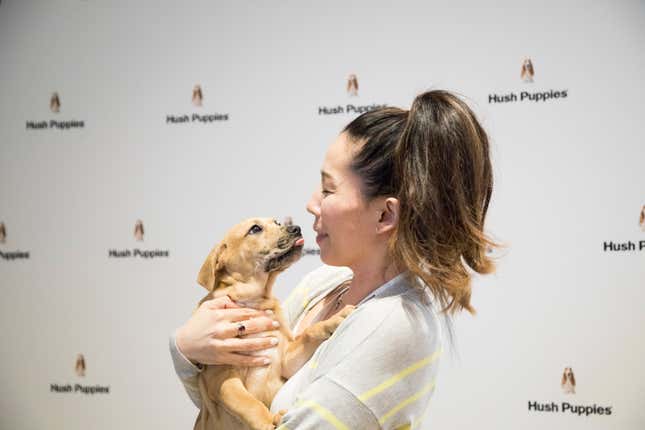 Of course, because influencers are a relatively new marketing avenue, brands are still figuring it out.  
"None of us have cracked the code of how to do this really," said Best Buy's Oyewole.
Companies that choose the wrong influencers for their goals end up having higher costs and reaching more fake followers, instead of real ones. A report by the Influencer Marketing Hub claims that one in four brands lose money on influencers or break even.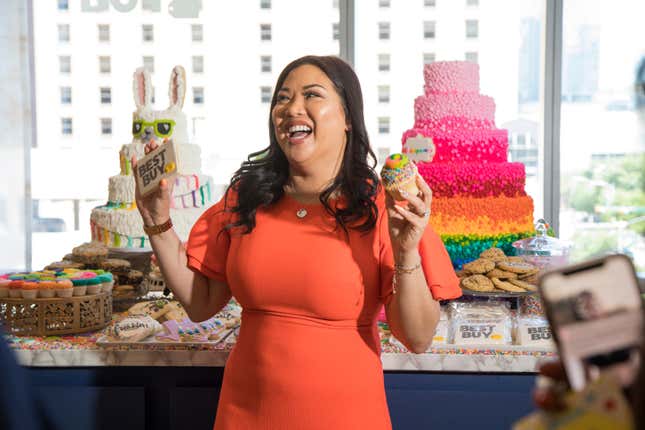 Brands have different reasons to use influencer marketing. Some want to raise the brand's profile or change its image. Others focus on generating sales, or collaborate with influencers on creating new products entirely. Whether they use microinfluencers or celebrities, bet on user-generated content or sponsored posts, depends on what they want to achieve.
Here's how several very different brands use these tactics, succeeding and sometimes getting burned:
Away and Glossier: Instagrammable from the very beginning
When Away launched in 2015, it sold its sleek, plastic-shell suitcases to consumers directly from its website. It has influencer marketing and related strategies embedded into its DNA. To celebrate its launch, for instance, the company came out with a book of travel memories collected from influencers.
"One thing that's always set Away apart is that, from the beginning, we've focused on harnessing our brand to tell a broader narrative around travel, and in getting people excited about what they can do with our products and where they can go with them," said Selena Kalvaria, Away's VP of brand marketing, in an email. The brand's Instagram is generously sprinkled with photos that do not include its products at all, but feature beautiful landscapes, far-away cities, and #wanderlust.
The company uses influencers in various ways, from sponsored posts—envy-inducing images of the globetrotters' travels or artfully packed suitcases—to collaborations, such as the one to launch the brand in Europe. Several big names in European fashion, like retailer Alex Eagle and fashion heiress Margherita Missoni, customized Away luggage to reflect their hometowns.
The company's co-founder once said that Away doesn't pay its influencers, except with travel junkets. When asked several times about this, Jodi Kovacs, a company spokesperson, would only say that the partnership terms vary, suggesting that some influencers are indeed compensated, in addition to those who get free trips and luggage.
Being so social media friendly (because what is more Instagrammable than your latest vacation?) has also helped the brand benefit from an avenue that is essentially free.
From day one, the company used the hashtag #travelaway in its Instagram posts. It interacted with consumers by doing giveaways, or telling followers to tag their friends under a post, all while using the hashtag.
Regular consumers started co-opting the brand's hashtag for their own posts, tagging Away as an important part of their travels. More than 50,000 Instagram posts have been tagged #travelaway to date. These posts essentially function as recommendations by friends, and are arguably more effective promotion than an ad. Away reposts the ones it likes best.
"[The hashtag] helped our social media teams easily track and re-post UGC  [user generated content] from our community, as well as to identify influencers that we could build relationships with, which continued to fuel excitement for the brand as people loved seeing their content shared by us," said Lilly Chappell, senior brand manager of campaigns for Away, in an email.
When you get a new Away suitcase, a card inside prompts: "The world is open. Show us where you go first." Right below are the company's Instagram handle and signature hashtag.
Betting on customers themselves works particularly well for direct-to-consumer brands like Away.
Another brand with the same business model, Glossier, the makeup company whose pink packaging is picture-perfect, has also banked on the Instagram community from the beginning. It goes even deeper into the idea that influencing should be a democratic proposition, if we put it charitably, or a hidden one, if less so.
"At Glossier, something we've always stayed very true to, since pre-launch, day one, is that every single person is an influencer," said its CEO and founder Emily Weiss, an influencer herself, during an interview for the Recode Decode podcast. The idea is that beauty editors are not the only ones with opinions on makeup products—in an area like this, everyone can be an expert.
Its brand representatives are customers, cool Insta-girls who participate in a system that Weiss told Quartz at the time of the program's launch is a "referral program on steroids." The reps get a small commission from the sales they generate, either through cash or credit toward future Glossier purchases.  
Buzzfeed called the Glossier approach "no-commerce commerce," which complements Glossier's "no-makeup makeup" products. "It doesn't feel like we're being sold products — it's much more like a lifestyle play," Eva Chen, head of fashion partnerships at Instagram told Buzzfeed.  

McDonald's: a two-pronged plan to bring in young customers
With Away's focus on fashionable globetrotters, you wouldn't expect its promotional efforts to have much in common with McDonald's marketing. And yet, the 64-year-old, $100 billion-plus fast food giant has been heavily investing in influencer marketing, too.
While the luggage brand was born on the internet, and influencer marketing was a natural fit, the burger chain has had to be very deliberate about entering the space. In the mid-2010s, McDonald's, the antithesis of trendy, was struggling to attract millennials (or at least struggling to get them to admit they were eating at its restaurants). The generation was more interested in locally-sourced food, fast-casual restaurants, and healthier eating choices.
In 2016, McDonald's hired 200 people to focus on social media, in order to convince young people to eat fast food. It has created several influencer campaigns since then. In a 2017 effort to promote buttermilk crispy tenders and fries, for instance, the company chose 14 influencers, half of whom were microinfluencers with less than 100,000 followers, and half of whom were celebrities and social media stars, to post about McDonald's on Instagram, according to a case study compiled by influencer marketing company Mediakix.
YouTuber Jeff Wittek created the post with the most engagement during  the campaign, even though he didn't have the highest number of followers. With 359,000 followers at the time, the engagement rate for his video skit was 17%. Actress and singer Cierra Ramirez, who had at the time 1.7 million followers, got 13.7% engagement on her Instagram Boomerang, according to Mediakix. (Neither post is now available, likely because influencer contracts often say that posts can be deleted after a certain amount of time.)
Picking people like Wittek is clearly aimed at giving the company some social media cachet.
To target a different audience, but also a health-conscious one that might need some winning over, McDonald's has also used momfluencers, one of whom celebrated the company's inclusion of tangerines in Happy Meals "to help make nutrition minded choices fun and easy for families."
The company's campaigns can be hit or miss.
In the UK, McDonald's created an entire YouTube channel hosted by influencers, who were doing "how-to" videos (how to become a music video director, for example). It had to shut it down after a year, since none of the clips generated more than 1,000 views, according to The Drum.
Recently, a McDonald's influencer campaign caused some head-scratching. Model and influencer extraordinaire Gigi Hadid posted a photo of herself eating McDonald's french fries at Coachella. Social media users either admired the model for "getting paid to eat McDonald's," criticized her for associating herself with a brand known for rather unhealthy food, or quipped about the stick-thin model: "you know you did not eat those fries." Perhaps it was an influencer-brand mismatch, but it sure generated a lot of buzz. McDonald's did not respond to a request for comment.
McDonald's two-pronged approach of hiring micro- and macroinfluencers provided it with small big names for engagement and big names for exposure. Sometimes, this sort of strategy takes a very particular form. Marketers will hire a big influencer, and an array of "lookalike" microinfluencers, who help "amplify the content to a larger audience through people who have a similar look, feel, and audience to the big-name influencer or celebrity," said Chris Detert, head of communications for influencer platform Influential, in an email.

Google: microinfluencer success
In a recent campaign for Google Assistant, the Silicon Valley giant tapped celebrities like John Legend, Chrissy Teigen, Sia and Kevin Durant. But to promote a new online safety and "digital citizenship" program that Google developed to teach kids how to navigate the internet, influencers were the better fit.
To connect with influencers in its wheelhouse, Google set up an installation at Mom 2.0 that featured a maze intended to teach participants how to be "kind," "alert," "smart," "safe" and "brave" on the internet, taking them through the five pillars of the program. At the end of the maze was a cafe, where one could order an oat milk latte and pastries that were so Instagrammable they were almost impossible to eat (the first bite of a glazed donut covered in mini M&Ms was delightful, the subsequent—so sugary it was almost deadly).
The aim of the #BeInternetAwesome campaign was to reach a particular group—the online parenting community. Google's presence at the conference, including the "activation," were a way to introduce the program to influencers, said Jessica Covarrubias, the program's leader.
Google got positive feedback from moms who learned some things about the internet themselves, and the Instagram-friendly maze generated a lot of convenient promotional content from the visitors.
Here's how Google decided on this strategy: In October, for National Cybersecurity Awareness Month, the company did a pilot campaign for the education program with 50 microinfluencers. "Our brief to them is super simple: we give them all the information on the program and we ask them to use it with their families and then talk about that experience," said Covarrubias.
The pilot proved successful, so much so that Covarrubias was surprised. After hearing how the influencers used the Google materials, parents engaged in the conversation, both on Google's social media channels and the influencers' own. "That really was a lightbulb," Covarrubias said. For something as sensitive as online safety, "doing big ads and big campaigns might not be as effective as doing more grassroots and more authentic storytelling," she said.
Google did another campaign with influencers in February for Safer Internet Day, and has incorporated influencers into its campaigns on an ongoing basis. Depending on the partnership, some are compensated by the company, she said.

Kia: changing an image
Kia, like McDonald's, is a large, old, global company. For the Korean car maker, using influencers is less about driving sales, or promoting a specific product, and more about revamping its image.
It's part of an effort to rebrand the car from what buyers just settle on, to the premium car that they desire, James Bell, the brand's head of public relations and social media, told Quartz.
Kia hopes to drive an "ideological shift," Bell said, which is where word-of-mouth might work better than a Super Bowl ad, something the company has done as well. His goal is to have a "community feeling," for consumers to be able to say: "I've heard from people that this is a brand that I should maybe have a look at." They don't have to immediately go out and buy it. "That's not going to happen tomorrow, but it's going to happen, because these things are all cyclical."
Bell said he was re-envisioning his influencer strategy from scratch after the company got burned (partly due to its own mismanagement) on its "ambassador" program, which had influencers promote Kia's cars after testing them out on loan. It turned out that the people chosen for the program were inflating their engagement by boosting it for each other: It was the same people commenting, liking, over and over again, and there was not a lot of interaction coming from outside the ambassador community itself. Kia shut the program down last year.

Eu Natural: tiny influencers for a tiny brand
For small companies that don't have budgets for big, traditional advertising campaigns, influencers can be a godsend. Eu Natural is a small Nevada-based company, founded in 2013. It operates primarily as a direct-to-consumer business, with most sales of its 21 products coming through Amazon. It makes dietary supplements, some straightforwardly discernible homeopathic remedies, like Echinacea, some not, like "Serenity," a "natural sleep aid," or "Staying Cool" for hot flashes and menopausal relief.
Eu Natural works with Stack Influence, an influencer marketing agency that caters to brands that sell on Amazon, which it pairs up with micro-, nano-, and non-influencers. Vinay Amin, the company's founder, said he tried working with influencers who had 100,000 and 250,000 followers, but he wasn't happy with the campaign. The one-off push wasn't particularly effective; the engagement wasn't there, which he attributed to the larger size of the accounts.
He's been working with the smaller influencers for five months. Each month between 50 and 100 influencers post about the company's products. Instead of paying them between $500 and $1,000 for one post, as he would with the larger influencers, he just gives them a product of their choosing. And that's what's attractive about these smaller-scale influencers, he said. They're cheap. What's more, the influencers generate content for the company's own promotional channels.
That's one goal for the influencer campaign. The other is brand awareness. "We've been seeing that the engagement rate has been much higher—number of likes, comments," he told Quartz.

A multi-use tool
Away, Google, McDonald's, Kia, and Eu Natural all use influencers for promotion. But their marketing aims are somewhat different.
Generally, Away wants to foster an image of a product that people would aspire to have, along with a certain lifestyle. The influencer content and customers' posts are key building blocks for that image. Giving its suitcases to the former, and spreading its hashtag among the latter has created a cool, exclusive, Instagram travel club.
The suitcase company has also used influencers to make consumers aware of the brand. Small companies like Eu Natural try to emulate that approach, relying on influencers as an affordable form of advertising.
Google and McDonald's, however, need no introductions. They focus more on buzzy campaigns to promote product or initiative launches, while helping their reputations. Kia, another well-known brand, uses influencers to change public perception of its products rather than immediately drive sales.