Nintendo's stock has soared on news that China is moving to end its 14-year-old ban on foreign-made video-game consoles. But don't believe the hype. Nintendo doesn't have what the country's gamers are looking for these days.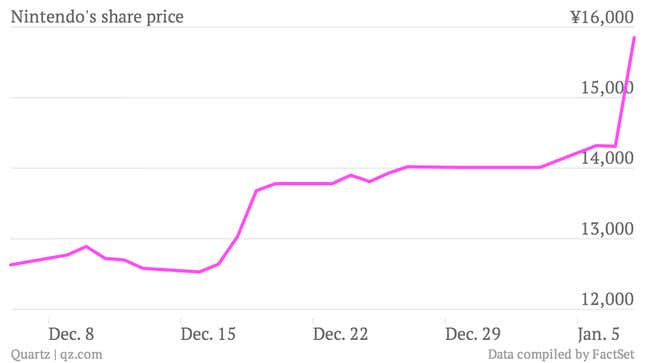 The ban on consoles was originally put in place for fear that the industry's penchant for producing violent video games would have a bad effect on Chinese children. But as an entire generation has grown up without Sony's Playstation, Microsoft's Xbox, or Nintendo's Wii, China's game industry has developed on mobile instead. The country's mobile game industry is by far its fastest growing gaming industry (others are PC and online gaming). The sector grew by nearly 250% in 2013, and is now an almost $2 billion business. (The global mobile games market was worth $3.5 billion in 2011).
Nintendo's problem is that unlike its competitors, which sell portable devices as well as games, the company has had pretty cold feet about going mobile, or even sharing its games on any platform other than its own. None of its games—Super Mario, Zelda or Pokemon—are offered anywhere other than on Nintendo's gaming consoles, which at this moment amounts to the Wii. And, most detrimental to its chances of capitalizing on the massive Chinese market, the company has completely ignored the smartphone and tablet game market. The argument on Nintendo's end has been that by focusing its energy on hardware—like the latest version of the Wii—it will be able to keep its customers happy. But that hasn't exactly panned out. The company posted a near $250 million loss in the six months leading up to September last year.
So now that China has lifted its console ban, Nintendo is at a disadvantage against its competitors. How is the company going to win over Chinese consumers who don't know its brand or cast of characters? Clever marketing may be the answer, but targeted ads and billboards can only go so far. "China's game console market is virgin territory," Zhang Yi, the head of research at iiMedia, told the Financial Times. What's more, Nintendo won't merely be competing with Playstation and Microsoft for control of the Chinese game industry, it will be competing with the Playstation 4 and Xbox One, both of which have just been released and can't keep up with demand despite selling millions of units apiece. Nintendo, on the other hand, has had trouble getting the Wii U, now more than a year old, and its games off the shelves.
And that's all assuming China will even have an appetite for video game consoles. There remains the possibility that the platforms won't catch on, either because people are too used to phones and tablets (where games are also a lot cheaper than on consoles) or because the country's government is likely to closely oversee newly produced and released games, as it already does with mobile versions.