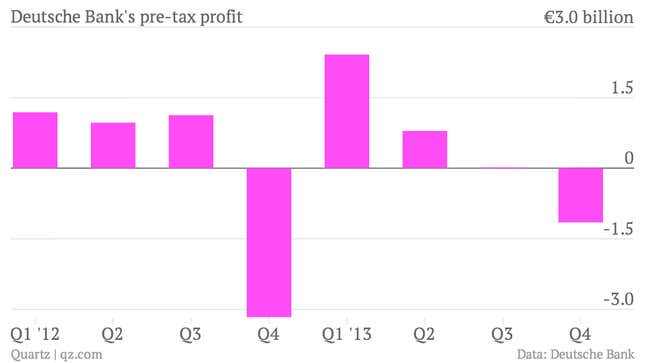 The numbers: Ugly. Deutsche Bank reported a €1.2 billion ($1.6 billion) pre-tax loss for the fourth quarter of 2013. Analysts were expecting a profit of nearly €600 million, according to FactSet estimates. Revenues slipped by 16% versus the prior year.
The takeaway: You have to look hard to find anything encouraging in the fourth-quarter financial statements. The group's asset management operation grew both profits and revenues, but that's where the good news ends. At the investment banking division, a misfiring fixed-income unit saw fourth-quarter trading revenues plunge by 31% versus the prior year. Further clouding the results was a €528 million litigation charge in the quarter, bringing the total cost of the bank's legal troubles last year to €2.5 billion (with more to come).
What's interesting: The timing of today's announcement is as notable as the results themselves. The bank was not scheduled to report its results for another ten days. Rumors of an impending profit warning, recently reported by the Wall Street Journal, seems to have forced Deutsche Bank's hand. Instead of fielding awkward questions about its allegedly sputtering business for the next two weeks, the bank bit the bullet and rushed out its results ahead of time. Suffice to say that if a company is compelled to sneak out its results late on a Sunday night with little fanfare, they're not something the firm is particularly proud of.