With the continued spread of the Covid-19 pandemic, companies that are able to are closing their doors and asking their teams to work from home. The transition from office to home can be challenging both logistically and emotionally—but there are ways to make it go smoothly. Quartz is here to give you the tools you need to make sure you and your colleagues are productive, healthy, and connected during this time of crisis.
Our latest presentation for members walks you through the resources you and your team will need—from self-care and communication tips to software and hardware recommendations.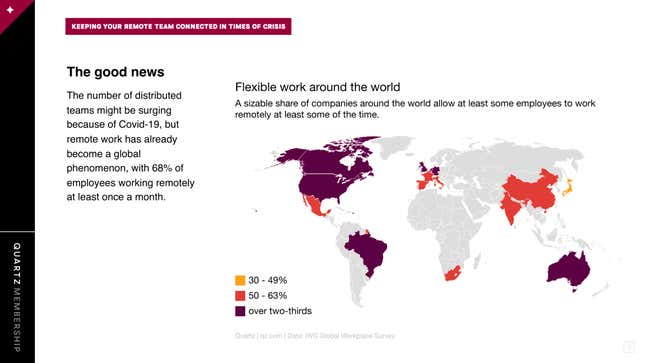 There is good news. Even if you and your team are new to remote work, many teams around the world had already made the transition. The resources, tips, and technologies they use will benefit everyone working from home. Distributed work also has surprising benefits, including improved accessibility for the 15% of the global population living with a disability. A Gallup survey found that US companies that adopted remote work saw a 21% boost in profitability and 41% boost in attendance.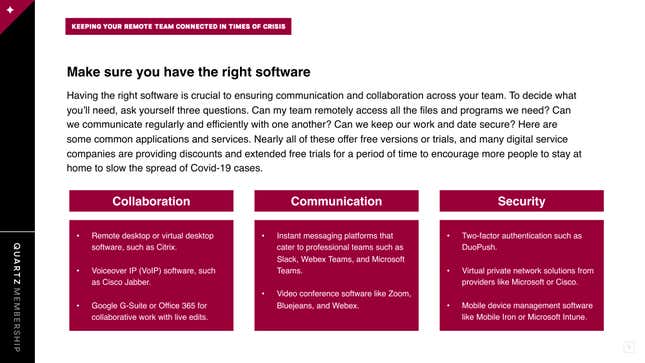 If your team has not worked outside of the office before, you may face new hardware and software needs. Having the right technology is crucial to ensuring communication and collaboration across your team. To decide what you'll need, ask yourself three questions. Can my team remotely access all the files and programs we need? Can we communicate regularly and efficiently with one another? Can we keep our work and data secure?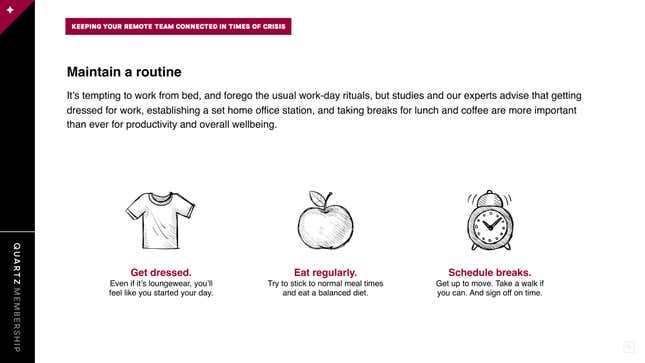 Of course, making this transition—especially during a time of crisis—will be difficult. That's why one of the most important things you can do for yourself and your colleagues is maintain a routine and prioritize wellness. Check in on one another, take breaks for exercise and rest, and consider hosting group mental health sessions.
To see all of the slides, you can view the PDF version or download the PowerPoint file, which includes our sources and notes. You might also benefit from our guide to working from home. This is one of an ongoing series of member-exclusive presentations, which you can read, reformat, and use as you wish.
Please share any feedback about what would make these presentations more useful—or topics you'd like to see us cover—by emailing us at members@qz.com. These presentations are an exclusive benefit for Quartz members. We'd love it if you'd encourage any friends or colleagues who express interest to become a member so they can access them, too.