France's new government has been making noise about forcing Google to pay for the privilege of linking to French news sites. Google responded by threatening to remove all French news sites from its index, which would presumably eliminate the 4 billion clicks it sends to those sites every year.
Now France's minister of technology, Fleur Pellerin, tells me that Google chairman Eric Schmidt is traveling to Paris next week to discuss the issue. The hope, says Pellerin, is that Google can reach some sort of agreement with French newspaper publishers that would eliminate the need for legislation.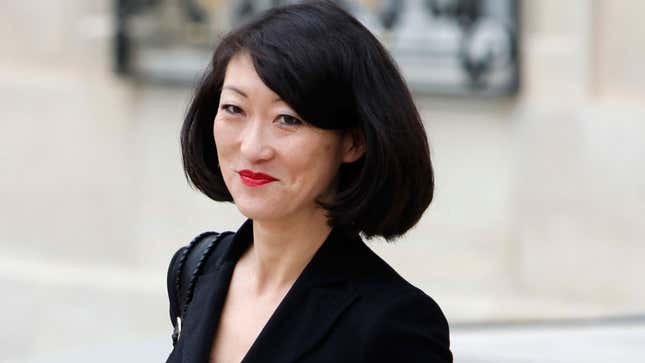 "We don't want to appear as a country that is anti-Google," Pellerin told me in Boston today. "Obviously Google is a wonderful tool and Google is a major actor of the digital ecosystem."
"What I would suggest—and what I'm going to suggest to Google and to the press–is to start negotiating, to start discussions for maybe three months, and try to find an agreement on a negotiated basis," Pellerin continued. "And if they don't, well we'll see."
Pellerin's stance could set up a conflict within the six-month-old cabinet of French President Francois Hollande. France's minister of culture, Aurelie Filippetti, told a parliamentary commission last week that she was in favor of charging Google to index news and that a system to distribute to publishers revenue recovered from Google is "a tool that it seems important to me to develop."
Pellerin, by contrast, called the proposal to tax Google for indexing news "not mature" because it would require a revision of French copyright law. A similar revision of copyright law in Germany, which would make it possible to copyright headlines and even sentence fragments, has been highly controversial.
In 2005, Agence France-Presse (AFP) sued Google in a case that made claims similar to those being made by French publishers today. That suit was resolved when Google agreed to license AFP content, including the right to reproduce whole articles.
Pellerin cited the détente between Google and AFP as a model for how the company might resolve its current difficulties. It's not clear, however, that Google would want to pay for the right to reproduce everything that every French newspaper publishes.
Efforts to levy a fee on Google in Germany and Belgium have been conducted in the name of protecting an ailing print industry, Pellerin was sympathetic to the changed media landscape that seems to be taken for granted in the US.
"I think we should not address the situation as if there was only one side who was taking advantage of the traffic and the other side was losing everything," says Pellerin. "I think they both take advantage, both the press and Google benefit from the cross-traffic that they create."
France has a history of dust-ups with Google, beginning with former President Jacques Chirac's assertion that France should create its own search engine because Google is a tool of Anglo-Saxon cultural imperialism. It also includes recent efforts to tax online advertising in France, a raid of Google France's office to determine if the company was evading taxes, and a French court finding that Google must pay a 500,000 euro fine for giving away Google Maps for free.