Chinese state media are accusing an "unnamed foreign country" of recruiting spies at Chinese universities and through popular blogs and social media. This week, a series of news reports claim that unsuspecting Chinese, some of them as young as 16 years old, are being lured into working for foreign intelligence agents.
The reports seem to be a response to a short documentary posted by the US Federal Bureau of Investigations last month, telling the story of a 28-year-old Michigan native, Glenn Duffie Shriver who says he was was recruited to spy for the Chinese while living in Shanghai, and was eventually caught by US authorities. The FBI video describes Chinese intelligence officers plying the young American with cash and luxury liquor, and appealing to his fascination with China.
The fact that this kind of covert recruitment occurs isn't as surprising as each government's attempts to paint the other as emotionally manipulative and ruthless. It may be a sign that US and Chinese intelligence agencies are waging a war for public opinion, as well as critical information.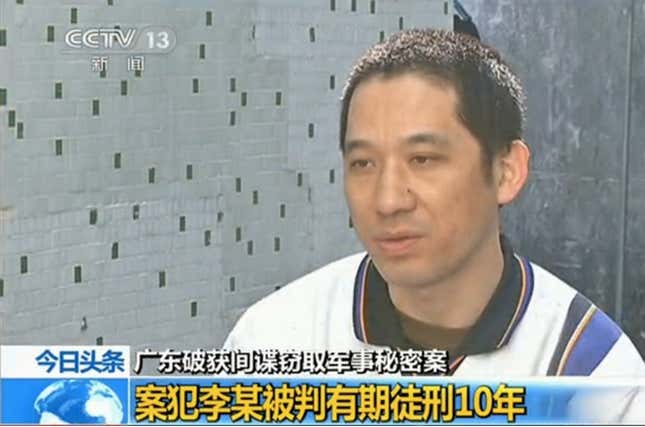 China's state-run People's Daily reported on May 5 that an unnamed foreign country had recruited at least 40 people in 20 provinces to give military secrets to an agent whose online alias was Feige or "Flying Brother." On May 7, China's state-owned Global Times (link in Chinese) accused this unnamed overseas intelligence agency of  "repeatedly seducing" Chinese students into working for them.
The Global Times describes a recruitment process uncannily similar to Shriver's account, with the foreign intelligence agents seeking sensitive information from within the other government's operations, and exploiting the naiveté and financial needs of the young recruits. (CCTV also featured an interview with one imprisoned Chinese informant, much like an interview Shriver that the FBI posted online.) One Chinese student said he was given an allowance of $500 a month so he could study full-time for his country's civil service exam. In another account, a former student at a naval science college in Guangdong said he was asking online for advice on tuition subsidies when he was contacted by someone with the alias of Miss Q, who offered to pay him for photos of nearby military installations.
"Once the students are addicted to the money," a Chinese security official told the Global Times, "the foreign intelligence agency starts to plan and control the student's career choices and path."