Lenovo, the world's largest computer maker, recently snapped up Motorola's smartphone business and IBM's server business.
But Legend Holdings, the conglomerate that is Lenovo's controlling shareholder, just quietly made a much different investment—into China's fast-growing, rapidly-privatizing healthcare industry, particularly the toothy part of it. Legend is investing 1 billion yuan ($160 million) in iByer Dental, a 20-year-old chain of dental clinics.
Legend, controlled by Lenovo founder Liu Chuanzhi, is already a formidable industrial investor, with a portfolio that includes a giant real estate group, agricultural chemical businesses, and asset management units with over $9 billion under management. The iByer deal represents something of a shift, one that reflects China's massive shortfall of dentists and dental care.
The group plans to double iByer's size, to 200 dental clinics, over the next three years. "It is an opportunity for us to grab a market share in the promising healthcare industry," Legend Holdings president Zhu Linan said.
It's no secret that China's healthcare sector desperately needs investment. State-run hospitals are so underfunded that some rely on kickbacks from drug companies and medical suppliers to close their budget shortfalls, and severe overcrowding is pushing patients to a growing number of private clinics. China recently introduced sweeping healthcare reforms designed to make it easier for investors to enter the industry.
China's healthcare spending is expected to triple, to $1 trillion, by 2020 thanks to an aging population, a rise in lifestyle-related diseases, and more doctor's visits thanks to higher incomes. It's no surprise, then, that investors—from foreign private equity firms to Fortune 500 companies—are looking for a way into the market.
In dentistry, China's shortfall of professionals is immense. China has the lowest density of dentists, per capita, of any G-20 nation, according to the World Heath Organization: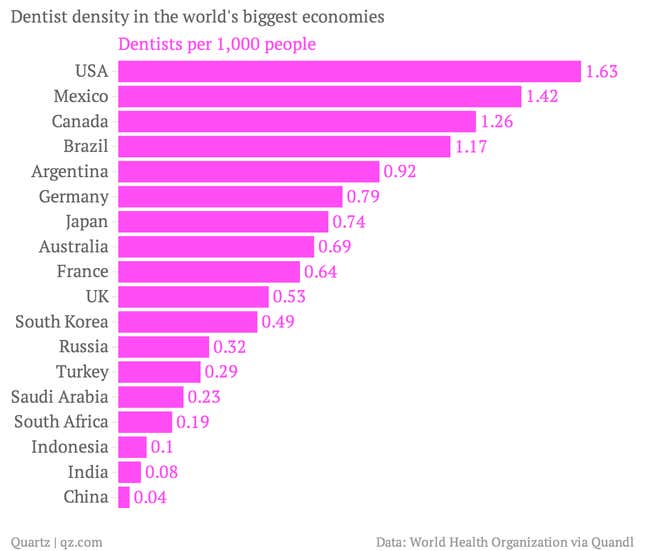 State-run dental hospitals still make up the majority of the country's dental clinics, but private business like iByer are thriving. A recent report by Orient Securities (link in Chinese) said the market in China is "booming." One driver is orthodontics, which is now within reach of families and young professionals who could not afford it a generation ago. China's aging population will play a part here too—the dental implant business (aka false teeth) is expected to grow by 30% by 2016.
Cathy Sizhau Yi contributed reporting to this article.