People in America cried or draped themselves in American flags to dance over President Barack Obama's reelection on Nov. 6, but few Chinese mustered even acknowledgment of their country's new top leaders today.
"I haven't been paying attention to the party congress," Wu Cangye, a 21-year-old recent university graduate in Shanghai, says in an email interview with Quartz. Chinese officials unveiled the seven men to serve on the party's Politburo Standing Committee, the highest decision-making body in the country. In March, Xi Jinping will be officially installed as the next secretary general of China's Communist Party, the most powerful post in the country, as well as president. We've profiled the rest of them here. Xi, along with the rest of the committee, will govern the country for the next decade.
But Wu, reflecting on Chinese politics and the influence the new leaders could have on the direction of the country and her own life, says, "Whatever… there's no impact." In contrast to foreign journalists scrambling to cover the announcement and the flood of state media reports on the 18th party congress, many Chinese youth have followed the transition only to the extent that the congress inconvenienced the lives of those based in Beijing. The top discussed posts on Sina Weibo, a massive microblogging service where many young Chinese get and discuss news, were on a new circular shaped building in Fushun and Swedish footballer Zlatan Ibrahimović's winning goal against England (in Chinese).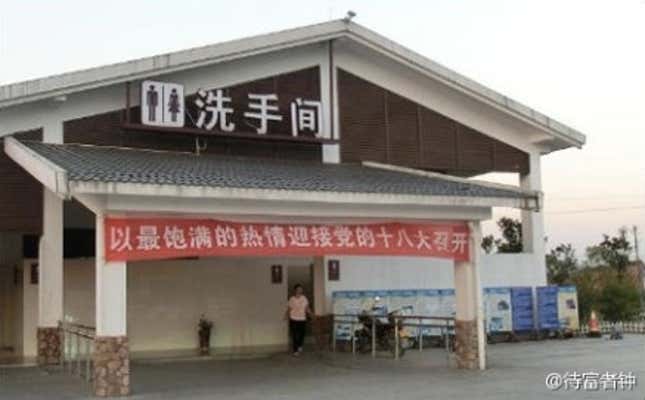 But there is also the fact that free discussion of the leadership change is limited. Searches for "18th party congress" have been blocked on Sina Weibo, but searches for alternate terms like  "18 big" or "I8 big" (using the letter 'I') also turn up few posts with real discussion of the new leaders. A previously used term, "Sparta," which in Chinese it sounds like the title for the congress, is now blocked. Still, there has not been an flurry of terms to get around censors as there were when searches related to ex-Chongqing party chief Bo Xilai were blocked (after he was expelled from the CCP, censors allowed free discussion of him).
Searches for posts related to Xi are not blocked, but there is little discussion of him either. Fang Hanqi, a journalism professor at Renmin University in Beijing, commented on Weibo that he thought Xi's closing remarks were "very sincere, very honest and very transparent." One user wrote in response, "If you really want to help ordinary people start with controlling the price of things."
The most prevailing reason for a lack of interest might be the lack of involvement some Chinese feel. "There's a sense that it's all been decided already… who it's going to be, what policies are going to be picked," says Sarah Cook, senior Asia analyst at the Freedom House, which campaigns for media freedoms. The head Chinese officials are chosen through a secretive negotiating process with past and current leaders vying to retain or improve their influence.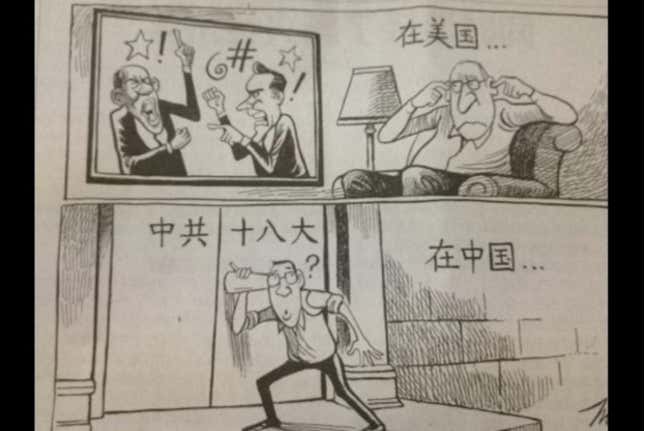 But it is not that this group does not care about politics. We've reported before their outsize interest in the US election, which made many reflect on the state of their own political system. Following today's announcement of China's leadership team, one Twitter user from Nanjing said, "The end of the 18 big stirs up deep feelings. Has China been cursed by the gods to never achieve democracy?" Twitter is blocked in China but some users access it through VPNs. "They care but there's almost no opportunity for them to have any influence," says Orville Schell, director of the Center on US-China relations at the Asia Society in New York.
Still, another reason for apathy may be the remoteness of Chinese leaders of whom even innocuous personal details are kept from the public. When outgoing president Hu Jintao took his post in 2002, officials visited the home of an aunt who raised Hu to confiscate photos of him as a child in case they be released to reporters. As for Xi, the public knows more about his wife Peng Liyuan, a folk singer. Analysts try divining Xi's leadership style and priorities from his past posts in northwest China or his upbringing in an elite revolutionary family. "The portrayal of party leaders is very sanitized and very distant," says Schell.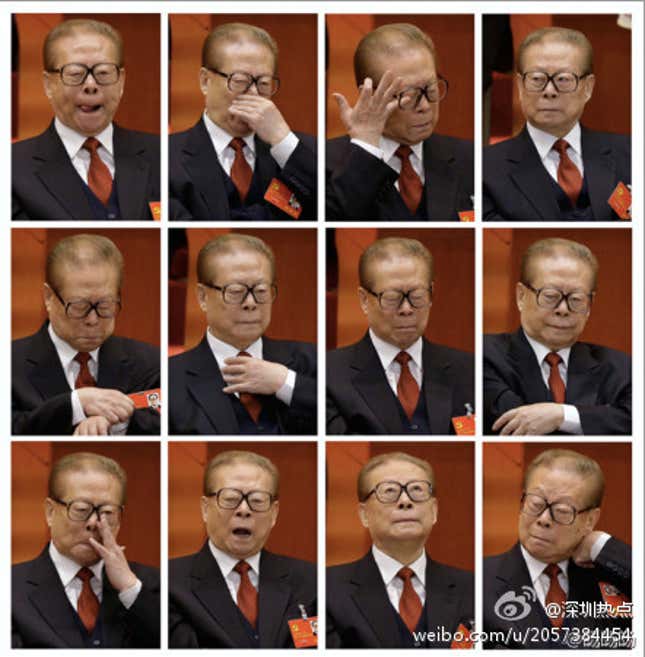 Muted interest from within China on the leadership change also reflects the growing legitimacy problem the new batch of leaders will have to confront. One political scandal after another this year showed how corruption, which has to a degree been accepted as an inconvenient reality for lower level officials, is present at the top too.
These include revelations that Bo, originally tipped for a spot on the PSC, helped cover up the murder of a British businessman by his wife. A close ally of Hu's also attempted to cover up a fatal car accident in which his son crashed a Ferrari with two semi-naked women in the car, raising questions about the lavish lifestyles of the children of Chinese officials. Relatives of outgoing premier Wen Jiabao reportedly accumulated at least $2.7 billion in assets through Wen's connections, according to a New Times report that sparked threats from Wen's lawyers.
Segments of cynical Chinese youth have come to expect this behavior. Wu says, "I am disappointed but not surprised." At the congress outgoing president Hu Jintao vowed commitment to political reform, cracking down on corruption. Other reforms include narrowing the gap between China's rich and the poor and building 5 million units of affordable housing for many Chinese who can't afford the rocket-high prices of houses in most Chinese cities.
But little progress is expected from the new leaders, given that it now appears that conservative hardline officials have beat out political reformers for seats on the PSC. Moreover, many  officials and observers had believed Hu would bring about political reforms, which ultimately did not materialize. "They promised fair access to education, the ability to buy a house… these are all just promises," says 26-year-old Ling Kun, a software developer in Guangzhou. "It's like if someone borrowed money from you and never returned it. You'd lose faith in them."