The skyline of Yujiapu in the Chinese city of Tianjin looks more like an expensive, abandoned movie set than it does "China's new Manhattan," as the financial district was once billed. A patina of dust covers the glass doors of the 47 office buildings and hotels that still sit empty, and in come cases unfinished.
This Manhattan-style ghost city on some of the best real estate in Tianjin, a port city just south of Beijing, is a victim of China's investment boom—and, as is increasingly apparent, its bust. Tianjin has led the debt bonanza of the last five years, loaning out money faster than anywhere else in China since the financial crisis hit in 2009.
Much of the construction ceased back in 2010, and the deserted avenues left behind reflect the reckless borrowing of local-government financing vehicles (LGFVs)—companies created by city and provincial governments to borrow cheaply from state-owned banks to fund prestige-boosting infrastructure projects. Built by one of Tianjin's most powerful local-government financing vehicles (LGFVs), Yujiapu promised to become "the world's largest financial district," with at least 200 billion yuan ($32 billion) invested to create a new center of Chinese "financial innovation."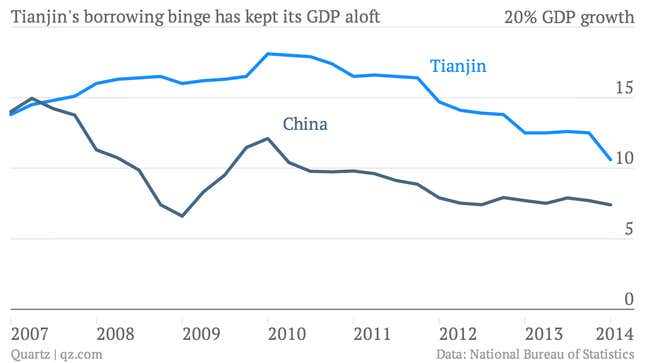 Now, as China's property market continues to slump and the economy flags, LGFVs all over the country are seeing debts come due and have little if any cash flow to cover them. In the case of Tianjin Binhai New Area Construction and Investment Group, some 20.7 billion yuan ($3.3 billion) in debt comes due this year—three times what it owed in 2013, reports Bloomberg. Meanwhile, revenue fell nearly 70% in 2013, bringing in less than a third of what the LGFV owes in 2014.
How could a company take such a big gamble? In a word, vanity—the city's and its leaders'. Though Shanghai might be widely accepted as China's financial center now, it wasn't always. Back in 2008, Tianjin launched an aggressive campaign to wrest that title from its rival further south, setting up a slew of capital and commodity exchange markets and positioning itself as a center for private equity.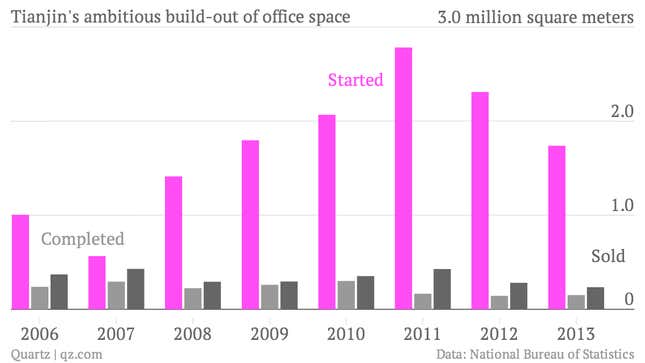 China's "new Manhattan" project was associated with Zhang Gaoli, the Communist Party secretary of Tianjin at the time, who won one of the seven coveted spots in China's cabinet in 2012 and now is one of the top economists leading the country, reports the New York Times (paywall). Unsurprisingly, Zhang is a big fan of government-led investment. But even as he graduated to the Party elite in 2012, Tianjin was already deeply mired in debt. (Though it didn't break out Tianjin's debt, an official audit found that Tianjin, Shanghai and Guangzhou had amassed 3.9 trillion in debt as of late-2012, an average of $17.4 billion apiece.)
And cash flow isn't the only flow problem in the Manhattan of the Middle Kingdom. Built on coastal salt flats just a few inches above sea level, Yujiapu is prone to flooding due to storm surges and heavy rains. As a local resident told the Times in 2012, after nasty weather that spring, "you had to roll up your pants and take off your shoes to walk across the street."