The US has become "a nation of suckers," according to a new research report, which found that the $4-billion US gum market has shrunk by 11% in sales and 20% in volume over the past five years, as consumers reject the sticky stuff and instead pop breath mints.
The mint market's sales have grown by 20% over the past five years, to $1.2 billion, according to the report from Rabobank.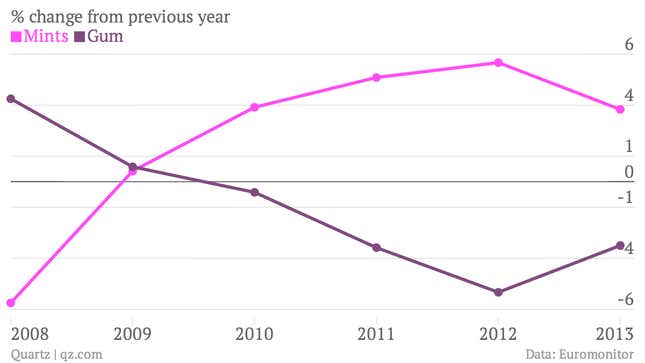 We've known for a while that Americans aren't buying gum like they used to. And while gum makers may have thought they could revive sales by cutting out artificial ingredients, sticking to sugar-free formulas, and even infusing gum with vitamins, they're facing an insurmountable problem: Chewing has gone out of style. Americans seem to have decided that sucking a mint is a more discreet and efficient way to freshen breath.
What's known as the "standard mint" sector—milder-flavored mints such as Ice Breakers and Mentos—has grown by 15% over past 5 years. The "power mint" market, a subset that includes intensely-flavored breath-freshening mints such as Altoids, has grown by 27% over the same period, jumping by 12% between 2011 and 2012 and another 6.4% in 2013. The market for mints has grown much faster than the overall confectionery market in the US, which has seen increases of about 2.5% each year since 2008.