Less than 24 hours after India's largest e-commerce company, Flipkart, raised $1 billion in a spectacular funding round on par with Facebook, Amazon countered with a little announcement of its own. It declared that it will invest an additional $2 billion "to support its rapid growth and continue to enhance the customer and seller experience in India."
As Quartz has reported, India's e-commerce growth is set to explode to an estimated $50 billion by 2020, up from somewhere between $1.5 billion and $4 billion today. Amazon is already investing heavily in expanding the categories it offers and improving logistics. And the battle for Indian e-commerce will take vast reserves of money for all comers thanks to the country's poor infrastructure, widely distributed merchants, and still-low internet penetration. Amazon's $2 billion will no doubt be well spent.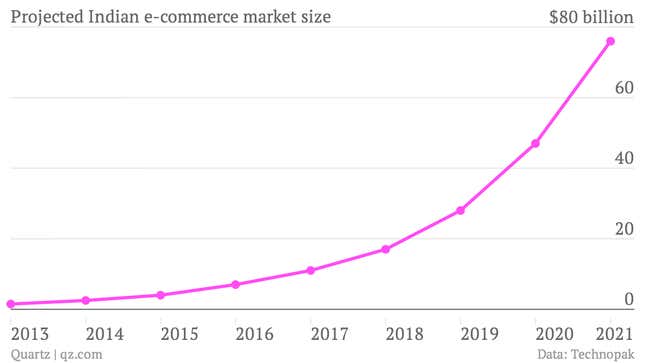 Still, Amazon's announcement has a distinct whiff of public relations about it. The amount Amazon plans to invest—exactly twice as much as Flipkart's funding—is surprisingly precise, even if little else in the announcement is. Bezos's suggestion that India will be the fastest country for Amazon to hit $1 billion in gross sales in neither here nor there. For what it's worth, Amazon's global net sales in 2013 were $74.5 billion, 60% of which came from North America.
Bezos is no stranger to a strategically crafted press release—he most recently demonstrated his news sense and good timing when he announced, on the eve of the biggest online shopping day in the United States, that Amazon planned to use drones to deliver products at some undetermined time in the future.
The announcement of a $2 billion in India today could be seen as evidence that Amazon is taking Flipkart's competition seriously—it has a headstart over Amazon and is unconstrained by Indian regulation that prohibits foreign direct investment in e-commerce (though that is set to change). Or it could be the Indian equivalent of the drone announcement—a way to ensure the conversation about e-commerce and innovation remains centered solely on Amazon.