China's economic support for Russia in the face of the ongoing conflict in Ukraine, and growing pressure from Western sanctions, is well known. But another deep-pocketed financial supporter has also been forging closer economic ties with Russia this summer: the United Arab Emirates.

The UAE 's most visible commitment to Russia is through the Russian Direct Investment Fund, a state-bank backed private equity fund with more than $10 billion in foreign capital that invests in Russian businesses. It has some Western private equity giants on its board (pdf., page 12 and 13), including Apollo's Leon Black and Blackstone's Steve Schwarzman. But Middle Eastern nations, and particularly the United Arab Emirates, led by Abu Dhabi, have provided most of the money in recent years. Funds from the Middle East include:
 $5 billion committed by the Abu Dhabi department of finance in 2013, the "largest investment from the Middle East ever made into Russia."
$1 billion from Abu Dhabi's Mubadala Development Company pledged in 2013.
$2 billion from Qatar's Investment Authority, pledged this May.
There are investments from outside the Middle East too, including $1 billion from China Investment Corp., $500 million from the Japan Bank of International Cooperation, and about $200 million from France's state-backed Caisse des Depots.
The RDIF may be moved to Russia's central bank to keep it from being touched by sanctions, Bloomberg reported this week. A RDIF spokeswoman said no decision has been made, and discussions about this change were started two years ago.
And Republican-backed sanctions-related bill in the US Senate could force US private equity advisers to leave the fund's board, and US companies from doing business with RDIF. Both moves could potentially have a serious impact on investors' return—on top of any impact from the weakening Russian economy.
The RDIF investments happened before Russia's incursion into Crimea, and are part of a growing relationship cemented by meetings between Crown Prince Sheikh Mohammed bin Zayed Al Nahyan and Russian President Vladimir Putin in recent years, including the signing of a tax treaty and a nuclear agreement.

Abu Dhabi made the first Gulf sovereign wealth fund investment in Russia back in 2010 (paywall), when it invested $100 million in a Russia-focused hedge fund, and since then the seven emirates that make up the UAE have been forging alliances and investing large sums. Total United Arab Emirates investment in Russia stands at about $18 billion, the emirates' economic minister, Sultan bin Saeed Al Mansouri, said in February.
Since the March annexation of Crimea, officials from the UAE have been pledging more economic support for Russia and pushing closer ties. In April, Dubai airport officials traveled to Moscow looking for investors. In June, the UAE's economic minister traveled to Moscow with 40 government and business executives and pledged to more than double bilateral trade between the two countries to $7 billion  in 2014, and cooperate with Russia on energy and agriculture projects. And in August, the UAE's state-run carrier Etihad said it would start freight services between Abu Dhabi and Moscow.
The UAE depends on Russia's deep pockets too. In the past decade, Russians have flocked to Dubai to take advantage of the warmer weather and tax-free shopping, where they're known as the emirate's highest-spending guests.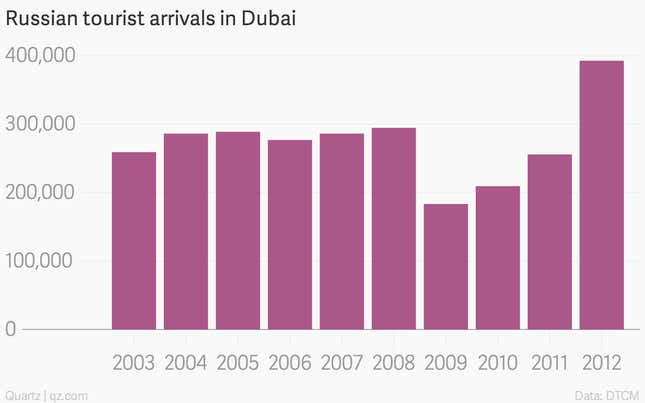 With hundreds of billions of dollars in excess oil reserves, the United Arab Emirates are not likely to feel a real pinch from the falling value of any Russian investments, or a short-term decline in the number of wealthy Russian tourists.
But as a long-time ally of the US, the UAE could certainly feel some political heat—maybe as soon as this week, as nations gather to discuss Russia's invasion of Ukraine. Although the emirates are not NATO members, a UAE representative will attend Thursday's alliance summit in Wales as an observer.
This article was updated on Sept. 3 to include a comment from RDIF.