In today's fashion industry, a social mission is a highly effective branding tool. Eyewear company Warby Parker, which contributes a pair of glasses to someone in need for every pair it sells, sold half a million pairs of glasses in 12 months. In August, Bain Capital bought half of the Toms shoe company, which also works with a sell-one-donate-one model, in a deal that valued the manufacturer of cotton slip-ons at $625 million. For brands at the higher end of the market, selling socially conscious ideals is a more complicated challenge. The luxury realm of Louis Vuitton, Chanel, Gucci, Prada, and Hermés favors the idea of heritage—and specifically of the European persuasion, at that. Self-righteous startups need not apply.
But three years ago, a new luxury label called Maiyet quietly appeared, with sophisticated, streamlined ready-to-wear; weighty gold statement jewelry; and bohemian leather sandals. As fashion was turning to minimalism, Maiyet looked just right, and the brand—with a mission that had as much to do with social good as it did with aesthetics—was welcomed into the fold.
Maiyet's brand of disruption comes cloaked in featherweight silk and ribbed cashmere—stealth, elegant disruption.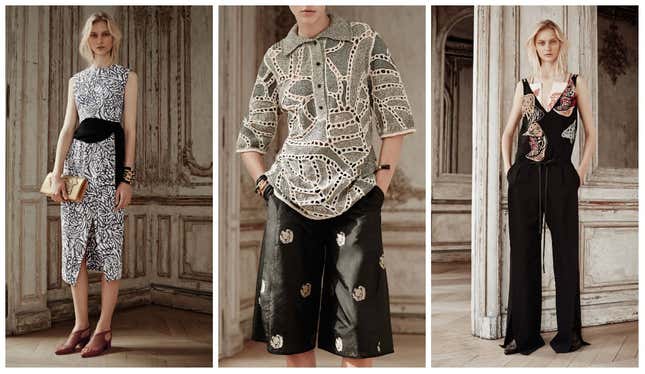 The feat was all the more remarkable considering the brand's founder, Paul van Zyl, a South African human rights lawyer, had not a shred of experience in fashion.
Through his work with South Africa's post-apartheid Truth and Reconciliation Committee, and then as co-founder of the International Center for Transitional Justice, van Zyl had seen firsthand that steady employment was essential to community rehabilitation and ongoing stability. He co-founded Maiyet with former Gap merchandiser Kristy Caylor to connect luxury consumers—and their dollars—to sustainable work opportunities for artisans with "rare skills in unexpected places," among them Kenya, Indonesia, India, and Bolivia.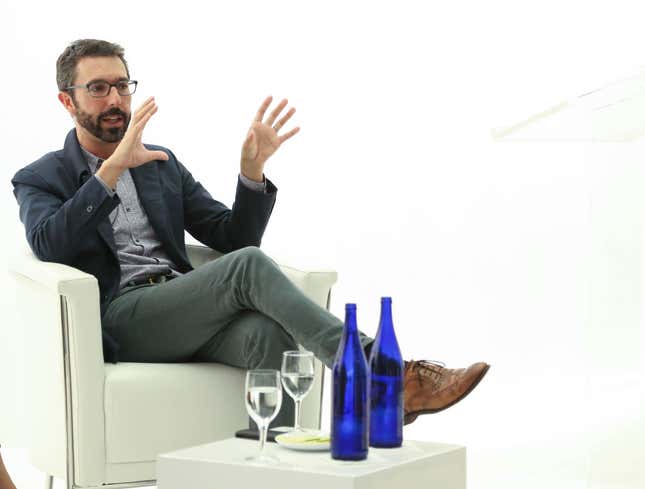 "Human talent is equally distributed across the globe," said van Zyl. "The French and the Italians just monopolize branding. But there's no reason why this inherent skill can't be properly harnessed, if you give people the dignity of work, and you pay them properly, but you harness and you leverage that into a brand that stands on its own."
Since the fall of 2011, the brand has shown a dozen seasonal collections, collaborated with creative juggernauts like filmmaker Cary Fukunaga, choreographer Benjamin Millepied, photographer Cass Bird, and model Daria Werbowy, distributed clothes to more than 70 stores, and opened a boutique in Soho.
Maiyet also has worked with weavers in Kashmir, metalworkers in Nairobi, hand-knitters in Puno, Peru, and La Paz, Bolivia, and batik dyers in the Indonesian province of West Java. The company built a workshop for jewelry-making in Kenya, and, in collaboration with the nonprofit Nest, has broken ground on a David Adjaye-designed silk-weaving center in India, with a batik-printing facility in Indonesia not far behind. Maiyet doesn't disclose financials, but van Zyl says the brand is "expanding with success and hitting targets."
Hand-batik printing in Indonesia for Maiyet
Last month, van Zyl sat down with the New York Times' Vanessa Friedman at Glasgow Caledonian University's New York campus to share how Maiyet has earned and maintained its fashion credibility, without sacrificing its social conscience. Here's what he advised.
Disrupt selectively
"As disruptive as you aim to be—and there are ways in which we intend to be profoundly disruptive on the industry in which we are situated—you also have to know how to play by the rules," said van Zyl.
Perhaps some of those rules deserve to be disrupted. Van Zyl believes, for example, that the current models for fashion shows and retail are ripe for reconsideration, but that's not Maiyet's mission. Sourcing is. So the company follows the fashion industry's other rules—at least for now—and markets block-printed silk tops from Jaipur and hand-poured gold rings from Kenya in a language that luxury consumers already understand.
Van Zyl can tidily list ways Maiyet has followed the luxury fashion playbook: "We debuted our brand at Barneys. We're represented by [public relations firm] KCD. We hired a design team that comes from Chanel, and Saint Laurent, and Louboutin. We opened a store in Soho, on Crosby Street. We launched a fragrance. Next, we will do eyewear."
Maiyet's Fall/Winter 2014 collection is presented in Paris
"There is a formula for launching a brand," he continued. "There are ways in which you have to rely on the wisdom and the prior success of others, and stand on the shoulders of others who have done extraordinarily well."
All this gives the brand legitimacy in the luxury world. Beyond the products themselves, these actions are signifiers to fashion buyers and editors: we get it, we respect it, and we are the real thing.
Avoid self-righteousness like the plague
"There's nothing more objectionable and unpleasant than self-righteousness," said van Zyl.
"Don't say that you're better than other people. Just say that you're doing what you do in your own way, and put your head down and get on with it." One easy way to avoid crossing the line between righteous and self-righteous? "Don't be against things," said van Zyl. "Be for things." And then, let those beliefs drive your decision-making.
"We're not the anti-anything. We're for a certain proposition, which is that the next generation of luxury consumers is going to care about transparency."
Make hard
choices
transparently
"Don't pretend that you know all the answers, because in our world, there are very, very morally complex trade-offs all the time," said van Zyl.
"Whether it's better to pay a group of artisans '2x' salaries or '1x' salaries and hire '2x' artisans, is a kind of debate that runs right through development economics. What we do, in our modest way, in some of our supply chain, is trying to make the world a better place, but admit that you will get it wrong, and there are imperfections in what you do."
Money is your investors' least important contribution
"When you build a brand from nothing, you need investors," said van Zyl, whose investors in Maiyet include Virgin Group founder Richard Branson, fashion entrepreneur Carmen Busquets, filmmaker Abigail Disney, and Google chairman Eric Schmidt. "The last thing investors are is money. The first thing that investors are is wisdom and relationships. And if you approach your investors as if they are money, you underutilize one of the greatest resources that you can have."
People who believe in you enough to give you money, said van Zyl, will likely do many more important things for you—providing advice and introductions, for starters—if you engage them and give them the opportunity to do so.
And not all investments have to be financial. Maiyet has involved a variety of creative people, including filmmakers, musicians, choreographers, models, actors, and architects, to collaborate with the brand on special projects.
Maiyet's film featuring the Spring 2015 collection, choreography by Benjamin Millepied, and an original score by London Grammar
"We've tried to find people who share our values, and leverage both their power and their networks to try and compete in a world where frankly, if we didn't, we would be entirely outgunned," said van Zyl.
Measure everything—except for what you can't
"We geek out regularly at Maiyet by looking at numbers," said van Zyl. "We measure everything that we can possibly measure—from margins to sell-through to conversion rates, to percentage of deliveries of collections on-time to profiles of people that we sell to."
Those measurements give a great sense of the business' overall health, but then there is an immeasurable, qualitative piece—what van Zyl referred to as the "magical, impulsive things" that in many ways characterize the fashion industry.
"Trying to calculate the returns on investment in a whole series of very ephemeral marketing exercises is a fool's errand," he said. "Sometimes you just have to go with your gut."