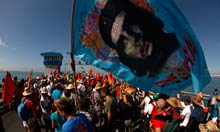 A link from Guardian
Austerity measures are self-defeating, according to a 200-page report by the UN Conference on Trade and Development (Unctad). Governments should tackle the growing disparity between rich and poor, and boost incomes rather than focusing on the "dogma" of more flexible labor markets, said the report.
"Any policy approach that dismisses the important contribution of income distribution to demand growth and employment is destined to fail," it says.
Heiner Flassbeck, Unctad's chief economist, said: "What we have now is an age of diminished expectations for working people. They have no positive income expectations any more, and this is the first time since the second world war that this has been the situation."