It's true. Bitcoin has received an even worse battering than the threadbare Russian ruble this year. (As of today, anyway. It also was the year's worst investment as of earlier this week—though the ruble briefly wore the crown in the interim. We'll keep tracking this race to the bitter end.)
Of course the devaluation of the cryptocurrency—down roughly 58% so far in 2014—doesn't have anywhere near the real-world impact of the ruble rout, which is supercharging Russian inflation and driving Russians toward a retail binge before their money loses more value. After a bit of a rally, the ruble is now down only 47% in 2014.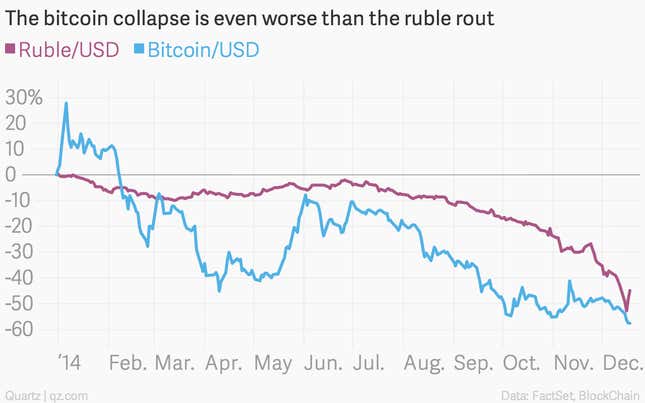 It should be noted that in 2013, bitcoin was up roughly 5,300% as the dollar value of the cryptocurrency rose from $13.59 to $731, after peaking at more than $1,150 in December 2013. Since that peak bitcoin is down roughly 73%.
Why the collapse in bitcoin?  One of the clearest answers seems to be that it's gotten harder to use bitcoin for some of its less savory uses, such as dodging taxes and buying drugs. Governments increasingly are trying to clamp down on the "dark web" sites where bitcoin quickly was the cryptocurrency of choice. Collapses of large, unregulated bitcoin exchanges—such as Mt. Gox—have done little to instill confidence in the currency either.