That crammed airline passengers are duking it out for minimal reprieve on airplanes isn't stopping the industry from making the experience more hellish.
This week, at an aircraft interiors convention in Hamburg, Germany, the airplane manufacturer Airbus unveiled a new seat configuration, coming in 2017, that would place 11 seats per row in the economy section of its A380 superjumbo.
The plan would raise up the three seats near the window on each side of the plane by a few inches, which in some convoluted manner frees up enough room for a fifth seat in the middle section of the plane. Here's a snap of the new plan, posted by Australian Business Traveler and credited to Airbus: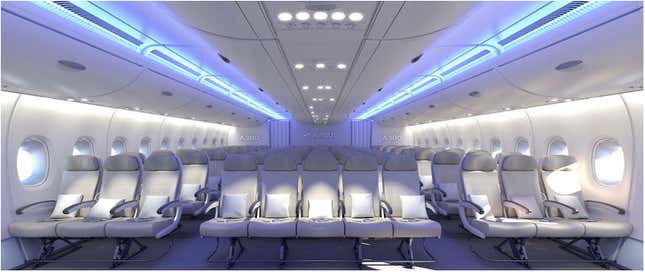 And here are some less flattering shots of the setup, taken by airline journalists at the convention in Hamburg:
And here, some initial feedback:
The extra seats keep Airbus's current 18-inch standard width for economy class (though other factors can dramatically change the seat's feel) while bumping the passenger count from 525 to 544.
The hope is to convince more airlines to buy the plane by lowering the overall cost to fly it. Airlines such as Lufthansa, Air France-KLM, and Virgin Atlantic have shied away from purchasing the double-deck, wide-body A380 since its debut in 2007, after the declining economy put a damper on grand visions of equipping the planes with casinos, double beds, and showers to woo affluent customers.
Airbus says more crammed seating offers airlines and their economy customers more choice, especially those in China and southeast Asia who are willing to sacrifice some comfort for cheaper seats. "When you get up to 18 inches, you are barely touching shoulder-to-shoulder," an Airbus spokesperson told Leeham News. Quartz has reached out to Airbus for comment.
That logic hasn't yet convinced Emirates, the biggest buyer of the existing A380s, to jump onboard. The airline, which says its customers value comfort, has asked Airbus instead to equip the plane with more fuel-efficient engines, which could recoup the cost of fewer seat sales. For its part, Airbus has been noncommittal, given the cost involved.
Other airlines have fewer qualms with ramping up the discomfort. Boeing's upcoming short-haul 737 MAX, which begins service in 2017, will have 18% more seating than the current 737-800. Ryanair's budget version will have 200 seats.
No doubt the tighter quarters will inspire more in-flight skirmishes, not to mention greater concern about public safety.