Apple reported its second-quarter financial results today, beating most analysts' expectations. We live-charted the performance here—the latest posts appear at the top of the feed.
Preview
The big-picture story is that Apple is still expected to grow after a slower period during late 2013 and early 2014. (But not as fast as its monster December 2014 quarter, when it posted record sales near $75 billion.)
The current Wall Street consensus is that Apple will report $56 billion in March quarter revenue, representing 23% year-over-year growth.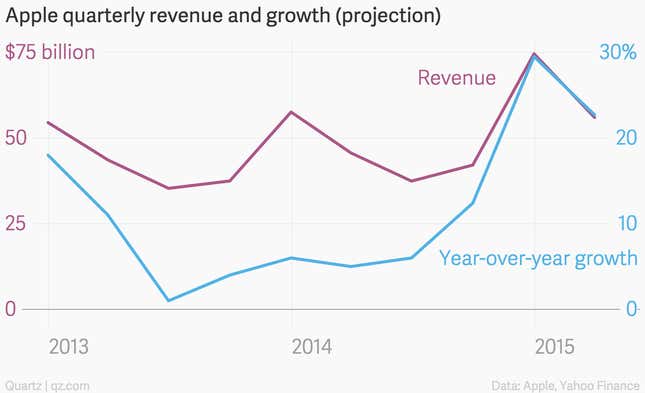 Apple's key product category, as usual, will be the iPhone, which usually represents the majority of its sales. Analysts expect Apple to report somewhere between 50 million and 60 million iPhone shipments for the March quarter.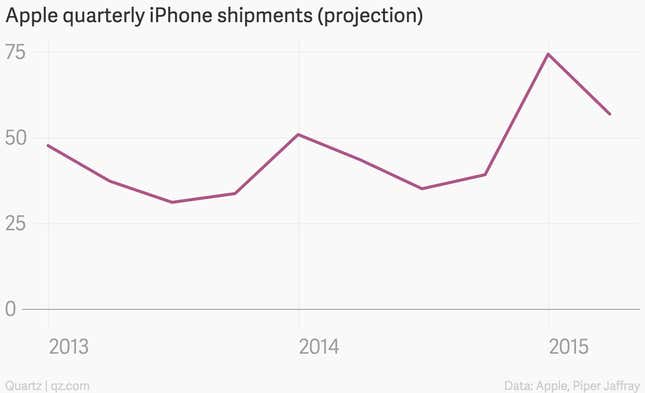 Also as usual, Apple's sales forecast for the current quarter—which ends in June—will be heavily watched. Current expectations for the June quarter is $47 billion in revenue, which would represent 26% year-over-year growth. This time, investors will be looking to see how well Apple expects the current iPhone lineup—the 6 and 6 Plus—to perform as it gets older. Any strength or weakness there would be represented in its guidance.
This is the first time Apple's forecast will include Apple Watch sales, too. Apple might reveal its total watch orders or shipments so far, but it might not—the company has already announced it will be grouping watch sales into a broader "other products" category.
Either way, Apple is likely hoping for its biggest launch ever. When the iPad launched in 2010, Apple reported 3 million shipments in its first quarter of sales.