Some more light is being shed on Netflix's notoriously mysterious viewership numbers. According to Variety, San Diego-based Luth Research has discerned the percentage of Netflix subscribers that watch its original shows like House of Cards and Daredevil (unfortunately, there is no data yet for Orange is the New Black).
Last year, Netflix started anonymizing its file names in order to prevent the broadband monitoring company Procera Networks from estimating viewership levels for specific shows. Luth Research, for now, at least, appears to have succeeded in bypassing that obstacle.
That might be one reason why Netflix recently announced that it will soon encrypt its video streams. In addition to protecting its users' privacy, it could potentially block Luth from extracting data from Netflix's subscribers. That said, according to Variety, Luth's "ZQ Intelligence" tool is "capable of extracting encrypted data within Netflix's apps."
Luth's data is based on an analysis of 2,500 Netflix subscribers watching on computers or mobile devices (according to Variety, this doesn't include people watching on TV sets, which could alter the findings somewhat).
According to Luth, approximately 10.7% of Netflix subscribers watched at least one episode of Daredevil during the first 11 days after its release on April 10. That translates to roughly 4.4 million of the company's 41 million US subscribers.
House of Cards reeled in 6.5% of subscribers in the first 30 days of its third season, while Unbreakable Kimmy Schmidt garnered 7.3% over the same period for its inaugural season.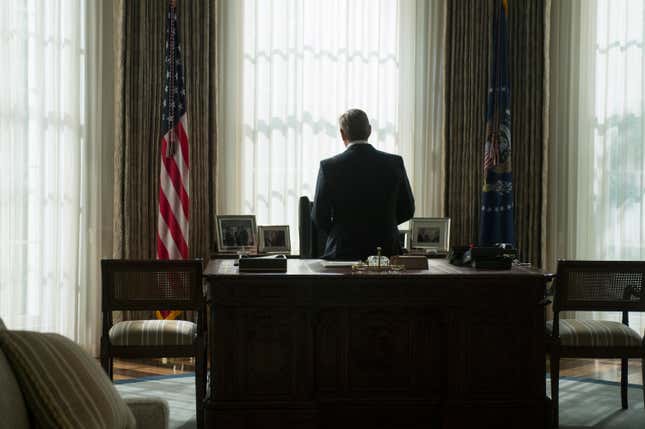 Ratings are everything in network television (they also matter for cable shows, but not as substantially). But Netflix, a streaming video service that is not beholden to advertisers, doesn't particularly care about viewership levels. Its original shows are a form of marketing for the service in general, and while the company cares about how the shows are received by critics and the public at-large, the exact number of people watching is not as important.
In fact, it seems as though only a small percentage of Netflix's overall subscribers actually watch its original shows.
By Luth's account, the new Netflix show Bloodline reeled in only 2.4% of the company's subscribers in the show's first month—roughly 980,000 people. A direct comparison to weekly Nielsen TV ratings is impossible, but that's quite a small number, and if Bloodline were to air on, say, NBC, it could easily have been canceled.
But less than two weeks after it debuted online, Netflix renewed Bloodline for a second season, largely because it was praised by most critics and is helping to raise the stature of the Netflix brand.
Even if Luth's research methods are sound, it's difficult to assess how Netflix is doing relative to its other TV rivals like HBO, or its streaming competitors like Amazon, Hulu, and HBO Now. The ultimate goal for streaming services is for their original content to usher in new subscribers. In that respect, Netflix seems to be doing quite well, viewership levels notwithstanding.
Quartz has reached out to Netflix for comment and we'll update this story if the company responds.