The rise of the mobile phone as the dominant form of communication in our society is hardly a revelation. (It was one of this website's founding principles.) But it's still startling to see just how dominant mobile devices have become in the dissemination of news.
In the US, 39 of the top 50 news websites now get more traffic from mobile devices than from desktop (and laptop) computers, according to Pew Research's latest "State of the News Media" report.
Here is a selection of the digital news properties that attracted the most web traffic in the US in January. All of them get more traffic from mobile now, according to Pew's analysis.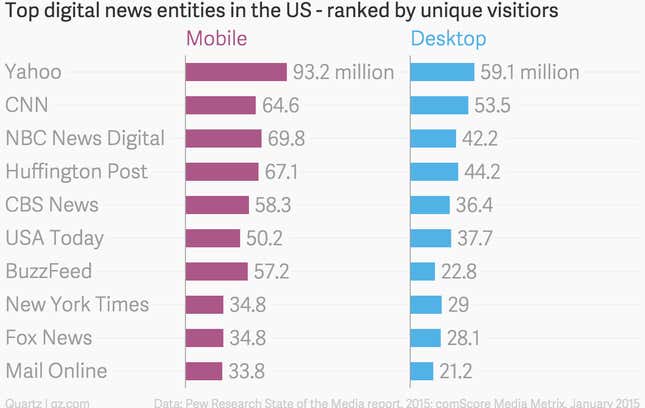 Here are the only websites in the top 50 that bucked this trend. As you can see, they're a mixture of older publications, and ones likely to be read by people in certain industries (i.e. tech) during work hours.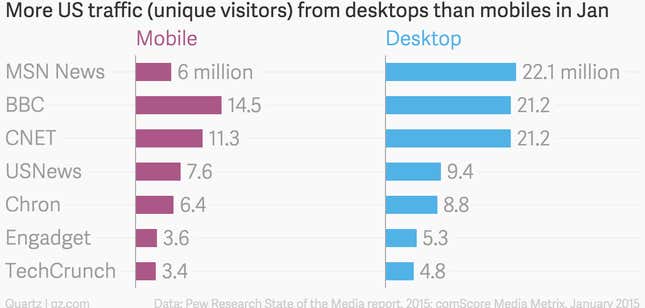 The rise of mobile as the dominant platform for news consumption echoes another big trend in the publishing industry: the inexorable rise of the social web. These two trends are deeply intertwined. Americans spend a lot of time on mobile devices these days. On those devices, they generally don't go directly to news websites—they access news via their Facebook or Twitter feeds.
And for most news publications, resistance to the two-pronged mega-trend of mobile and social is probably futile.