I have witnessed the devastating impacts of gentrification first hand. As part of my research, I spent many years living in inner-city estates in London, interviewing the impoverished tenants who made their homes there. Over and over, I was told that they could not recognize the place where they had grown up, that it was all different, they could not afford it anymore, and that they felt as though it was no longer "theirs".
Traditionally, research into urban issues has focused on the effects of poverty and deprivation on the fabric of our society. But recently, there has been a growing interest in urban elites—and I was privileged enough to work on the very first project to investigate the effects of wealth in London.
Specifically, I focused on the impact of global financial capital flows on the most exclusive areas of London; from Chelsea to Hampstead. Throughout that time, I have uncovered stories that I was not expecting at all. Like this one, from Samantha—a wealthy and successful woman planning to move out of her flat in Mayfair:
Our street was one of the nicest streets in Mayfair and it is just gone and it's because people park their money there, people have started moving out because they don't like it.
Clearly, Samantha felt as though the area around her had changed, that her neighbors had gone, that the houses around her were being bought up and left empty and that she didn't belong there anymore. I heard a similar story from Roger, a retired professional who was contemplating leaving Hampstead. Mainly, this was because of the trouble he was having with neighbors digging bigger and deeper basements—creating so-called "iceberg houses"—which take years to complete, and change the area entirely in the process:
Even after the basements are done, if they'll ever be done, the place is not the same anymore. The new people are not interested in the local community, they don't use the local shops, their kids don't go to the same schools – which are likely to be private, of course, but not as exclusive as those of the incomers. They are being pushed out. What will they do, I ask? We'll probably end up selling, I think. We don't want to, but that's what we'll do.
Does this sound strangely familiar? It did to me, when I first heard it. Different accents, different words, but the same story. We are used to thinking about the housing crisis in London as something that happens outside the exclusive enclaves of Mayfair, Belgravia, Knightsbridge, and Chelsea.
Of course, the traditional elites who have always inhabited these well-to-do areas are certainly not suffering a "crisis" of any sort. But they are moving out and cashing in on the exorbitant price rises, fueled by what are technically known as ultra high net worth individuals, a label that refers to people worth at least $30 million in disposable assets—and they are increasingly choosing London as the place to be, play and invest.
As a result, the well-heeled residents of London's wealthiest parts are experiencing something akin to displacement—a phenomenon with which the tenants of south London's estates are all too familiar.
But these similarities only extend up to a point, of course. A very, very big point.
Rippling out
Many of those in Hampstead and Mayfair who begin to feel unwelcome and unhappy in their own neighborhoods decide to move. In doing so, they unlock millions of pounds of equity in their houses, leaving them very well positioned to relocate elsewhere. This is obviously not comparable with the position of the low-income residents who are being displaced, priced out, and "regenerated out" of their homes, estates and communities.
These people are often pushed further toward London's outskirts—or even out of the city entirely—and many councils don't even care to keep track of where they end up. The work done by the community-run Southwark Notes site is a rare and valuable resource. Their graphic, below, shows where the community of south London's former Heygate Estate have been displaced to, as a result of the local council's regeneration efforts. Developers Lend Lease have bought the site from Southwark Council for £50 million ($77 million), and stand to make a profit of £194 million.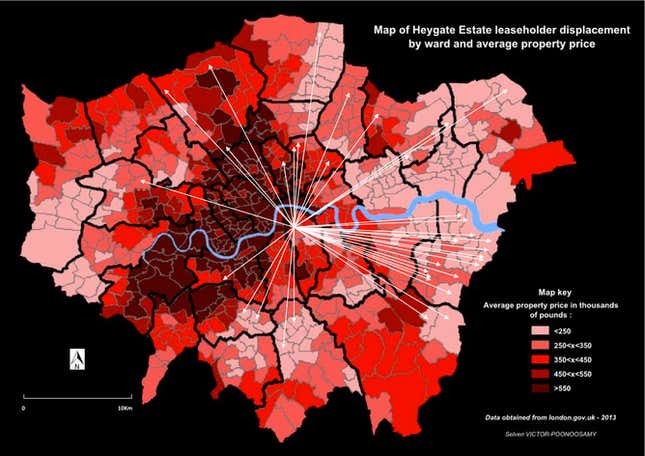 Based on my ongoing research, I believe there is a connection between these two phenomena. When wealthy residents move out of their homes, they often also buy, or help to buy, smaller places for their children. These properties may be slightly outside of their "comfort zone": for instance, they may be in Battersea rather than Chelsea, Fitzrovia rather than Mayfair.
The overall effect is a substantial price inflation in these relatively less expensive areas, which forces the existing residents to move further out. This effect ripples outward, as increasingly financially vulnerable people are displaced by price increases, eventually reaching as far afield as Camberwell or Catford.
As a result, London may be experiencing a very different kind of "trickle down" effect from the one politicians of various colors and persuasions have promised, which involves price inflation, general unaffordability, the breakdown of communities and displacement—chosen by the few who can sell, and imposed upon the many who cannot.
These are the results of setting deliberate policies that promote and encourage London as the place to invest global capital in real estate. Until we decide, at the political level, that London is a city for people to live in, rather than capital to grow in, this trend is unlikely to change.
This post originally appeared at The Conversation. Follow @ConversationUK on Twitter.