Americans are borrowing big again.
The Federal Reserve's credit numbers showed American consumers borrowed at an all-time record of $28.9 billion in September, besting the previous high-water mark set in November 2001.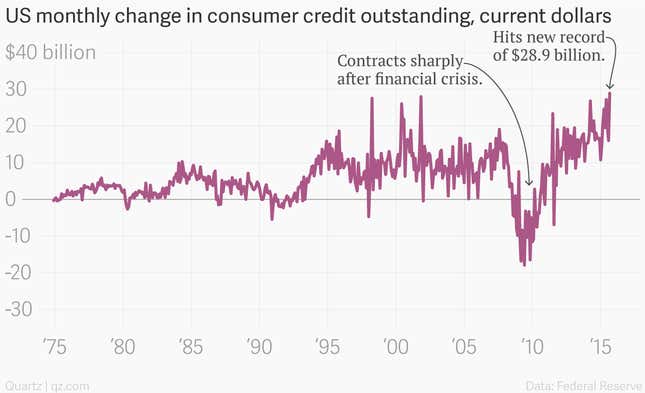 In fact, this is the biggest monthly leap in consumer borrowing going all the way back to 1943, when the Fed first started keeping records.
(Note to sticklers: In inflation-adjusted terms we're still below the all-time inflation-adjusted monthly peak of $40.35 billion, which was back in April 1998. In percentage terms, September's 10% jump was the largest since since April 2014.)
The surge wasn't driven by mortgage lending, but by an ongoing rise in non-revolving credit—essentially car and student loans, which surged by more than $22 billion. Revolving debt—mainly credit-card debt—also increased, by $6.7 billion.
This shouldn't come as a huge surprise. Easy credit supercharged the US auto business in recent months. After a rip-roaring October, the US auto market is on pace for a record year in 2015.
But the strong rise in consumer borrowing also seems to shed a new light on the Fed's recent push to raise interest rates before the end of the year.
After all, borrowing numbers like this suggest America's consumers are getting ready to party. And that's precisely when the Fed is supposed to take the punch bowl away.