Do you regularly use the words "just," "sorry," and "I think" in your emails? You may be undermining yourself and the message you're trying to send.
To help remove these words, a team at Cyrus Innovation created a new extension for Google's Chrome browser called Just Not Sorry. The plugin, which works only with Gmail, underlines a number of self-deprecating words and phrases, such as "I'm no expert," to make them look like spelling errors.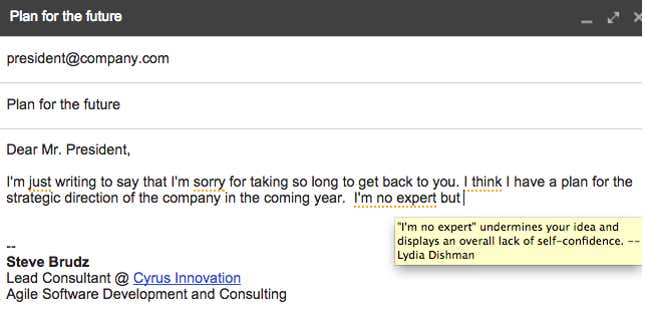 Tami Reiss, CEO of Cyrus Innovation, came up with the idea during the League of Extraordinary Women brunch, where several women complained about their tendency to use these undermining words. Reiss notes in a blog post:
We had all inadvertently fallen prey to a cultural communication pattern that undermined our ideas. As entrepreneurial women, we run businesses and lead teams — why aren't we writing with the confidence of their positions?
The extension was soon born. It allows users to hover over underlined words to better understand why they are undermining and hurting their message. An educational hint appears with explanatory quotes from a number of women, including leading economist Sylvia Ann Hewlett and writer Tara Mohr. They warn that words like "just" and "actually" shrink your power.
Reiss aims to get 10,000 women to kick the habit  and pledge to stop using these words and phrases as their new year's resolution.