When Apple released its diversity report last August, CEO Tim Cook noted that "we know there is a lot more work to be done."
So it's curious that ahead of a shareholder meeting in February, Apple's board of directors is recommending that investors vote against a proposal to increase the diversity of its board and senior management. Apple was not available for comment.
For reference, this is what Apple's executive team looks like.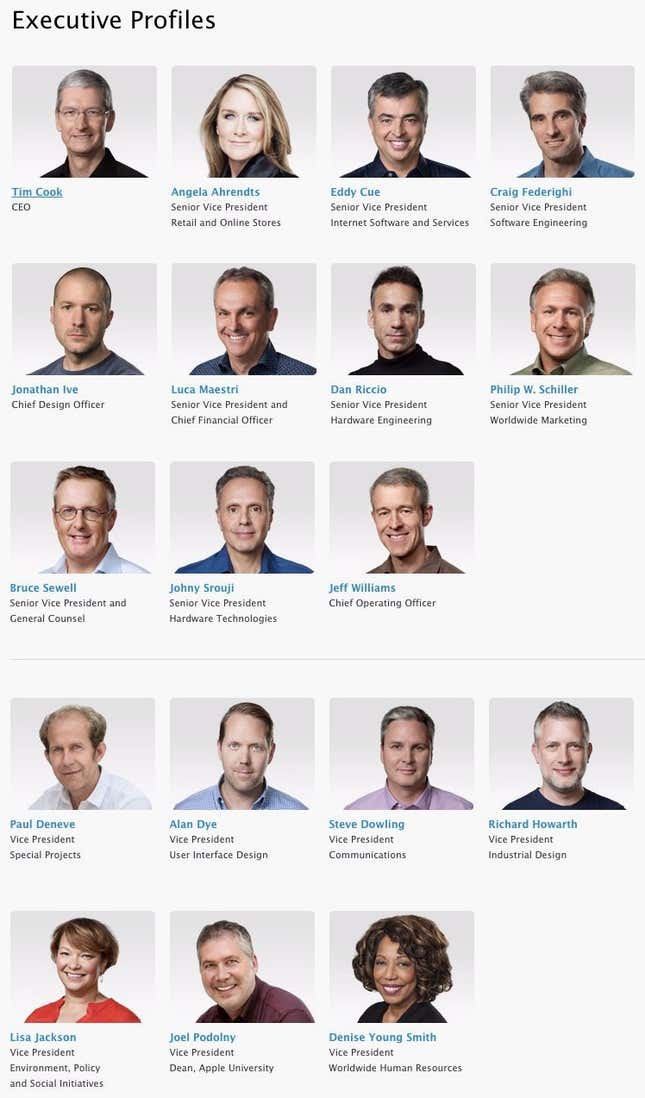 Its eight-member board is similarly dominated by white men, with three exceptions: former Boeing president James Bell, who is black; BlackRock cofounder Susan Wagner; and Grameen America CEO Andrea Jung.
In 2015, Apple reported that 54% of its US employees, including its retail staff, were white, but that number increases to 63% when zooming in on its execs.
The proposal by investor Antonio Avian Maldonado II criticizes Apple for being "painstaking slow" to increase representation of minorities in its leadership and board. It's not uncommon for investors to push for increased diversity with such board proposals, Eileen Carey, CEO of Glassbreakers, which makes software to help companies improve employee diversity, tells Quartz. According to the Thirty Percent Coalition, which aims for women to hold 30% of board seats in public companies, there were about 25 board diversity resolutions filed in the first half of 2015. Studies have found that companies with diverse boards typically see higher financial returns.
"The board is honestly one of the most important parts of the organization that needs diversity," says Carey. "It's important to represent at the very top of the organization all the people a company serves."
In a proxy statement filed Jan. 6, Apple's board called Maldonado's proposal "unduly burdensome and not necessary," citing its ongoing diversity efforts, which include:
The company adds that it "actively seeks out highly qualified women and individuals from minority groups to include in the pool from which Board nominees are chosen, and this has been reflected in our most recent appointments to the Board." Bell joined Apple's board in October 2015 and Wagner in July 2014.