The organizers of the Dhaka Art Summit, a large fair showing works from across Asia, have covered up a photographic exhibit that focuses on Tibetans' fight for freedom at home.
Entitled "Last Words," the exhibit shows photographed letters written by Tibetans before they self-immolated in protest of Beijing's strict rule of the region. After the Chinese ambassador to Bangladesh "exploded" at the sight of them, the organizers covered the photos with sheets of paper.
"The Chinese ambassador was offended when he saw the artworks," Sazzad Hossain, head of administration at the summit, told the AFP. "He sent us a mail in protest and asked us to remove the works."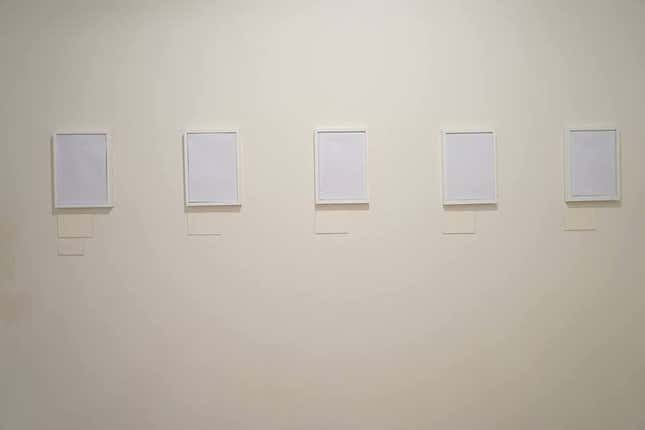 Husband-and-wife team Ritu Sarin (an Indian filmmaker) and Tenzing Sonam (a Tibetan living in exile) included the images as part of a larger art installation focused on the rising number of self-immolations in Tibet in recent years.
But China has plenty of influence over Bangladesh. The nations' militaries work in close partnership. Bangladesh's air force, navy, and army are equipped with Chinese-made fighter jets, frigates, and tanks. For such a fast-growing economy, Bangladesh's infrastructure is severely lacking. Chinese companies plan to fix that (paywall) by helping to build roads, bridges, and power plants, among other things.
This is not the first time Beijing has engineered censorship outside of the Chinese mainland. In recent months Chinese police have abducted a handful of men with Hong Kong and European passports, from both Hong Kong and Southeast Asia, because they were running a bookstore that sold titles Beijing didn't like.
Last year, a Miss Earth beauty contest in Austria barred its Taiwanese contestant from wearing a sash that read "Taiwan ROC." That's the official name of the country as known by Taiwanese residents, but mainland China does not recognize the island as a nation in its own right.
Sarin told AFP that the artists behind "Last Words" were given a choice between having the images taken down or covered up. The duo chose the latter option. Somewhat ironically, that's resulted in a useful image (above) with which activists and the media can show an ugly side of China's internationalization.