We just released our first news app for iPhone, which you can download from the App Store right now. Tap or click here to get it.
The app, exclusive to iPhone, is a whole new way to experience Quartz. We put aside existing notions about news apps and imagined what our journalism would be if it lived natively on your iPhone. It wouldn't be a facsimile of our website. It would be something entirely different, with original writing, new features, and a fresh interface.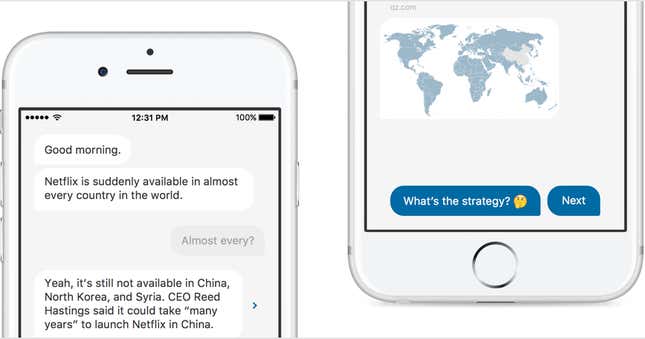 Quartz for iPhone has all of that. It's an ongoing conversation about the news, sort of like texting: We'll send you messages, photos, GIFs, and links, and you can tap to respond when you're interested in learning more about a topic. Each session lasts just a few minutes, so it's perfect for the train, elevator, grocery store line, or wherever you have a spare moment to catch up on the news.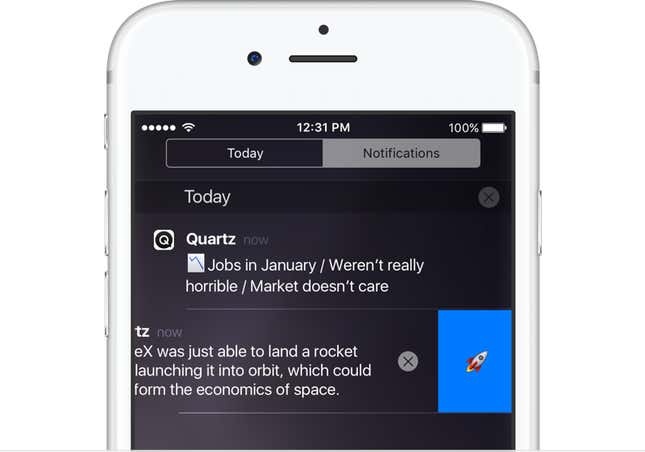 Some of our messages will also reach you through fun and relevant notifications throughout the day. You can pick what you want: haikus about how the stock market is performing, important developments in the global economy, etc. These are notifications you will actually enjoy receiving. And we won't buzz you unless it's really important; most alerts will just quietly light up your phone.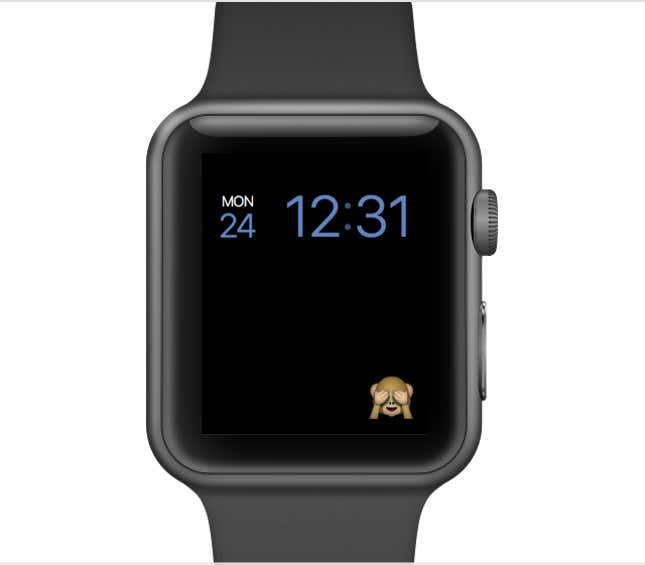 There are other treats to enjoy without even opening the app. On the Today screen, you can view our most compelling Atlas chart of the moment. And if you own an Apple Watch, add our complication to your watch face to see how the US markets are faring — in the form of an emoji. We make it easy to stay up-to-date on investor sentiment without doing any work at all. It's just there.
This is a new kind of business news app, just as qz.com has strived to be a new kind of business news website. We're excited to add Quartz for iPhone to the roster of ways in which you can get our reporting, perspective, and voice.
The editorial approach
The app's interface may resemble an automated assistant, but here's the secret about our little news bot: It's actually written by humans! Smart journalists who want to keep you informed and entertained. We've assembled a global group of Quartz writers and editors, led by Adam Pasick, to give the app its voice.
Our intent is to take a similar approach to other platforms where this kind of media could live. This is a big and broad endeavor for Quartz as we experiment with new formats. Internally, we refer to the project as Jasper, which is a form of the mineral quartz.
Design and development
We started tinkering with concepts and prototypes for an app about a year ago. Quartz has long focused on the open web, and we were never interested in recreating our website as a native app. We still aren't. But mobile has developed a lot in the last few years, and we saw some new opportunities worth exploring.
Sam Williams developed the app, and Daniel Lee designed it. We drew influence from all sorts of places, but were particularly inspired by Jonathan Libov's "Futures of Text" and apps with conversational UIs like Lark and Lifeline. Other trends, like the rise of bots and messaging, gave us confidence in the direction.
This is actually Quartz's second iPhone app, albeit the first one that's strictly about the news. Last year we released Flags, a custom keyboard to easily type all of the world's flags in emoji. We plan to keep experimenting with how a news organization can serve readers on their most personal devices.
Advertising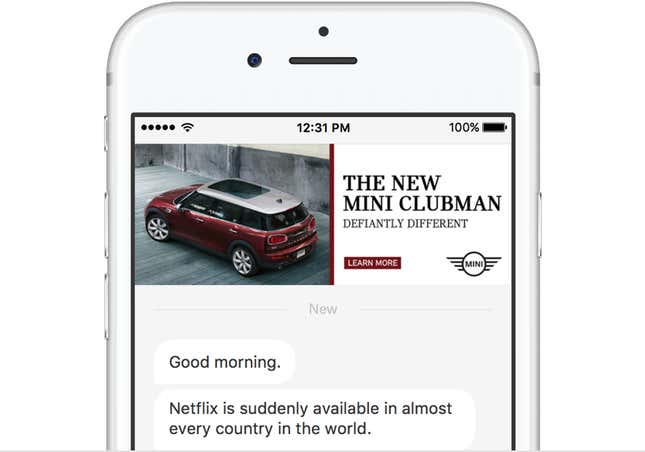 MINI is the launch sponsor of Quartz for iPhone. Advertising is integrated with the rest of the app beautifully, unobtrusively, and in parallel with the editorial experience. You can engage with the ads just as you would any other content.
Support and feedback
The app is for iPhones only, and you need to be running iOS 9.0 or higher to install it. Report any bugs you encounter to support@qz.com. And we're looking forward to your feedback on the app as we work on the next version and also turn our attention to Android. Please send any thoughts to hi@qz.com.
Here, again, is the link to download the app. Thank you!