Palo Alto, California
Taped on multiple lampposts on University Avenue in the downtown district is a directive for employees of Palantir—which is headquartered here in the heart of Silicon Valley—to "stand up for startup employee rights." It is accompanied by an illustration of a slain unicorn bleeding rainbow colors—startups valued at $1 billion or more are called unicorns by some—and a claim the company's common stock is "worthless."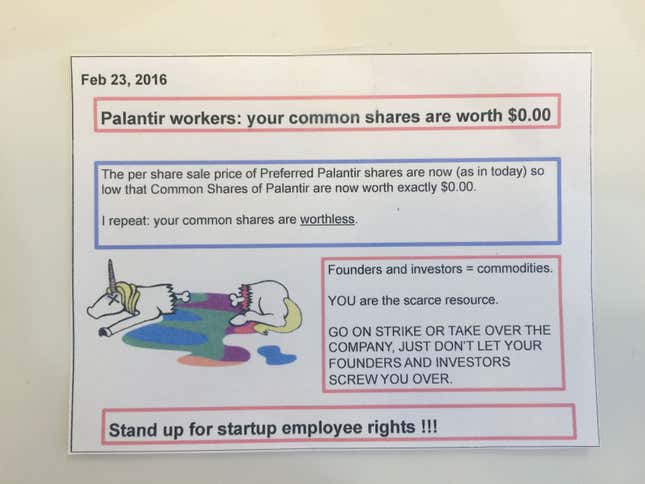 Palantir is funded by venture capital with a multi-billion dollar valuation. It specializes in data and document analysis. In December 2015, it raised $880 million.
The guerrilla pamphleteering is seemingly an artifact of the current skepticism around Silicon Valley startups' valuations and increasing unease among workers and investors that they'll never see the financial windfalls that they hoped for. There's now an online tracker of startup failures and declining valuations. And tales of how the employees can be hit surprisingly hard when startups stumble, such as the recent case of Good Technology, are considered cautionary.
It is not clear who posted the Palantir flyers or why. (Some have been removed since yesterday, including one taken by Quartz to picture here.) The Wall Street Journal reported on Dec. 26, 2015 that the company has no plans to make a public offering, which means employees compensated with stock may never be able to easily cash in. Some employees have tried to pool their small stakes into larger groups of shares to attract private buyers, according to the same Journal report. One group sought $8.75 per share.
The company has 1,800 employees and controls about 250,000 ft2 (23,000 m2) of office space in Palo Alto, amounting to 10 to 15% of the city's entire stock according to CNBC. Its clients have included public-health officials, financial-industry investigators, police departments, and intelligence agencies like the US's CIA and NSA.
Palantir didn't respond to requests for comment.