Spotify's personalized Discover Weekly playlist has won millions of fans with its uncanny ability to find music based on your musical preferences. But what if you're tired of the music that it feeds you?
The music streaming giant is taking a new approach with the expansion of its Fresh Finds playlists. They come out once a week, just like Discover Weekly. But Fresh Finds playlists aren't personalized—instead they rely on the tastemakers among Spotify's 100 million users, using them like an early-warning system for music.
"It's an algorithmic way to discover new music—and we mean really brand new," said Brian Whitman, Spotify's principal scientist and the founder of music data firm Echo Nest, which Spotify acquired in 2014. "The point is not a personalized playlist that's perfect every time. It's supposed to challenge you a little bit."
The Fresh Finds master playlist, which features a mishmash of genres, has been around since July. But starting today (Mar. 2), Spotify is rolling out five new genre-specific Fresh Finds playlists, and giving the category some prime real estate on the Spotify app.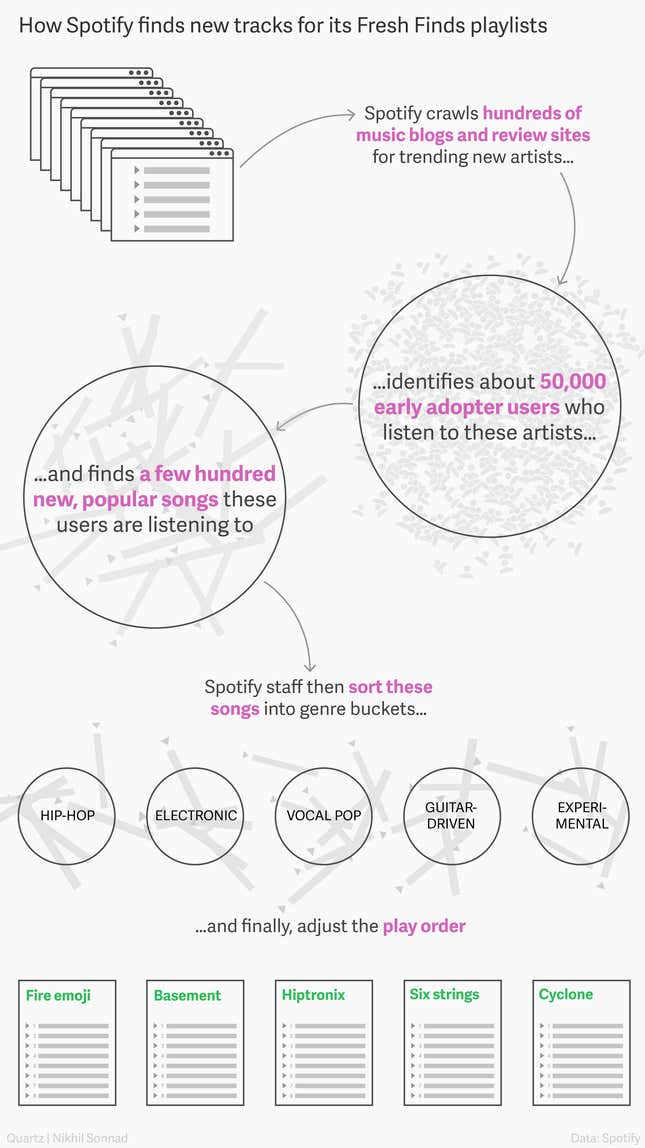 For the last few years, Spotify has been gathering data from music blogs and review sites, and culling out the most talked-about new artists. It could just feature those artists in a playlist and call it a day, but there's a hitch: many of their songs are so new that they're not on Spotify yet.
To get around this chicken-and-egg problem, Spotify figures out who is listening to those trending artists, and then uses the hippest 50,000 or so users—the people who find about music before it is cool—as a new-music focus group.
Who are these prescient hipsters? Spotify isn't saying, and the users don't even know that their bleeding-edge taste is being used to create the playlist. But their favorite new songs—released within the last three weeks, with Beyoncé-level stars filtered out—are the raw material for Fresh Finds.
A group of Spotify employees then sorts the new songs into different genres (hip-hop, electronic, electronic pop, guitar-driven, and experimental), puts them into an appealing order, and voila: a weekly playlist, released every Wednesday, made up of songs that early adopters love and you might, too.
The cyborg approach
As with most music recommendations from Spotify, it's a method that blends human curation (the music blogs, the preferences of the early adopters) with Big Data algorithms. And it's at the opposite end of the spectrum from Discover Weekly in that Fresh Finds is a playlist that every Spotify user has in common.
Whitman said he wants Fresh Finds to be "a feeder for the rest of the Spotify ecosystem," with songs eventually making their way to a more mainstream audience.
The company also has high hopes that Fresh Finds will be a boon to undiscovered artists: Some bands have landed on the playlist after being played only 10 times on the platform. At least one band, the TK Muna, was signed to a major label (RCA) after it was included in Fresh Finds.
It's not hard to imagine a future when Spotify uses its giant database and clever algorithms to find up-and-coming bands for a music label of its own, much as Netflix produces its own content based on Big Data insights into its users' tastes and preferences. When asked if this was in the cards for Spotify, which is partially owned by major music labels, Whitman politely declined to comment.
Graphic by Nikhil Sonnad.