Ever start an important video call, only to find yourself agonizing over your ghostly pallor instead of listening? You're not alone. Office workers who embrace the flexibility and productivity of working from home frequently rely on videoconferencing services to "call in" to meetings—only to be distracted by their own physical flaws, bad hair days and under-eye circles, which appear with awful clarity onscreen. For the designers trying to fix it, this nagging distraction even has a name: the appearance barrier.
According to a 2014 survey by US furniture maker Steelcase, 72% of people felt self-conscious about their image on video and 58% obsessed over the fact that they appeared washed out or tired."People tend to behave in a very forced and formal way during telepresence meetings," senior design researcher Ritu Bajaj wrote in the report. "They sit up very straight as if they're TV news anchors and are reluctant to move."
 In the US alone, the number of regular work-at-home employees has increased by 103% since 2005, according to the latest Global Workplace Analytics data. About a quarter of the US workforce telecommutes with some frequency. And as geographically-separated teams meet through realtime video, something as seemingly trivial as wild hair can have a significant impact: People who are distracted or embarrassed by their appearance on camera can lose focus on the discussion, and miss fully engaging with colleagues or interviewers.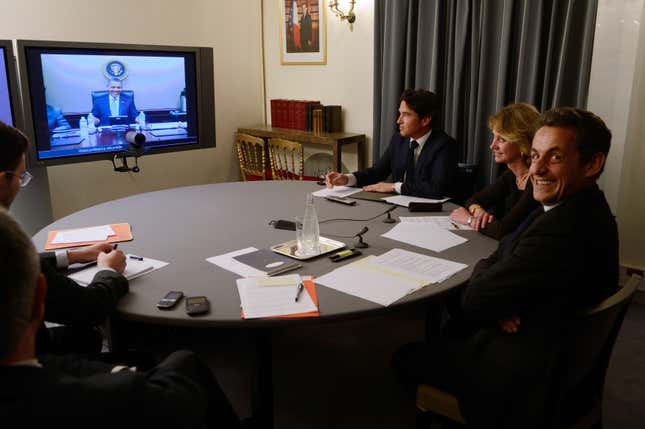 Designing away the "appearance barrier"
Steelcase, which once owned the design innovation firm IDEO, has been using the same "human-centered design" mantra in its search to find the perfect room configuration for long-distance collaboration. It believes that it can design spaces that not only mimic the feeling of being collocated, but even foster camaraderie and trust between colleagues who have never even met in person.
The daunting creative brief for Steelcase designers: "Make distance disappear."
"We think about collaboration from a social, spatial and information perspective," says Scott Sadler a manager at their integrated technology division in Grand Rapids, Michigan. Sadler tells Quartz that their own global operations base—with over 11,000 employees in 80 countries—has been fertile ground for trying out and tweaking their video-conferencing design solutions over the past ten years.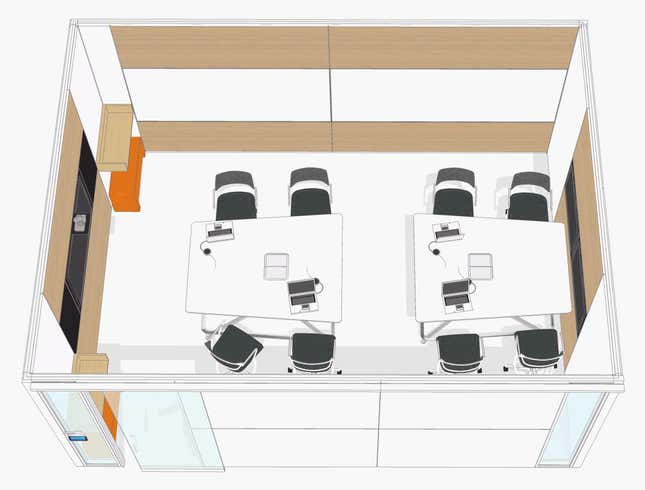 Steelcase's designers have come up with a sci-fi sounding set-up called "The Wormhole," an all-day video connection with colleagues for spontaneous exchanges and a mobile kiosk for one-on-one chats.
At their showroom in New York City, Steelcase representatives showed Quartz a glass-enclosed conference room in their media:scape product line designed to soothe all the "appearance barrier" pain points: The rectangular video calling space space is equipped with strategically positioned chairs, face-flattering lights, discreet microphones, and fabric-wrapped walls for better sound quality and privacy.
But even without investing thousands in a proprietary, fully-integrated Steelcase suite, companies and teleworkers can still set themselves up for success by making small adjustments to their existing video set-up, says Sadler:
Mind the camera height
The placement, height, and angle of the video camera is essential to good meetings, explains Sadler. When the camera is positioned too low, it shoots up the nostrils, a phenomenon familiar to laptop users who plop their computers on a low coffee table. When positioned too high, a camera can project a distorted picture or even expose one's receding hairline.
Look at the camera, not yourself
Paying attention to the "sightline" for better eye contact is key, says Sadler. In Steelcase's survey of 2,022 participants, researchers noted that telecommuters struggled to make eye contact because their instinct was to look at the screen rather than into computer's camera lens. Good eye contact enables participants to be more engaged and get into the flow of a meeting.
Find the light
Drawing lessons from professional TV broadcast lighting scenarios, Steelcase engineers found that light directed towards the speaker at around a 45-degree angle and bounced on a wood desk helped to fill out the contours of one's face and de-emphasize dark circles around the eyes. It also prevented that dreaded under-the-chin flashlight effect, best reserved for horror movies.
Clear the background
Clutter in the background can be distracting, if not outright embarrassing. Some work-at-home employees go as far as ordering professional-looking backdrops to hide the laundry in the background. Simply clearing the background wall can also help simplify the visual information onscreen, and encourage colleagues to focus on your ideas instead of on personal photographs in the room.