Makers of handmade pianos since 1853, Steinway & Sons is known as a stickler for tradition. But the rise of music streaming and the lucrative market for tech gadgets would make anyone rethink that strategy.
The storied piano-maker announced its first major invention in over 70 years: the self-playing Spirio grand piano. "In today's marketplace, brands like ours must continue to innovate in order to remain relevant to the world around us," said Steinway CEO Michael Sweeney in a press release.
Steinway was sold to hedge fund millionaire John Paulson's firm for $512 million in 2013. To assure afficionados who worried that the sale would compromise Steinway piano's distinctive quality with robot-made parts and outsourcing, Paulson pledged to uphold the 163-year old company's meticulous and laborious craftsmanship processes. Paulson also announced bold plans to expand into "underpenetrated markets in Asia, eastern Europe and South America," in the hopes of boosting the company's sales. Steinway sold only 2,000 pianos in 2012, the New Yorker reported.
Pianola 2.0
Autonomous player pianos (a.k.a. pianola) have been around since the 19th century. Steinway rode the trend with the Welte-Mignon model in 1908 and later the Duo-Art reproducing grand piano model. The last of Steinway's player pianos was discontinued in the 1940's. This time the New York-based company is aiming to harness the latest computer-based developments to finesse the form and sound of its new self-playing piano model.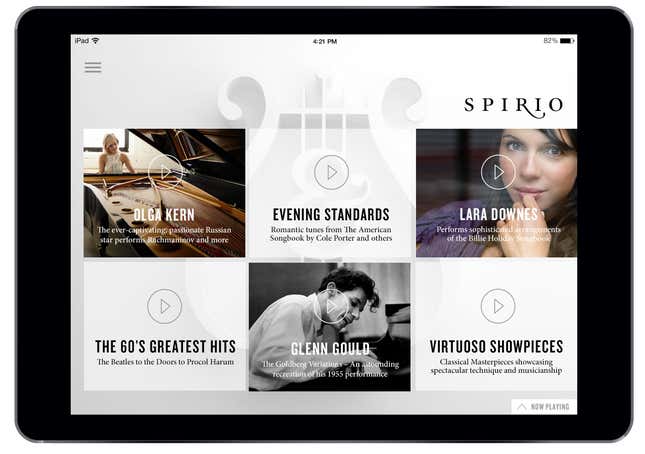 Steinway was so adamant about getting the technology right that in 2014 it bought Live Performance, a company founded by music engineer Wayne Stahnke. Lauded as the creator of the first mass market computer-controlled player piano able to simulate the nuances of a human performer (the Bosendorfer 290 SE), the former NASA engineer opened Live Performance in 1992 to commercialize his four decade's worth of experimentations in "high resolution" electronic reproducing pianos.
At its new Manhattan showroom, Steinway president Ron Losby showed Quartz how the Spirio can be played manually like a regular piano, but can also "accompany" a singer in the absence of a pianist. In theory, a sophisticated self-playing piano can work well in any number of live events such as a ballet recital, a church choir performance, a party—or perhaps just to give the pianist a break.
The Spirio app is loaded with pre-recorded performances from a catalogue of over 1,700 Steinway-sponsored artists. Losby demonstrated how queuing a song on the app magically triggers the movement of keys—as if the invisible ghost of Sergei Rachmaninoff, Billy Joel or any other virtuoso were suddenly in the room. He says that Steinway thinks that the Spirio will be especially appealing to discriminating male customers (with some $110,000 to spare) who love their high-end stereos, audiophile equipment and super expensive tech gizmos.
He also adds that the self-playing model could appeal to those music lovers who can't play the piano at all.