US agriculture has reached a tipping point: It's now possible to buy greens grown indoors for the same price as those farmed in California fields thanks to the falling price of LEDs.
New Jersey-based AeroFarms is shipping arugula, kale, and spinach from a farm inside a former Newark nightclub to grocery shelves around New York City. Local ShopRites sell five ounces of AeroFarms' greens for $3.99, the same price as EarthBound, an organic grower in California.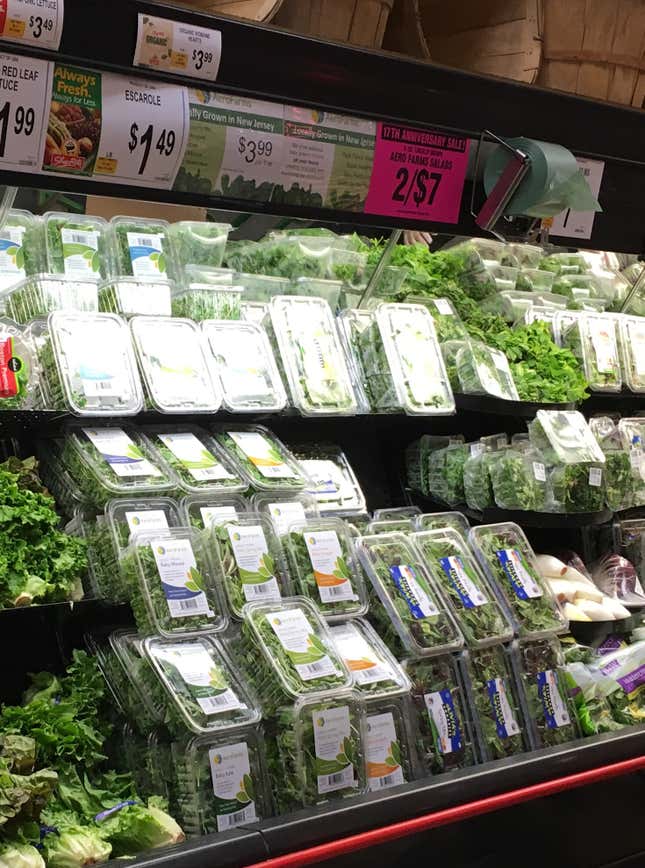 For decades, growing indoors was confined to uniquely profitable markets (like marijuana) that could justify the enormous expense of using artificial light. But dramatic advancements in light-emitting diodes (LEDs)—and new ways of controlling growing conditions indoors—have redefined the economics of farming.
The Department of Energy says the price of LEDs has fallen 90% since 2010, and should keep falling in the years to come. At the same time, LED efficiency (light emitted per unit of energy) and lifetime (now up to about 36,000 hours) have nearly doubled.
Although California supplies about 80% (pdf) of the United States' lettuce and other produce, indoor farmers say they will soon be suppling tastier, fresher and, eventually, cheaper produce to many cities. They are even turning a profit doing it. "We make a healthy margin," says Marc Oshima, chief marketing officer for AeroFarms. "There's a reason that Goldman Sachs and Prudential have invested in our farms."
Cheap, efficient LED lighting also changed the business model for Edenworks, an indoor aquaponic farm in Brooklyn. "Our overall facility would have cost four times [the price] if we built it with LEDs in 2010," said Jason Green, CEO and company co-founder. As indoor farms continue to roll out automation and slash labor costs, you "end up with an indoor farm that can yield local greens at price parity with organic produce coming out of California," he said. "That's insanely disruptive." There are no definitive statistics about indoor area yet, but at least half a dozen farms are now operating around the country, some covering more than an acre (0.4 hectares).
Farming is a high-cost, low margin business (pdf), especially at small scales. More than one-third of operating budgets are spent on pesticides, fertilizer, herbicides, and labor according to an Iowa State University case study (PDF). Indoor farming, while expensive to build, lowers operating costs by minimizing irrigation, chemical and labor expenses, says Green. Under experiment conditions, it can also boost yields by a factor of 100 (per unit of area) in half the time as conventional farming, reports the DoE (pdf).
The best place to build an indoor farm is a few miles from a supermarket that supplies a city with produce. Tim Wilson, an investor at Artiman Ventures, which invests in the sector, says most cities will find the cost, quality, and freshness advantages of indoor farming make it the obvious choice for most produce (although large-scale grain and tree crops will remain in the field).
Indoor farms are now busy growing basil in New York, arugula in Chicago, and even lettuce in Anchorage, Alaska. Companies like BrightFarms, FreshBox Farms, Green Sense Farms, and Gotham Greens have have raised millions of dollars to expand their own pilot facilities into full-scale indoor farms set to rise in Washington DC, St Louis, Indianapolis, Kansas City, Oklahoma City, and St Paul. The future of indoor agriculture looks bright.