Most consumer drones on the market right now are really good at being flying cameras. Some can follow you around on their own, and some can avoid obstacles pretty well. But without a lot of modification, most of them aren't particularly good at doing much else. Now, a new drone company called Teal wants to make drones modular, so that one system can better suit the needs of its consumers. (Google is attempting something similar for cellphones.)
Teal was officially founded on Wednesday (July 20) by 18-year-old George Matus. Barely out of high school, Matus is a recent fellow of the Thiel Foundation, started by venture capitalist and Gawker nemesis Peter Thiel. The foundation pays young entrepreneurs to skip college and start a company, and guides them through the process.
Matus has been flying drones since he was 12, and decided to build his own when he couldn't find a drone that did everything he wanted it to. He wrote up a wish list of drone functions, and has spent the past few years taking the idea from concept to sellable product.
"This is the Swiss Army Knife of drones," Matus told Quartz.
Matus, who also somehow had time to build a robot and appear on this season of Battlebots, used the $100,000 that his Thiel fellowship awarded him to start his company, which is based in Utah. He's built what he considers to be the first modular drone, which can also fly about 85 mph—or nearly twice as fast as market leader DJI's Phantom line of drones. Most drones offer attachments or peripherals for consumers, but Teal's drone can be modified itself to fit an owner's specific needs.
Over time, Matus plans to add new modules and software features, such as bigger batteries, cameras, thermal cameras, and new flight functions. Teal is launching a software development kit that that will allow anyone to build apps that can control any aspect of the drone and receive data from all of the drone's onboard sensors. The company is also working on its own app store—after all, the future of drones is apps. While other drone companies, such as DJI, have similar developer kits, they tend not to open up their hardware to app builders, or let them control the drone's onboard computing power.
The Teal drone is powered by an NVidia TX1 chip—a low-power system that allows machines to see and interpret the world using computer vision. Matus said he plans to use this chip to give his drone the ability to fly itself, dodge objects in real time, and follow its owner around. It could even be used to play video games (think drone-based laser tag) in augmented reality against other Teal owners.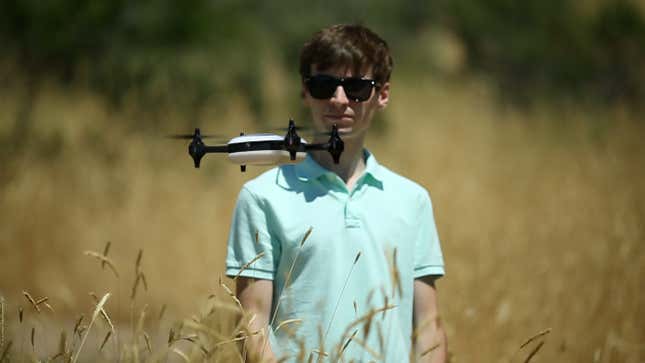 The drone's speed and onboard high-definition camera also make it an ideal beginner drone for anyone interested in the burgeoning sport of first-person-view drone racing. It's an expensive, complicated hobby, and up until now you pretty much needed a degree in electrical engineering to put together a race-ready drone. Teal's drone, by contrast, has different settings for pilots' abilities, including a beginner mode that will limit how far and fast the drone can fly. Once a pilot feels comfortable, they'll be able to take off the virtual training wheels and race to their heart's content. The drone can be controlled via smartphone or with standard radio controllers, depending on your preference and abilities.
Teal plans to start shipping this Christmas, and preorders are already underway. Matus says the company is producing the drones near his home in Utah, and the initial run will be small—about 500 drones. A wider run is scheduled for next year, assuming interest is strong. Rather like a Tesla, Matus aims to improve the Teal with software and hardware upgrades over time, which anyone can install. "This drone will grow with you, as you get better," he says.
It remains to be seen whether Teal's drone will command the same interest that market leaders like DJI and Parrot have elicited with their models, but unlike many of the "me too" drones starting to hit the market, Matus has one advantage. His drone is not a closed-off system that you can't upgrade, but rather modular and hacky, not unlike the consumer group it's servicing.