When Hasbro released "Monopoly: The .com Edition," Yahoo sat in the equivalent of the coveted Boardwalk spot. It was the turn of the millennium, and dot-com mania had pushed the internet company's valuation well over $100 billion.
Today, Verizon said it is buying Yahoo's core businesses for $4.83 billion. It's a fraction not only of Yahoo's heyday price, but also of what the company was worth throughout much of its public life.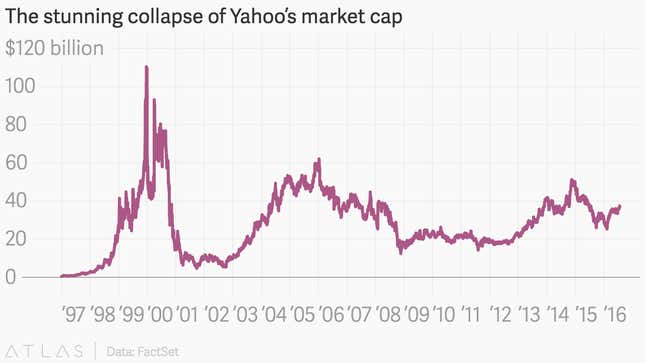 By the mid-aughts, Yahoo's market cap had climbed back from a low of around $10 billion to somewhere between $40 billion and $50 billion. Its valuation and share price pushed higher after Yahoo spent $1 billion on a 40% stake in Alibaba, a Chinese e-commerce company.
Yahoo had a chance to sell for $44.6 billion in early 2008, when Microsoft made an unsolicited offer. At the time, the offer represented a 62% premium over Yahoo's most recent share price and would have been the largest pure technology deal ever. For media deals, it was second only to AOL's $112 billion bid to buy Time Warner in 2001. Yahoo turned down the advances.
Marissa Mayer took over as CEO in 2012. Over the next few years, she poured $2.1 billion into acquiring more than 50 startups, but was unable to reverse the slide in Yahoo's revenue, or stem its loss of talent. By early 2015, what remained of Yahoo's value was entirely tied up in its Alibaba stake. Its core businesses of search, display, and mobile ads were deemed essentially worthless.
Verizon's $4.83 billion purchase price isn't nothing, but it's a paltry sum compared to what Yahoo used to be worth, and to what many private tech startups are valued at today. On the proverbial "unicorn" list, Yahoo couldn't even crack the top 20.