This summer will mark the fourth time British hockey players Kate Richardson-Walsh and Helen Richardson-Walsh will be competing in the Olympics. The long-time teammates made history in London in 2012 when they won Great Britain's first Olympic hockey medal in two decades. In Rio, they're gunning for gold, but before their first match, they've already made their mark—this time, as the first same-sex married couple ever to compete in the Olympic games.
This year's Summer Olympics will feature a record number of publicly out LGBT athletes—44 according to an estimate by Outsports magazine, nearly double the number of the London 2012 Olympics. But casting a shadow over this historic moment is the fact that members of the LGBT community are frequently a target of horrific violence in Brazil.
Kate and Helen's journey is something of an Olympic love story. They've known each other since they were children, played on teams together for over a decade, and made their Olympic debut together in the 2000 Sydney Olympics. They began to date in 2008 after the Beijing Olympics, after Kate broke off her engagement to Brett Garrard, the former captain of Great Britain men's hockey team. In 2013, they got married in Oxfordshire, combining their last names, and invited the entire team to celebrate. For the most part, the couple tries to keep their personal and professional lives separate, but when Helen was left out of hockey World Cup in 2014 because of an injury, Kate admitted in an interview with The Telegraph that she had to take her "captain's hat off" and support her wife.
"We're a couple, we love each other, and we happen to be playing in the same team," said Kate, in an interview with BBC. "I think because our teammates and our friends and family have all been so supportive and understanding of that we also don't see anything strange or different."
Sporting Diplomacy 
The Olympics brings together athletes from countries with vastly different attitudes and laws for LGBT people. The event has in recent years become a site for diplomacy around global LGBT rights. The increasing number of athletes who are comfortable publicly discussing their sexuality is an indication of how successful that campaign has been.
But while some teams and communities can be very welcoming of LGBT players, there are still several countries participating in the games in which a person can be fined, arrested, or put to death for being LGBT. When countries come together for international sporting competitions, this schism becomes ever more apparent. "There are closeted Olympians who compete in every single athletic competition," said Hudson Taylor, founder of Athlete Ally, a nonprofit organization that is looking to end anti-LGBT sentiment in sports. "There is still something about sports culture that is less inclusive than it can and should be."
LGBT rights took on even more prominence internationally in the months leading up to the Sochi Winter Olympics in 2014, when Russia banned the dissemination of "propaganda of nontraditional sexual relations" around children, effectively prohibiting any public discussion of gay rights. When asked what this meant for visitors to the games, President Vladimir Putin said, "One can feel calm and at ease. Just leave kids alone, please." Gay rights activists protested the International Olympic Committee (IOC) for its inaction, given that the principle of non-discrimination is enshrined in the Olympic charter. Later that year, the IOC introduced an anti-discrimination clause to its host city contract, ahead of bidding for the 2022 Winter Olympics.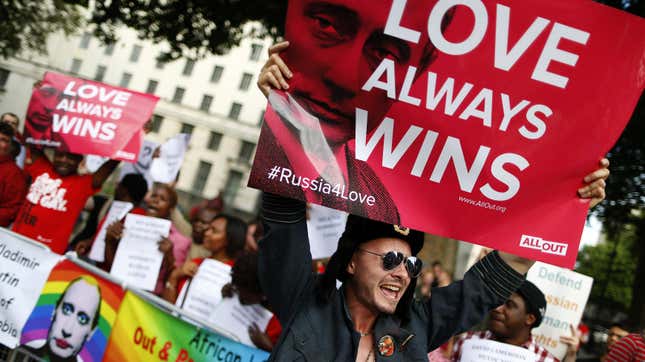 In some cases, the desire to host the games can impact national policy. Last year, Kazakhstan, one of the finalists for the 2022 Winter Olympics, approved anti-gay propaganda legislation. Athlete Ally sent an open letter to the IOC president Thomas Bach saying that a country that wished to host the Olympics could not have discriminatory laws. Taylor believes this pressure led Kazakhstan to subsequently kill the legislation. "Sport can and should play an integral role in shaping and reforming LGBT policies worldwide," Taylor said.
With the Olympics coming to Tokyo in 2020, Hiroshi Hase, Japan's minister responsible for education and sport who chaired the bid for the Olympics, told Buzzfeed recently that they hope to build public awareness of LGBT rights.
"As an out athlete, I found myself feeling grateful that I am not a winter Olympic athlete because I would have been very nervous to travel to Sochi," Ashley Nee, an openly gay American kayaker who will be competing in Rio, said in an interview with Athlete Ally. "Debating whether or not to attend an Olympic games because of a fear of personal safety because of your sexuality is not a part of the Olympic dreams I had envisioned as a young girl but that is the position the IOC put many athletes in these past winter games."  
Growing violence
In Brazil, a spate of brutal murders of gay and transgender people in recent years have made international headlines. "It is not easy to be gay, transsexual, or transvestite in Brazil because you face discrimination at home, in the schools, in church, at work, in the streets, by the government," said Luiz Mott, founder of the Grupo Gay da Bahia, the oldest LGBT rights group in Brazil. The organization tracks violence against the LGBT population in Brazil based on press accounts. It estimates that nearly 1,600 people have died in anti-LGBT violence in the past four-and-a-half years, and that a gay or trans person is murdered in Brazil nearly every day.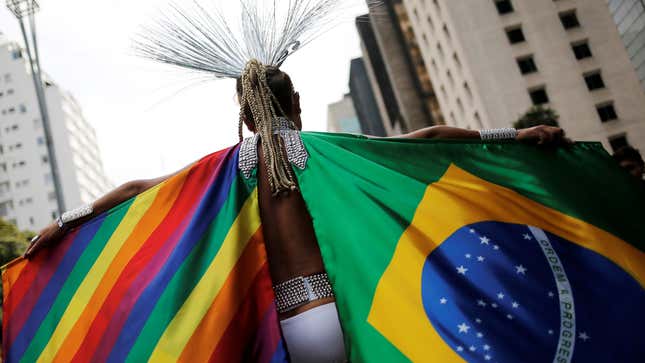 The violence is at odds with the more progressive and tolerant elements of Brazilian society. São Paulo hosts the world's largest gay pride parade, while gay characters are common in Brazilian television. Brazil's government has introduced several progressive laws and policies, and same-sex marriage has been legal since 2013. Activists argue that the anti-gay sentiment in Brazil stems from the influence of the country's powerful Catholic and evangelical churches, whose leaders have stymied legislation that would toughen penalties for hate crimes. Brazil isn't the only country these types of conflicting views. South Africa, one of the first countries to legalize gay marriage in 2006, still suffers from a high rate of LGBT violence, particularly towards lesbians.
Social media is increasingly enabling citizens to document atrocities in the absence of official government data. Tem Local, for example, was launched in May last year as a platform for citizens to report attacks along with their location. "In Brazil the prejudice is veiled and cowardly. You can be lesbian, gay or transgender as long you don't leave the house," said Antonio Kvalo, one of the site's founders. "With this data we can give visibility to the aggression and press society to take action against LGBT-phobia."
At risk
The reports of violence could understandably make some LGBT athletes nervous about visiting Rio. Sean Williams, an analyst at Integrated Risk Management, suggests that LGBT travelers stick to areas with a high concentration of LGBT venues and mid-to-upper-class neighborhoods. Those who venture to away, he said, should "maintain a low profile".
Robbie Mason, a publicly gay Olympic rower for New Zealand, will be taking some precautions while at the games in Rio. "I have full trust that inside the 'Olympic bubble' it will be very safe," he said. "I will be vigilant if or when I go outside the bubble, which won't be until at least after I've finished competing."
LGBT athletes can find a welcoming space in Rio at Pride House, which is modeled after Olympic venues hosted by countries for players to mingle. The first Pride House was organized at the 2010 Winter Olympics in Vancouver and Whistler, and subsequent ones have been held in Warsaw, London, Glasgow and Toronto, during major sporting events (Russian officials rejected an application for a Pride House at the Olympic village in Sochi.) "It is a place where LGBT visitors can expect to get advice and support on keeping themselves safe in the area, as well as what to do if they experience hate crimes or violence," said Keph Senett, a coalition member of the house.
Thanks to heavy security presence in Rio during the games, there's a high likelihood that LGBT athletes and fans will be safer during the two weeks of the Olympics than most LGBT Brazilians have been in a while.
Update, Aug. 20: Great Britain's women bested to the Dutch to take field hockey gold in Rio, making Kate and Helen Richardson-Walsh the first married, same-sex couple to win Olympic gold medals together.