When China's favorite swimmer Fu Yuanhui openly mentioned her menstrual cycle on Sunday (Aug. 14) at the Rio Olympics, it was the first time many Chinese people realized it is possible to swim while being on your period.
China placed 4th in the final of the women's 4×100-meter medley relay Sunday, a race won by the US. Fu, who swam backstroke in the relay, was 7th to touch the wall after the first 100 meters. The 20-year-old had earlier won a bronze in the 100-m backstroke.
While her three teammates were conducting a poolside interview (video in Chinese) with Chinese state broadcaster CCTV after the race, Fu squatted by an advertising board by herself, covering her abdomen with her hands as if in pain. Later the reporter went to check on her.
"I feel I didn't swim well today. I let my teammates down," Fu said, between gasps of breath. When asked if she was having a stomachache, Fu said: "Because my period came yesterday, I'm feeling a bit weak, but this is not an excuse."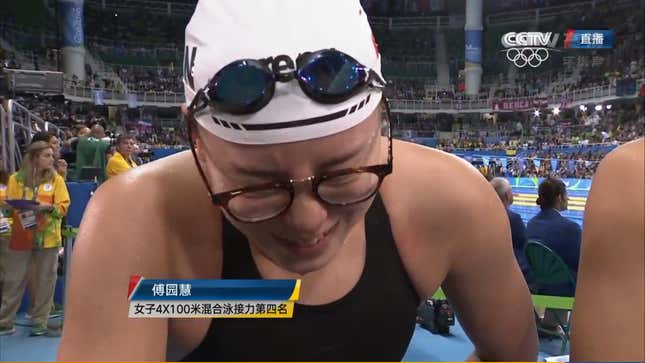 Just like that, Fu broke a great sporting taboo by talking about menstruation in public. During the 2015 Australian Open, British tennis player Heather Watson blamed her poor performance on her period after losing in the first round. At the time Watson's remarks shocked the sports world and later sparked initiatives to break the silence on the issue.
Fu, a Hangzhou native, is arguably China's most popular athlete right now, thanks to her over-the-top facial expressions and sense of humor, as demonstrated during a livestream Q&A last week. Her phrase "mystic energy" has become a meme on China's internet. On Sunday, Fu once again became a trending topic on Chinese social networking site Weibo for her frankness.
"[Menstruation] is an unspeakable issue in the public for women, but Fu actually talked about it in a live interview with CCTV. That's exactly her personality. Cool!" one female blogger wrote (link in Chinese, registration required) with the hashtag "Fu Yuanhui period," which was searched nearly 500,000 times on Weibo by Sunday afternoon.
Fu's comments also made many Chinese people realize that swimming on your period is perfectly hygienic and safe. Some Weibo users, both men and women, wrote to ask "why there was no blood in the swimming pool?" (link in Chinese, registration required) and later found out it's possible to do so with a tampon.
Tampons have never been popular in China. In 2015, Chinese manufacturers made 85 billion sanitary pads but not a single tampon. The country's first domestic tampon brand is launching just this month.
Like many other Asian countries, China places a high value on virginity, with many Chinese women still undergoing "hymen restoration" surgeries. Because of a belief that using tampons could break your hymen, tampons—which are used by 70% of US women—are never mentioned in sex education in China.
Fu may have also unwittingly sparked an open discussion about sexism in China. "Who tells you that virgins cannot use tampons? Do you guys really still think women need to save their virginity for men?… It's the 21st century now," one female blogger wrote on Weibo (link in Chinese, registration required) in response to some comments.